Bruce Hornsby: Intersections 1985-2005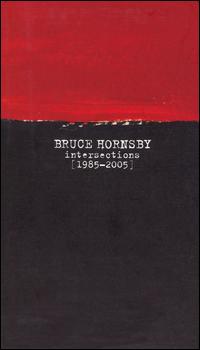 Intersections 1985-2005 is a 2006 76-track/four-CD/one-DVD box set from singer-songwriter-pianoman Hornsby, who worked with both the reunited Band and Robbie Robertson on several occasions in the late '80s and early '90s. Hornsby also toured with the Grateful Dead and played with The Band at Woodstock '94.
The DVD features the original video of Bruce's hit "Look Out Any Window." In this video, Levon Helm can be seen as a farmer, driving an Allis-Chalmers tractor -- Levon must have enjoyed that! Even though the song got a lot of airplay in 1988, Levon's involvement with the video was virtually unknown before the release of Intersections. Levon doesn't play on the song though. From the liner notes: "It was so much fun getting Levon Helm (Ridley in The Right Stuff) to act in our otherwise moribund video for this song."
Also present on the DVD is Robbie Robertson's video for "Go Back To Your Woods" (co-written with Bruce). Liner notes: "Robbie Robertson and I wrote this song for his Storyville record and got a lot of memorable mileage out of it, recording it in New Orleans with the Meters, overdubbing at Bearsville in Woodstock, NY, making a video back in New Orleans, playing it on Saturday Night Live, and playing it at the Legends of the Guitar Festival in Sevilla, Spain. I heard a lot of great Band stories along the way from Robbie, one of the great raconteurs."
The CDs also include live versions of "Long Black Veil" (fragment), "A Night On The Town" and "The Tide Will Rise" - the latter two were recorded for (but not released on) Jericho.
Bruce Hornsby - Intersections 1985-2005 - 2006 - RCA 78939
---
[History] [Members] [Library] [Discography] [Videography] [Filmography] [Pictures] [Audio Files] [Video Clips] [Tape Archive] [Concerts] [Related Artists] [Merchandise] [Guestbook] [Chat Room] [Search] [What's New?] [Main Page]
Webmaster