Robbie Robertson: Storyville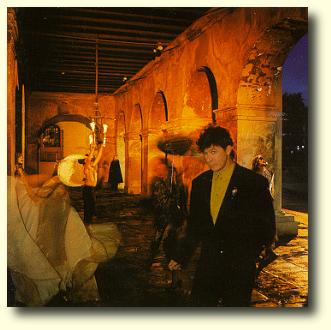 Robertson's second album was four years in the making. Once again he set out to explore an approach and sound markedly different from any of his previous work. The album is conceptual, roughing out a story over ten songs set in New Orleans' legendary turn-of-the-century Storyville red-light district. Coproduced by Robertson, Stephen Hague, and Gary Gersh, the record was recorded in New Orleans with members of the Neville Brothers, Mardi Gras Indians, the Meters, and the Zion Harmonizers. Legendary New Orleans arranger Wardell Quezergue contributed stunning horn charts. More aggressive than Robertson's first solo release, Storyville is perhaps a little less mysterious and enigmatic.
-- Rob Bowman, All-Music Guide
Geffen Records released a promotional CD for this album in 1991, entitled The Story of Storyville.
Japanese issues of Storyville also contained the song "The Far Lonely Cry of Trains", that can be found on the soundtrack album Jimmy Hollywood.
Hip-O (a reissues label in the Universal family) released an expensive 2-CD set with Robbie Robertson and Storyville in October 2005, with bonus tracks. On this two-fer, the Robbie Robertson CD is extended with "Christmas (Must Be Tonight)" (Robbie's version from the Scrooged soundtrack) and a gospel remix of the 12" version of "Testimony", by Georgio Moroder. The Storyville CD has the bonus tracks "Storyville" and "The Far Lonely Cry Of Trains," plus interview segments from Robertson.
Tracks
Sidemen
Alejandro "Alex" Acuna, percussion
David Baerwald, backing vocals
Ginger Baker, percussion
Robert Bell, bass
Warren Bell, saxophone
Carl Blouin, saxophone
Joseph "Monk" Boudreaux, violin
Paul Buchanan, guitar/backing vocals
Amadee Castenell, saxophone
Leon "Ndugu" Chancler, percussion
Code Blue, backing vocals
Stacey Cole, trumpet
Tony Dagradi, saxophone
Rick Danko, backing vocals
Bill Dillon, guitars/mandolin
Bo Dollis, vocals
Ronnie Foster, organ
Roy Galloway, backing vocals
Brian Graber, trumpet
Dan Higgins, saxophone/flute
Bruce Hornsby, keyboards/backing vocals
Garth Hudson, keyboards
Mark Isham, trumpet/flute/arrangements
Clydene Jackson, backing vocals
Ronald Jones, bass
Fred Kemp, saxophone
Ken Kugler, tuba
Mark Leonard, bass
Jared Levine, percussion
Jerry Marotta, drums
Mike Mills, backing vocals
John Mitchell, clarinet
Richard "Blue" Mitchell, saxophone
Joseph "Zigaboo" Modeliste, drums
Paul Moore, keyboards
Aaron Neville, backing vocals
Arthur Neville, organ/backing vocals
Cyril Neville, percussion
Ivan Neville, keyboards/backing vocals
Leo Nocentelli, guitar
Martin Page, keyboards/piano/backing vocals
Charles Pollard, keyboards
George Porter, bass/backing vocals
Guy Pratt, bass
Wardell Quezergue, arrangements
Rebirth Brass Band, horns/percussion
david Ricketts, bass/guitar/keyboards/programming
Robbie Robertson, vocals/guitar/organ/producer
John "J.R." Robinson, drums
Carmen Twillie, backing vocals
Duane VanPaulin, trombone
Bill Ward, drums
Yvonne Williams, backing vocals
Neil Young, backing vocals
Zion Harmonizers, backing vocals
Stephen Hague, producer/keyboards
Gary Gersh, producer
Steve Nye, engineer
Robbie Robertson - Storyville - (54:37) - 1991 - Geffen GEC 24303
Single sleeve with lyrics on inner sleeve
2-CD set w/Robbie Robertson and Storyville - 2005 - Hip-O Records
AMG Rating: Good
---
[History] [Members] [Library] [Discography] [Videography] [Filmography] [Pictures] [Audio Files] [Video Clips] [Tape Archive] [Concerts] [Related Artists] [Merchandise] [Guestbook] [Chat Room] [Search] [What's New?] [Main Page]
Webmaster