Various Artists: Music That Matters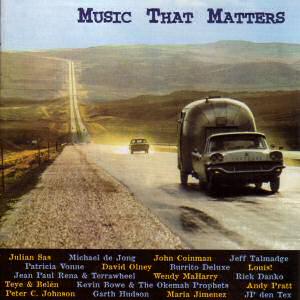 CoraZong is a young independent European label that, within a relatively short period of time, has become a synonym for quality roots music. Music That Matters is a collection of songs taken from recent CoraZong album releases. Mostly occupying that increasingly popular musical territory called Americana, Music That Matters offers 18 tracks by 18 great artists whose albums without exception have been critically acclaimed.
Garth Hudson is represented twice here, with "Little Island" from his solo album The Sea to the North and as a member of Burrito Deluxe on "Rex Bob Lowenstein" from The Whole Enchilada. Track 15 is Rick Danko's "Change is Good" from the posthumous solo album Times Like These.
Tracks
John Coinman - Have Faith
From the album This Place Ain't What It Used To Be
Jeff Talmadge - 40 Days Of Rain
From the album Driving To Blissville
JP den Tex - Toulouse
From the album La Jeune Fille Au Chewing Gum
Patricia Vonne - Traeme Paz
From the album Patricia Vonne
Kevin Bowe & The Okemah Prophets - Leaving To Stay
From the album Angels On The Freeway (Crosses On The Road)

Julian Sas - A Light In The Dark
From the album Light In The Dark
Louis! - Sweet Lorraine
From the album A Close Watch
David Olney - Blue Days, Black Nights
From the album Border Crossing
Michael de Jong - Private Interlude
From the album Imaginary Conversation
Peter C. Johnson - Good Luck Girl
Taken from the album Soul Sherpa
Andy Pratt - Who Will Be My Friend
Taken from the album The Age Of Goodbye
Wendy MaHarry - Devil Feels At Home
Taken from the album Released
Garth Hudson - Little Island
Taken from the album The Sea To The North
Burrito Deluxe - Rex Bob Lowenstein
Taken from the album The Whole Enchilada
Rick Danko - Change Is Good
Taken from the album Times Like These
Jean Paul Rena & Terrawheel - Jail Cell Wall
Taken from the album Introducing
Teye & Belén - Caballo Nuevo, Campo Viejo
Taken from the album FlamencObsesionArte
Maria Jimenez - Con Dos Camas Vacías
Taken from the album Donde Más Duele
Various Artists - Music That Matters - 2004 - CoraZong CD 255079
---
[History] [Members] [Library] [Discography] [Videography] [Filmography] [Pictures] [Audio Files] [Video Clips] [Tape Archive] [Concerts] [Related Artists] [Merchandise] [Guestbook] [Chat Room] [Search] [What's New?] [Main Page]
Webmaster