Burrito Deluxe: The Whole Enchilada
[CD cover] [Dutch CD back cover] [Official web site] [Electronic Press Kit]
---
Notes compiled by Peter Viney, based mostly on information from the guestbook and the Burrito Deluxe web site.
---
A considerably changed group from the first album, still based around Flying Burrito Brother Kleinow and Moody Brothers Carlton Moody, with Garth Hudson now as a full member and co-producer rather than a guest artist.
The album concentrates on covers of recent (mainly 90s) country songs by well-known artists, with apposite choices blended well together. The one group composition Woman Like You is outstanding.
Tracks
(All audio samples are 40-50 second MPEG-3 files)

You Got Gold (John Prine /Keith Sykes)
From John Prine's 1991 Grammy-award winning The Missing Years album.

The Letter (Carson)
International number one hit for The Boxtops, and later covered by Joe Cocker. The Band had covered the Boxtops Soul Deep in 1991, which appeared on the bootleg Crossing The Great Divide.

Sister (Kleinow)
Instrumental, written by Kleinow (no credit listed on the sleeve, but he mentions it in the interview video on the CD), first released on 2001's Meet Sneaky Pete.

Ezekial's Wheel (King / Leone)
By Matt King, a friend of Carlton's and a North Carolina songwriter and Atlantic recording artist.

All I Had Left (Left With You) (Jeff Davis)
Written by Jeff 'Stick' Davis. Originally recorded by The Amazing Rhythm Aces on Burnin' The Ballroom Down in 1978.

Memphis Money (Mark Irwin / Richard Ferreira)
From Richard Ferreira's 2002 album Somewhereville. Reviews compared him to Rick Danko and Van Morrison, and this sounds like it should have been on a 90s Band record.

Last Letter Home (Brown / McDade)
Originally recorded by The Amazing Rhythm Aces on Toucan Do It Too with the last verse added 20 years later shortly before Butch McDade died in 1998.

Rex Bob Lowenstein (Germino)
Mark Germino's original 1991 song about a DJ at W.A.N.T. still appears on many radio station playlists, proving with W.O.L.D. that DJs play songs about DJs. An excellent cover.

Goodnight (no credit listed)
This is a bonus track on the European CD, not included on the US release. Usually known as I/We Bid You Goodnight, this song was played by Bahamian guitarist Joseph Spence. Martin Carthy did it with Waterson-McCarthy, and it appears to be a version of the Sankey hymn Sleep On Beloved. The Incredible String Band covered it on The Hangman's Beautiful Daughter following on from A Very Cellular Song. Aaron Neville also recorded it on Warm Your Heart backed by Ry Cooder and Jim Keltner and co-arranged with Linda Ronstadt. It was a frequent concert number for The Grateful Dead and appears briefly at the end of Live/Dead. Garth Hudson has also covered Dark Star from the same album. A few months before Burrito DeLuxe, he played accordian on the Dixie Hummingbird's version of I Bid You Goodnight from Diamond Jubilation with Levon Helm on drums.

Enhanced CD video interviews of all five members. This includes a short snatch of When I Paint My Masterpiece.
Musicians
Burrito DeLuxe:
Carlton Moody - vocals, acoustic guitar, electric guitar, mandolin
Sneaky Pete Kleinow - pedal-steel guitar
Garth Hudson - piano, Hammond organ, synthesizers, accordian
Jeff 'Stick' Davis - electric and acoustic bass, vocals
Rick Lonow - drums, percussion, vocals

Maud Hudson - backup vocals on tracks 1 and 10.
Produced by Garth Hudson, Carlton Moody and Burrito DeLuxe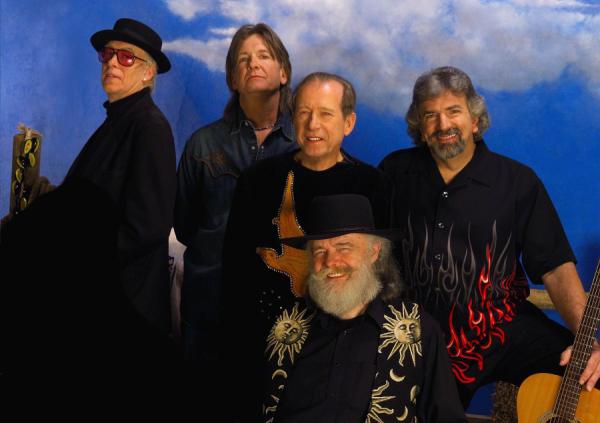 Burrito Deluxe 2004. L-r: Davis, Lonow, Kleinow, Hudson, Moody
Burrito Deluxe - The Whole Enchilada - 2004 - Luna Chica Records LCR001
CD, Netherlands 2004: CoraZong 255 078
---
[History] [Members] [Library] [Discography] [Videography] [Filmography] [Pictures] [Audio Files] [Video Clips] [Tape Archive] [Concerts] [Related Artists] [Merchandise] [Guestbook] [Chat Room] [Search] [What's New?] [Main Page]
Webmaster