Ollabelle: Ollabelle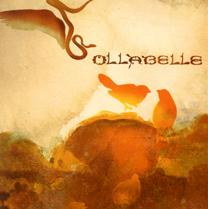 2004 debut album from the Ollabelle sextet, with Levon Helm's daughter Amy on vocals. Levon guests on drums on two tracks. Release date March 9th, see ollabelle.net for sound samples and more details.
Review
---
by William Ruhlmann, All-Music Guide
---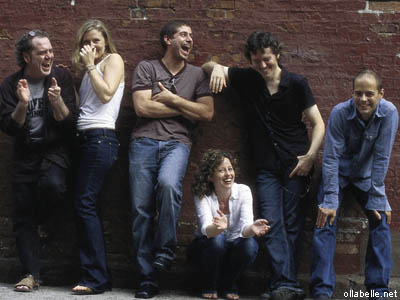 New York sextet Ollabelle's music is a hybrid of indigenous American styles, mixing folk, blues, and gospel, and drawing upon traditional sources to create something that sounds wholly new. If one is tempted to say "you've never heard anything quite like this before," it isn't because the ingredients are unfamiliar, it's because the mixture and the approach are. The alternating male and female vocalists usually sing traditional material, with arrangements that recall the kind of updated authenticity of Ry Cooder as much as the original sources. Somehow, these performances steer in between the alternating obstacles of sounding too retro on the one hand or taking an ironic posture on the other. The performers seem utterly immersed in the music, utterly sincere in their singing (though it would be surprising to find that their commitment to the religious lyrics was anything but figurative), yet they clearly are reaching back to their archaic sources through the context of contemporary music. Their few originals are of a piece with the traditional material, and even a revival of the Rolling Stones' "I Am Waiting" fits right in. It's no surprise that T-Bone Burnett's DMZ label is issuing this debut, since Burnett has demonstrated his affinity for American roots music and ability to re-contextualize it for the 21st century. And it is appropriate that The Band's Levon Helm, the father of the group's Amy Helm, drums on "Soul of a Man." Ollabelle is trying to create a new sound out of long-standing folk-based musical styles in much the same way that The Band did with Music from Big Pink in 1968. The wonder is how well the group succeeds. Ollabelle is a moving collection of performances that will remind the listener of the emotional depth and scope of American music. If there is any disc capable of turning the term "Americana" into a full-fledged musical genre, this is it.
Tracks
Before This Time
Bessie Jones and Alan Lomax; inspiration: Georgia Sea Island Singers; lead vocal: Amy Helm

Jesus On The Mainline
Traditional, arranged by Ollabelle; inspiration: Mississippi Fred McDowell; lead vocal: Glenn Patscha

Soul Of A Man
Traditional, arranged by Ollabelle; inspiration: Blind Willie Johnson; lead vocal: Amy Helm, with Levon Helm, drums

Elijah Rock
Spiritual, arranged by Ollabelle; inspiration: Mahalia Jackson; lead vocal: Fiona McBain

Get Back Temptation
Words and music by Glenn Patscha, arranged by Ollabelle; lead vocal: Glenn Patscha

I Am Waiting
Written by Mick Jagger/Keith Richards

Two Steps
Words and music by Amy Helm, Fiona McBain, Liz Tormes, Byron Isaacs, Tony Leone, Jimi Zhivago; guest vocalist: Liz Tormes

No More My Lord
C Ludlow/Richmond Organization inspiration: 1947 field recording made at Parchman Prison by Alan Lomax; lead guitar: Sean Costello, bass: Jimi Zhivago

Can't Nobody Do Me Like Jesus
Words and music by Andrae Crouch

The Storms Are On The Ocean
Carter Family version; inspired by Bryan Bowers; lead vocal: Fiona McBain

John the Revelator
Traditional, arranged by Ollabelle; inspiration: Blind Willie Johnson; lead vocal: Glenn Patscha

I'm Willing To Run All The Way
Traditional, arranged by Ollabelle; inspiration: the Staple Singers; lead vocal: Amy Helm

I Don't Want To Be That Man
Words and music by Glenn Patscha, arranged by Ollabelle; lead vocal: Glenn Patscha, special guest: Sean Costello

All Is Well
Traditional, arranged by Ollabelle; version inspired by sheet music from "American Vocalist" by DH Mansfield, 1849
Musicians
Amy Helm - voice
Byron Isaacs - voice, bass
Tony Leone - voice, drums
Fiona McBain - voice, acoustic guitar
Glenn Patscha - voice, organ, Wurlitzer, piano
Jimi Zhivago - voice, electric guitar, acoustic guitar, dobro, mandolin
Levon Helm - drums
Ollabelle - Ollabelle - 2004 - DMZ/Columbia 90572
---
[History] [Members] [Library] [Discography] [Videography] [Filmography] [Pictures] [Audio Files] [Video Clips] [Tape Archive] [Concerts] [Related Artists] [Merchandise] [Guestbook] [Chat Room] [Search] [What's New?] [Main Page]
Webmaster