Rick Danko: In Concert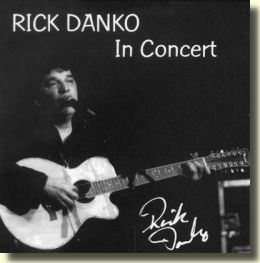 [CD cover] [Back cover]
CD with live recordings from Rick Danko's concerts at the Orpheum Theatre, Foxborough, MA, Feb.22, 1997, and at Atomic Productions, Clinton, NJ, March 6, 1997. Released by Aaron Hurwitz, Levon Helm & The Band.
See below for ordering information.
Tracks
Sidemen
Rick Danko, vocals/guitar/bass
Randy Ciarlante, vocals/drums
Aaaron Hurwitz, vocals/piano/accordion/producer/engineer
Levon Helm, producer
Mark Adam Miller, recording
Kurt Gould, recording
M.C. Matt Williams, recording
Travis Kugelman, engineer
Mike Dandeo, engineer
Scott Petito, engineer
The Band, post production
Rick Danko - In Concert - 1997 - Woodstock Records
Ordering
This CD can be ordered from Woodstock Records.
---
[History] [Members] [Library] [Discography] [Videography] [Filmography] [Pictures] [Audio Files] [Video Clips] [Tape Archive] [Concerts] [Related Artists] [Merchandise] [Guestbook] [Chat Room] [Search] [What's New?] [Main Page]
Webmaster