Rick Danko: A Memorial Edition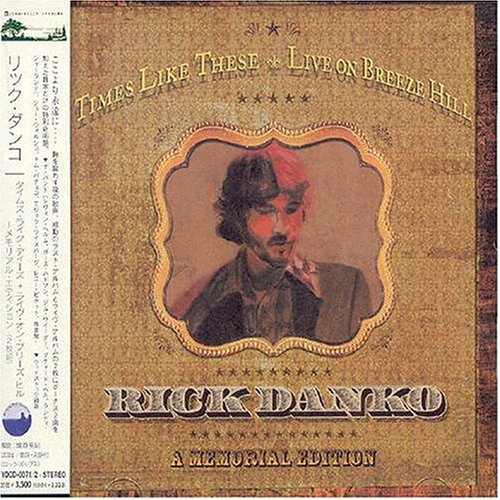 2-CD Rick Danko set, released in Japan in 2002. Disc 1 is identical to the 2001 posthumous solo album Times Like These. Disc 2 contains the 1999 live album Live on Breeze Hill from The Rick Danko Band, with two tracks added at the end: "Blind Willie McTell" from 1997's In Concert and a "radio mix" version of "Sip the Wine." The latter is simply an edit of the studio version, which is the first track on disc 2.
One nice thing about this set is the packaging. The CD's are in a sturdy, slim double jewel case (unlike the 'eco-packs' that the Breeze Hill releases are in) , with all of the credits in the front booklet and an additional booklet with Japanese and English lyrics.
Tracks
Disc 1
Times Like These (Rick Danko)
Ripple (Hunter / Garcia)
All Our Past Times (Eric Clapton / Rick Danko)
Book Faded Brown (Paul Jost)
Chain Gang (Sam Cooke)
Change Is Good (Rick Danko / Jim Tullio / Ed Kaecher)
This Wheel's On Fire (Bob Dylan / Rick Danko)
You Can Go Home (Tom Pacheco / Rick Danko)
Let The Four Winds Blow (Dave Bartholomew / Antoine Domino)
People Of Conscience (Tom Pacheco)
Disc 2
Sip The Wine (Tim Drummond)
Twilight (J.R. Robertson)
Crazy Mama (J.J.Cale))
Stage Fright (J.R. Robertson)
Ophelia (J.R. Robertson)
Blaze OF GLORY (Slate/Morrison/Keith)
Next Time You See Me (Earl Forest?Bill Harvey)
Caldonia Mission (J.R. Robertson)
The Shape I'm In (J.R. Robertson))
Chest Fever (J.R. Robertson)
It Makes No Difference (J.R. Robertson)
Outro
Blind Willie Mctell (Bob Dylan)
Sip The Wine (Radio Mix) (Tim Drummond)
Rick Danko - A Memorial Edition - 2002 - Dreamsville Japan YDCD-0071/72
---
[History] [Members] [Library] [Discography] [Videography] [Filmography] [Pictures] [Audio Files] [Video Clips] [Tape Archive] [Concerts] [Related Artists] [Merchandise] [Guestbook] [Chat Room] [Search] [What's New?] [Main Page]
Webmaster