Soundtrack album: The Right Stuff/ North & South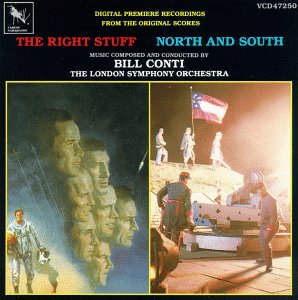 LP/CD with Bill Conti's original music from the The Right Stuff (1983), a film about Project Mercury where Levon Helm played the role as narrator and Chuck Yeager's sidekick Jack Ridley, and the 1985 Civil War film/TV series North & South.
According to a 2002 interview with Levon Helm, Garth Hudson contributed to the Right Stuff soundtrack:
"..when you watch The Right Stuff, when he (Yeager) breaks the sound barrier, forget about all the excitement and listen to the soundtrack. What you'll hear, down deep in there, is Garth Hudson. That's all him."
The London Symphony Orchestra is credited for playing on all tracks on the album.
Tracks
The Right Stuff, film score Symphonic Suite:

Breaking The Sound Barrier
Almost Ready
The Training
Glenn's Flight
Yeager's Flight

North and South, television score Symphonic Suite:

Main Title
Southern Life
Love In The Chapel
A Close Call
Returning Home
Last Embrace
Final Meeting
Soundtrack album - The Right Stuff/North & South - 1985 - CD Varese SarabandeVSD-47250, LP Varese Sarabande 70431
---
[History] [Members] [Library] [Discography] [Videography] [Filmography] [Pictures] [Audio Files] [Video Clips] [Tape Archive] [Concerts] [Related Artists] [Merchandise] [Guestbook] [Chat Room] [Search] [What's New?] [Main Page]
Webmaster