Various Artists: River Of Song
A Musical Journey Down The Mississippi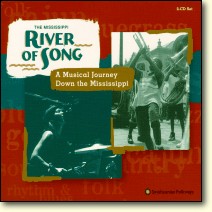 River Of Song is a 2CD soundtrack album from the PBS TV miniseries A River Of Song, tracing American music along the Mississippi. Singer/songwriter Ani DiFranco narrates the programs, which aired early in 1999. Levon Helm appears in part 3 of the TV series, titled Southern Fusion. The album was released on the label Smithsonian Folkways on November 17, 1998. The full title is The Mississippi: River Of Song - A Musical Journey Down The Mississippi.
Levon contributes "Going Back To Memphis" on disc 2, together with blues man James Cotton who also recorded with Levon for the Great Drives TV series. The PBS River of Song web site has a page for Levon Helm with audio and video clips from the program.
The tracks were recorded between 1995 and 1997, produced by Elijah Wald, engineers include John Tyler, John Paulson and Matt Sakakeeny. The album includes liner notes by Anthony Seeger and Elija Wald.
Tracks
Disc 1
Powwow Song - Chippewa Nation
22 - Babes In Toyland
Sail Away, Ladies - John Koerner
I Did My Best - Soul Asylum
Red-Headed Swede - The Skal Club Spelmanslag
The Singing Leaf - Wang Chong Lor
I'll Open My Mouth To The Lord/I'll Be Ready - Sounds Of Blackness
Kim Marie - Karl Hartwich
Jazz Me Blues - The Manny Lopez Quintet
La Unica Estrella - La Otra Mitad
Flat Stuff - Greg Brown
Miss Ferris - John Hartford
Born To Be With You - The Bob Lewis Family
Milestone - Eugene Redmond and Sylvester 'Sunshine' Lee
I'm So Grateful - Fontella and Martha Bass
Stop Breaking Down - Oliver Sain
Get Down, River - The Bottle Rockets
La Guignolee - The Ste. Genevieve Guignolee Singers
Disc 2
The Sweetest Song I Know - The Boundless Love Quartet
T For Texas (Blue Yodel #1) - Sonny Burgess
St. Louis Blues - The Memphis Horns and Ann Peebles
Going Back To Memphis - Levon Helm and James Cotton
Take A Little Walk With Me - Robert Lockwood Jr.
Catfish - Big Jack Johnson
Shake Your Money Maker - Big Jack Johnson and the Jelly Roll Kings
Grits Ain't Groceries (All Around The World) - Little Milton
We Praise Your Holy Name - The Mississippi Mass Choir
Taters And Gravy And Chicken-Fried Steak - Kenny Bill Stinson
La Porte D'en Arriere - D.L. Menard
Bon Chien - Geno Delafose
Marie Lavaux - David and Roselyn
Basin Street Blues - Henry Butler
Time Is On My Side - Irma Thomas
Check Your Bucket - Eddie Bo with Henry Butler
Let Your Mind Be Free - Soul Rebels
La Vida De Un Jaibero - Irvan Perez
Various Artists - River Of Song - 1998 - Smithsonian Folkways 40086
---
[History] [Members] [Library] [Discography] [Videography] [Filmography] [Pictures] [Audio Files] [Video Clips] [Tape Archive] [Concerts] [Related Artists] [Merchandise] [Guestbook] [Chat Room] [Search] [What's New?] [Main Page]
Webmaster