Stage Fright 50th Anniversary Edition:
2-CD Set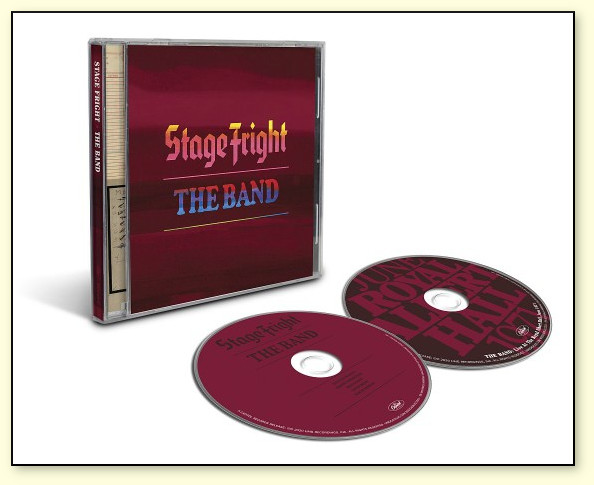 Remixed and expanded 2-CD version of the Band's third album, released by Capitol/Universal Music Enterprises in 2021, 50 years after the original album came out. Disc 2 contains a full concert, live at the Royal Albert Hall, June 1971, with all 20 tracks being previously unreleased.
Also available as a de luxe box set and on 45rpm LPs in either split-color or black vinyl.
CD 1
The W.S. Walcott Medicine Show
The Shape I'm In
Daniel And The Sacred Harp
Stage Fright
The Rumor
Time To Kill
Just Another Whistle Stop
All La Glory
Strawberry Wine
Sleeping

Bonus Tracks:

Strawberry Wine (Alternate Mix) *
Sleeping (Alternate Mix) *

Calgary Hotel Room Recordings, 1970:

Get Up Jake (#1) *
Get Up Jake (#2) *
The W.S. Walcott Medicine Show *
Rockin' Pneumonia And The Boogie Woogie Flu *
Calgary Blues *
Before You Accuse Me *
Mojo Hannah *
*: Previously unreleased
CD 2
Live at the Royal Albert Hall, June 1971, previously unreleased
The Shape I'm In
Time To Kill
The Weight
King Harvest (Has Surely Come)
Strawberry Wine
Rockin' Chair
Look Out Cleveland
I Shall Be Released
Stage Fright
Up On Cripple Creek
The W.S. Walcott Medicine Show
We Can Talk
Loving You Is Sweeter Than Ever
The Night They Drove Old Dixie Down
Across the Great Divide
The Unfaithful Servant
Don't Do It
The Genetic Method
Chest Fever
Rag Mama Rag
---
[History] [Members] [Library] [Discography] [Videography] [Filmography] [Pictures] [Audio Files] [Video Clips] [Tape Archive] [Concerts] [Related Artists] [Merchandise] [Guestbook] [Chat Room] [Search] [What's New?] [Main Page]
Webmaster