Rick Danko Band: Sip the Wine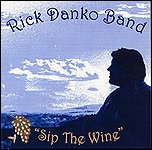 Promotional single for Rick Danko's 1999 album Live on Breeze Hill with a studio version of the Rick Danko song "Sip the Wine" (originally from his 1977 solo debut), recorded shortly before Rick passed away on December 10, 1999. Also on the promotional single and album is "Next Time You See Me", featuring Aaron "Professor Louie" Hurwitz. Professor Louie is a long-time collaborator with and producer of The Band.
Quentin Ryan, GM of Breeze Hill Records, says the following about this single release: "I had been encouraging Rick to release this single to radio after the Christmas holiday season to promote the album, and at the same time stay true to his vision. We also felt we owed it to his fans who will recognize "Sip The Wine" from the film The Last Waltz. We lost a great musician and we're going to stay true to his wishes."
Tracks
Rick Danko - Sip the Wine Promo - 2000 - Breeze Hill Records
---
[History] [Members] [Library] [Discography] [Videography] [Filmography] [Pictures] [Audio Files] [Video Clips] [Tape Archive] [Concerts] [Related Artists] [Merchandise] [Guestbook] [Chat Room] [Search] [What's New?] [Main Page]
Webmaster