The Staple Singers: Soul Folk in Action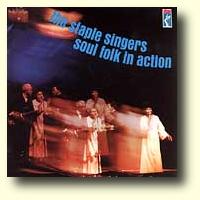 The Staples' debut Stax release included covers of Otis Redding's "(Sittin' On) The Dock of the Bay" and the Band's "The Weight." See the Staple Singers page at the American Music Archives for more on this wonderful vocal group.
The Staple Singers' original version of "The Weight" is also available the 1990 Stax/Fantasy compilation The Best of the Staple Singers. They would later do versions of "The Weight" with The Band (The Last Waltz, 1976) and Marty Stuart (Rhythm Country & Blues, 1994).
Tracks
We've Got to Get Ourselves Together (Bramlett/Radle,Carl)
(Sittin' On) the Dock of the Bay (Cropper,Steve/Redding,Otis)
Top of the Mountain (Crutcher,Bettye/Thomas,E.)
Slow Train (Bell/Copper)
Weight (Robertson,Robbie)
Long Walk to D.C. (Banks,Homer/Thomas,E.)
Got to Be Some Changes Made (Crume,Leroy)
Ghetto (Banks,Homer/Bramlett
People, My People (Banks,Homer/Cropper,Steve)
I See It (Edwards/Staples,Pop)
This Year (Cropper,Steve/Riley)
The Staple Singers - Soul Folk in Action - 1968 - Stax STS-2004
---
[History] [Members] [Library] [Discography] [Videography] [Filmography] [Pictures] [Audio Files] [Video Clips] [Tape Archive] [Concerts] [Related Artists] [Merchandise] [Guestbook] [Chat Room] [Search] [What's New?] [Main Page]
Webmaster