Various Artists:
Sweetfish Records Sampler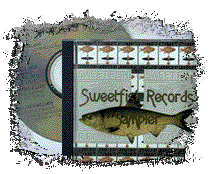 Here you'll find a sampling of tracks from the Sweetfish Records Roster including All The King's Men with featured guests Keith Richards, The Band, and The Mavericks. Paul Burlison with featured guests Levon Helm, Mavis Staples, David Hildalgo, and Cesar Rosas, Love Circle Logic, and also album outtakes from Rees Shad.
This sampler was assembled for industry promotion, and there are only a handful available to the public. A second CD with samples from Sweetfish Records' releases was released in 1998.
Various Artists - Sweetfish Records Sampler - 1997 - Sweetfish Records
---
[History] [Members] [Library] [Discography] [Videography] [Filmography] [Pictures] [Audio Files] [Video Clips] [Tape Archive] [Concerts] [Related Artists] [Merchandise] [Guestbook] [Chat Room] [Search] [What's New?] [Main Page]
Webmaster