Joseph Arthur & The Lonely Astronauts: Temporary People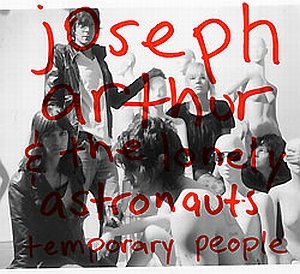 Joseph Arthur is an alt rock singer/songwriter, and painter, from Akron, OH, who released his first LP on Peter Gabriel's Real World label in 1997. Temporary People from September 2008 is his seventh full-lenght album, and the third to be released on his own label, Lonely Astronaut (distributed by Sony).
Garth Hudson can be heard on organ, piano and synthesizer throughout Temporary People, recorded at Old Soul Studios in Catskill NY where Garth has played on numerous sessions.
The record was co-produced by Kenny Siegal of the NY Experimental pop band Johnny Society. Garth played on Johnny Society's record Coming to Get You released through Messenger Records in 2005.
One of the other musical guests on "Temporary People" was Nina Violet who played the strings on a few tunes. Garth played some accordion on Nina's record Lose Strife, which was recorded at Old Soul in early 2007.
Tracks
Temporary People
Faith
Say Goodbye
Dead Savior
Look Into the Sky
Sunrise Dolls
Dream is Longer than the Night
Heart's a Soldier
Turn You On
Winter Blades
Drive
Good Friend
Joseph Arthur & The Lonely Astronauts - Temporary People - 2008 - Lonely Astronaut LA007
---
[History] [Members] [Library] [Discography] [Videography] [Filmography] [Pictures] [Audio Files] [Video Clips] [Tape Archive] [Concerts] [Related Artists] [Merchandise] [Guestbook] [Chat Room] [Search] [What's New?] [Main Page]
Webmaster