Roger Waters: The Wall Live in Berlin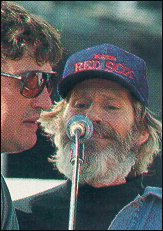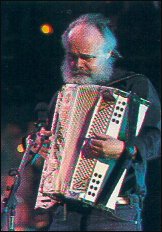 Rick and Levon (top) and Garth at The Wall in Berlin, 1990.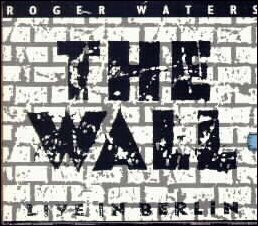 This is a gala two-disc live rendition from Berlin, 1990, of the Pink Floyd concept album, employing a raft of guest stars including Van Morrison, Sinead O'Connor, Joni Mitchell, the Scorpions, and others. Levon Helm, Garth Hudson and Rick Danko all performed in Roger Waters' staging of The Wall. They're all over the place, most notably on "Mother" (all three back Sinead O'Connor) and "Comfortably Numb" (Levon and Rick harmonizing with Van Morrison!)
For more about this concert, see the Wall Live in Berlin video.
Tracks
In the Flesh
Thin Ice
Another Brick in the Wall
Happiest Days of Our Lives
Another Brick in the Wall (Part 2)
Mother (4.2MB)
Goodbye Blue Sky
Empty Spaces
Young Lust
One of My Turns
Don't Leave Me Now
Another Brick in the Wall (Part 3)
Goodbye Cruel World
Hey You
Is There Anybody Out There?
Nobody Home
Vera
Bring the Boys Back Home
Comfortably Numb
In the Flesh
Run Like Hell
Waiting for the Worms
Stop
Trial
Tide Is Turning (After Live Aid)
Sidemen
(only members of the Band listed)
Rick Danko
Levon Helm
Garth Hudson
Roger Waters - The Wall Live in Berlin - 52:34 - 1990 - Mercury 846611-1
Compact Disc: Mercury 846611-2 (1990)

---
[History] [Members] [Library] [Discography] [Videography] [Filmography] [Pictures] [Audio Files] [Video Clips] [Tape Archive] [Concerts] [Related Artists] [Merchandise] [Guestbook] [Chat Room] [Search] [What's New?] [Main Page]
Webmaster