Roger Waters : The Wall Live in Berlin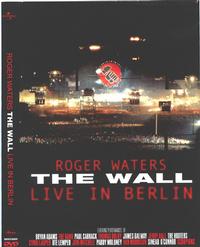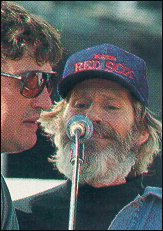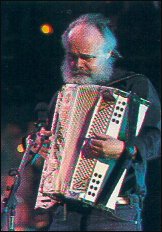 Rick and Levon (top) and Garth at The Wall in Berlin, 1990.

This is a gala live rendition from Berlin, 1990, of the Pink Floyd concept album, employing a raft of guest stars including Van Morrison, Sinead O'Connor, Joni Mitchell, the Scorpions, and others. Staged, filmed and recorded at Potsdamer Place, Berlin, Germany Saturday, July 21, 1990.

Levon Helm, Garth Hudson and Rick Danko all performed in Roger Waters' staging of The Wall. They're all over the place, most notably on "Mother" (all three back Sinead O'Connor) and "Comfortably Numb" (Levon and Rick harmonizing with Van Morrison!)

According to Waters in an interview on the 2003 DVD release, there was a total power outage on stage during the live version of "Mother." They had recorded the rehearsal the night before as a back-up because it was going live on the air all over the world. On the video you see Roger Waters standing by the Band, holding the lyrics to read. After the show Waters wanted to re-record the song but Sinead O'Connor refused, so it is the night before the concert that is shown on the video -- if Waters' version is correct. He also describes how unreasonable O'Connor was and suggests she is the most difficult person he has ever worked with.

The VHS video came in 1990, a DVD was released in July 2003. The DVD extras include a documentary, unseen footage, animations and a stills gallery. The concert was also released as a 2-CD set in 1990.
The Songs & The Players
In The Flesh - Scorpions
The Thin Ice - Ute Lemper & Roger Waters
Another Brick In The Wall, Pt.1 - Roger Waters (Sax Solo - Garth Hudson)
The Happiest Days Of Our Lives - Joe Chemay, John Joyce, Stan Farber, Jim Haas & Roger Waters
Another Brick In The Wall, Pt.2 - Cyndi Lauper (Solo 1 - Rick Difonzo, Solo 2 - Snowy White, Solo 3 - Peter Wood & Thomas Dolby)
Mother - Sinead O-Connor & The Band (Accordian - Garth Hudson, Backing Vocals - Rick Danko, Levon Helm)
Goodbye Blue Sky - Joni Mitchell (Flute solo - James Galway)
Empty Spaces - Bryan Adams & Roger Waters
Young Lust - Bryan Adams
Oh My God, What A Fabulous Room - Jerry Hall
One Of My Turns - Roger Waters
Don't Leave Me Now - Roger Waters
Another Brick In The Wall, Pt.3 - Roger Waters
Goodbye Cruel World - Roger Waters
Hey You - Paul Carrack
Is There Anybody Out There? - The Rundfunk Orchestra & Choir (Classical Guitars - Rick Difonzo & Snowy White)
Nobody Home - Roger Waters (Guitar Solo - Snowy White)
Vera - Roger Waters & The Rundfunk Orchestra & Choir
Bring The Boys Home - The Rundfunk Orchestra & Choir & The Military Orchestra Of The Soviet Army
Comfortably Numb - Van Morrison, Roger Waters & The Band (Guitar Solos - Rick Difonzo & Snowy White)
In The Flesh #
Run Like Hell #
Waiting For The Worms & Stop #
(# - Roger Waters, The Bleeding Heart Band, The Rundfunk Orchestra & Choir & The Military Orchestra Of The Soviet Army)
The Trial - The Rundfunk Orchestra
Tim Curry - The Prosecutor
Thomas Dolby - The Teacher
Ute Lemper - The Wife
Marianne Faithful - Mother
Albert Finney - The Judge
Encore - The Tide Is Turning - Everyone
Roger Waters - The Wall Live in Berlin - 1990 - Home Video
DVD: Universal Music & VI, 2003

---
[History] [Members] [Library] [Discography] [Videography] [Filmography] [Pictures] [Audio Files] [Video Clips] [Tape Archive] [Concerts] [Related Artists] [Merchandise] [Guestbook] [Chat Room] [Search] [What's New?] [Main Page]
Webmaster