Various Artists: Blues Cube
This Ain't No Tribute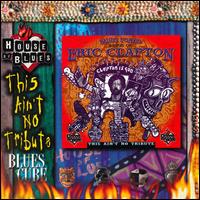 House of Blues compilation with The Band and special guest Derek Trucks doing the wonderful version of "One Too Many Mornings", that also appears on the House of Blues Dylan "not a tribute" CD Tangled up in Blues.
The line-up is Rick - vocal/bass, Levon - drums/harmonica. Garth - Hammond B3 organ, Derek Trucks-slide guitar, Jim Weider-guitar, Richard Bell-electric piano, Randy Ciarlante-congas.
"One Too Many Mornings "is a song The Band played with Dylan at all 47 concerts they played together in 1966". Rick is doing his best Danko-ised Dylan vocal, Levon's harmonica weaves it's way in and out of the entire song, Garth's B3 sounds straight out of 1965/66, and Derek Trucks' slide guitar is a nice touch.
See Peter Viney's article for a discussion of the 1966 Dylan/Hawks version and the 1999 Band version of "One Too Many Mornings".
Tracks
  Custard Pie performed by Gales, Eric  
  Custard Pie (Revisited) performed by Tutor, Matt / Gales, Eric / Trucks, Derek  
  Heartbreaker performed by Hart, Alvin "Youngblood"  
  I Can't Quit You Baby performed by Rush, Otis / Gales, Eric  
  When the Levee Breaks, Pt. 1 performed by Magic Slim / Branch, Billy / Cotton, James  
  When the Levee Breaks, Pt. 2 performed by Magic Slim / Cotton, James  
  Hey, Hey (What Can I Do) performed by King, Chris Thomas  
  Rock N' Roll performed by Brown, Clarence "Gatemouth"  
  You Need Love performed by Walker, Joe Louis / Cotton, James  
  Since I've Been Loving You performed by Clay, Otis  
  Good Times, Bad Times performed by Weathersby, Carl  
  Bring It on Home, Pt. 2 performed by Lockwood, Robert Jr.  
  Bring It on Home, Pt. 2 performed by Lockwood, Robert Jr.  
  Trampled Underfoot performed by Gales, Eric  
  It Takes a Lot to Laugh, It Takes a Train... performed by Mahal, Taj  
  Gotta Serve Somebody performed by Staples, Mavis  
  Lay Lady Lay performed by Hayes, Isaac  
  Everything Is Broken performed by Burnside, R.L.  
  Pledging My Time performed by Johnson, Luther "Guitar Jr."  
  I'll Be Your Baby Tonight performed by Hammond, John  
  Ballad of a Thin Man performed by Solberg, James  
  Million Miles performed by Hart, Alvin "Youngblood"  
  Watching the River Flow performed by Russell, Leon  
  Wallflower performed by Holmes Brothers  
  All Along the Watchtower performed by McCray, Larry  
  One Too Many Mornings performed by Band (12.6MB)   
  What Good Can Drinkin' Do performed by Nelson, Tracy  
  Move Over performed by Robinson, Tad  
  Ball and Chain performed by James, Etta  
  Piece of My Heart performed by Clay, Otis  
  Maybe performed by Brooks, Lonnie  
  One Good Man performed by Barton, Lou Ann  
  Down on Me performed by Black, Paul  
  Get It While You Can performed by Taylor, Koko  
  Trouble in Mind performed by Kent, Willie  
  Turtle Blues performed by Jordan, Lynne  
  Try (Just a Little Bit Harder) performed by Richardson, Cathy / Sugar Blue  
  Me and Bobby McGee performed by Johnson, Syl  
  Mercedes Benz performed by Mahal, Taj  
  You Can't Always Get What You Want performed by Allison, Luther  
  Tumblin' Dice performed by Copeland, Johnny  
  (I Can't Get No) Satisfaction performed by Wells, Junior / Margolin, Bob  
  Wild Horses performed by Clay, Otis  
  Honky Tonk Women performed by Mahal, Taj / Cotton, James  
  Sway performed by Hart, Alvin "Youngblood"  
  Ventilator Blues performed by Brown, Clarence "Gatemouth" / Landreth, Sonny  
  Beast of Burden performed by Holmes Brothers  
  Under My Thumb performed by Peterson, Lucky  
  It's All Over Now performed by Womack, Bobby  
  Midnight Rambler performed by McCray, Larry  
  Heart of Stone performed by Walker, Loe Louis  
  Moonlight Mile performed by Hart, Alvin "Youngblood"  
  Miss You performed by McCray, Larry  
  Blues Power performed by Taylor, Koko  
  Wonderful Tonight performed by Clay, Otis  
  Lay Down Sally performed by Weathersby, Carl  
  Strange Brew performed by Buddy Guy  
  Before You Accuse Me performed by Bo Diddley  
  Roll It Over performed by Walker, Loe Louis / Cotton, James  
  Crossroads performed by Edwards, Honeyboy / Cotton, James  
  Old Love performed by Rush, Otis  
  Too Bad performed by Perkins, Pinetop / Hammond, John / Margolin, Bob  
  Tears in Heaven performed by Peebles, Ann  
  Layla performed by Gales, Eric / Trucks, Derek
Various Artists - This Ain't No Tribute Blues Cube - 1999 - House of Blues 1467
---
[History] [Members] [Library] [Discography] [Videography] [Filmography] [Pictures] [Audio Files] [Video Clips] [Tape Archive] [Concerts] [Related Artists] [Merchandise] [Guestbook] [Chat Room] [Search] [What's New?] [Main Page]
Webmaster