Arlen Roth: Toolin' Around Woodstock
Featuring Levon Helm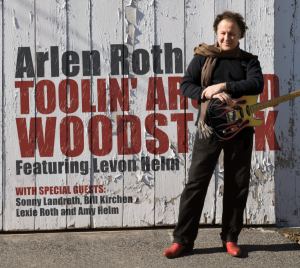 February 2008 CD from veteran guitar maestro Arlen Roth, with a selection of rootsy classics drawing from the music of Chuck Berry, Carl Perkins, Buck Owens, Bob Dylan, Sonny Terry & Brownie McGhee and others.
The record was recorded at Levon Helm's studio in Woodstock, NY. Levon plays drums on 12 of the 14 tracks. He also sings the lead vocal on 2 of them including an incredible version of "Sweet Little Sixteen" and the Buck Owens chestnut "Cryin' Time." Other guests on the album include Sonny Landreth, Bill Kirchen, Amy Helm, and Arlen's daughter Lexie. Bass was handled by Paul Ossola & Mike Merritt, keyboards and accordion by Brian Mitchell, drums by Joe Bonadio, and rhythm guitar by Matt Rae.
The recording sessions were filmed and a free bonus DVD featuring candid "behind the scenes" footage of the proceedings in Levon's studio was included with the initial pressing.
The album is produced by Arlen Roth and Jon Gershen. Gershen recorded with Garth Hudson and Richard Manuel in the '70s as a member of the group Borderline.
Tracks
Sweet Little Sixteen (Levon Helm-Vocal & Drums, Arlen Roth - Guitar)
Games People Play (Bill Kirchen-Vocal & Guitar, Arlen Roth-Vocal & Guitar)
Ballad Of A Thin Man (Arlen Roth-Guitar, Levon Helm-Drums)
Matchbox (Arlen Roth-Vocal & Guitar, Levon Helm-Drums)
Sleepwalk (Arlen Roth-Guitar, Levon Helm-Drums)
Cryin' Time (Levon Helm-Vocal & Drums, Lexie Roth & Amy Helm- backing vocals)
Tumblin' (Sonny Landreth- Slide Guitar, Arlen Roth-Slide Guitar)
Nightlife (Lexie Roth - Vocal, Arlen Roth - Guitar)
Gas Station Frustration (Bill Kirchen-Vocal & Guitar, Arlen Roth-Guitar&Harmony Vocal)
Unchained Melody (Arlen Roth - Guitar, Levon Helm- Drums)
Burnt Child (Arlen Roth -Vocal & Guitar)
Don't Lie To Me (Arlen Roth - Vocal & Guitar, Levon Helm - Drums)
Just One Look (Lexie Roth & Amy Helm- Vocals, Levon Helm - Drums, Arlen Roth- Guitar)
Deep Feeling (Sonny Landreth - Slide Guitar, Arlen Roth - Slide Guitar, Levon Helm - Drums)
DVD
Look Inside: Toolin Around Woodstock - Amy Helm, Levon Helm, Bill Kirchen, Sonny Landreth, Arlen Roth, Lexie Roth
Arlen Roth - Toolin' Around Woodstock featuring Levon Helm - 2007 - Aquinnah Records AQ-5756
---
[History] [Members] [Library] [Discography] [Videography] [Filmography] [Pictures] [Audio Files] [Video Clips] [Tape Archive] [Concerts] [Related Artists] [Merchandise] [Guestbook] [Chat Room] [Search] [What's New?] [Main Page]
Webmaster