Travis: Coming Around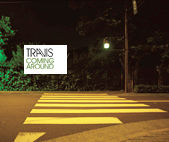 Lead singer Fran Healy from the UK group Travis told Rolling Stone in a spring 2000 issue that Music From Big Pink is their favorite album. They recorded "The Weight" as a "B-side" to their U.K. single "Coming Around", released on June 5th 2000. Travis's version can also be heard in the soundtrack to the 2002 movie Igby Goes Down.
Along with Cast, Ocean Colour Scene, Kula Shaker and Embrace, Travis were one of the most prominent British "trad-rock" bands in the mid-to-late '90s. Following Oasis' lead of crafting down-to-earth, heartfelt songs in the vein of classic British bands from the '60s, Travis were more successful and enduring than some of their peers due to their lively, impassioned songwriting and performances.

The group formed in Glasgow around 1990 as something of a lark for its members, singer/songwriter Francis Healy, guitarist Andy Dunlop, drummer Neil Primrose and bassist Douglas Payne. After finishing their studies at art school a few years later, the foursome became more serious about Travis' potential and moved to London in 1996. Their self-released debut EP, All I Wanna Do Is Rock, came out in the fall of that year; with its earnest vocals and soaring guitars, it captured the spirit of British rock at the time, which was retreating from some of Britpop's artiness to a back-to-basics sound. Their second single, 1997's "U16 Girls" was released by Independiente Records, the new label headed by former Go! Discs' director Andy MacDonald; a few months later, their critically-acclaimed full-length debut Good Feeling arrived. Recorded in a matter of days with top producer Steve Lilywhite, the album included hit singles like "Happy" and "Tied To The '90s" and immediately entered the Top 10 of the UK charts. The following year, Travis began sessions with star producer Nigel Godrich for the follow-up to Good Feeling, recording in six studios as many months. Though it was a slower, darker affair, when The Man Who appeared in 1999, it eclipsed Travis' previous successes, going platinum six times in the UK and spawning more hit singles such as "Why Does It Always Rain On Me?" and "Writing To Reach You." Nominated Select Magazine's Album Of The Year (and finishing in the top 10 of many other publication's year-end lists), The Man Who appeared on US shores in early 2000, just in time for a tour with their musical big brothers, Oasis.

--Heather Phares, All Music Guide
Audio Sample
"Coming Around" was released on 7" vinyl and MC, both with "The Connection" as B-side, and on two different CDs. The first CD, that also includes the video for "Coming Around," has the tracks "Coming Around," "Just the Faces Change," and "The Connection." The tracks on the second CD are "Coming Around," "Rock 'n' Salad Roll" and "The Weight."
Travis - Coming Around - CD single - 2000 - Sony International
---
[History] [Members] [Library] [Discography] [Videography] [Filmography] [Pictures] [Audio Files] [Video Clips] [Tape Archive] [Concerts] [Related Artists] [Merchandise] [Guestbook] [Chat Room] [Search] [What's New?] [Main Page]
Webmaster