Howie B: Turn The Dark Off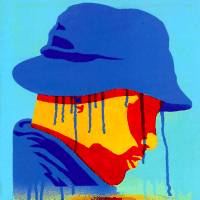 Between you and me, Turn The Dark Off could be one of the coolest CD's to have in your collection this summer. It's by the guy who helped U2 make their POP album into something that has been embraced by lovers of electronic music as well as mainstream rock audiences around the world. It's the album that just may have given adult oriented rockers a taste of forbidden fruit. Armed with only a turntable and a Nord Lead (and lots of other stuff?) he has single handedly crafted an album that will be accessable to many, including newcomers to the genre who just want to find out more about U2's most recent collaborator. They won't be dissapointed! A narrative on "Take Your Partner By The Hand" describes some dreamy inner city situation similar to the ramblings of the entrepreneur on Grace Jones' "Slave To The Rythm" (also on Island Records) who susequently jettisons her to stardom. Then there's "Angels Go Bald: Too" which has a delightful fluffy groove that NEVER gets soppy. It's like taking a bath in scented motor oil. One of my favourites is "Who's Got The Bacon" which sounds like a sick and twisted version of a detective series soundtrack. It's the type of music that would be playing along in the background while tiny little cops and robbers chased each other around in Scalextric cars. The album is full of wonderful moments, pieced together masterfully by Howie who obviously knows what he's doing even if he doesn't neccessarily know how he's doing it. He's an electronic artist using all the many tools at his disposal to make his visions a reality.
-- Review from electronicmusic.com
Robbie Robertson does some narration/vocal work on the the Howie B (aka Howard Bernstein) track "Take Your Partner By The Hand", as Howie tells about in this excerpt from an interview with JockeySlut magazine:
Have you involved any vocalists this time?
I've done a wee bit of shouting myself. Robbie Robertson from The Band, Bob Dylan's backing band is on it (Looks dead chuffed). He phoned me up three or four months ago when I was doing the U2 stuff. He was like, 'Howie I've just heard something you've done. I don't know if you know who I am but I'd love to do some tunes'. I was like, 'Magic! let's do that! ' He kept sending me cassettes in Dublin. In December we hooked up and did three tunes. Crazy fucking tunes. Then when I finished my album I sent him out a CD and he rang up and said, 'Howie I'd love to do a vocal on 'Take Your Partner By The Hand'. I was like, 'Magic!'
He's the last person you'd expect to crop up on a Howie B album!
Yeah, an acoustic folk singer! He picks up a guitar and goes, 'Here's an idea....' or he picks up a bass, or a mic and off he goes...That's a vibe.
It seems you have the knack for re-inspiring old rock stars.
But he's a big inspiration for me. It does my head in a bit. That film The Last Waltz (Martin Scorcese rockumentary about The Band) now that's a fucked up film. Fucked up! The tunes the guy's written. He's not lazy, he's still making music and you get hot from that. That guy's fired me up, you see a light in something and then that light comes to you. The guy's just as freaked about me as I am about him and that's wicked that. He's in his early fifties and he's still doing it. (Ponders) Fuckin' hell yeah. He's a music man so there's nothing going to stop me doing it.
The song "Take Your Partner by the Hand" was co-written by Howie B and Robbie Robertson and features on both Howie B's Turn the Dark Off and on Robbie's 1998 solo album Contact from the Underworld of Red Boy. Several remixes of this song was also released on two CD singles in 1998.
Tracks
Fizzy In My Mouth/Your Mouth
Hopscotch
Switch
Sore Brown Eyes
Limbo
Angels Go Bald: Too
Who's Got The Bacon?
Baby Sweetmeat (Come Here)
Buttmeat
Sidemen
(only members of The Band listed) Howie B - Turn The Dark Off - 1997 - Polydor/Island Records 537934
---
[History] [Members] [Library] [Discography] [Videography] [Filmography] [Pictures] [Audio Files] [Video Clips] [Tape Archive] [Concerts] [Related Artists] [Merchandise] [Guestbook] [Chat Room] [Search] [What's New?] [Main Page]
Webmaster