Rufus Wainwright: Want Two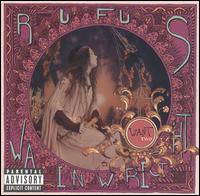 Levon Helm played drums at a session for Wainwright's Want One and Want Two albums, that took place on March 9th, 2003 at Bearsville Studio A, Bearsville, NY. On Want Two, Levon plays on the standout track, "The One You Love" (Rufus Wainwright), with this lineup: Rufus Wainwright - vocals, piano, acoustic guitar, backing vocals / Martha Wainwright - backing vocals / Gerry Leonard - electric guitar / Charlie Sexton e- lectric guitar / Jeff Hill - bass / Levon Helm - drums.
Want Two is also available as a CD/DVD combo with loads of extra material.
Tracks
Agnus Dei (Wainwright)
The One You Love (Wainwright)
Peach Trees (Wainwright)
Little Sister (Wainwright)
The Art Teacher [live] (Wainwright)
Hometown Waltz (Wainwright)
This Love Affair (Wainwright)
Gay Messiah (Wainwright)
Memphis Skyline (Wainwright)
Waiting for a Dream (Wainwright)
Crumb By Crumb (Wainwright)
Old Whore's Diet (Wainwright)
Rufus Wainwright - Want Two - 2004 - Dreamworks/Geffen B0003736
---
[History] [Members] [Library] [Discography] [Videography] [Filmography] [Pictures] [Audio Files] [Video Clips] [Tape Archive] [Concerts] [Related Artists] [Merchandise] [Guestbook] [Chat Room] [Search] [What's New?] [Main Page]
Webmaster