Various Artists: What's That I Hear? The Songs of Phil Ochs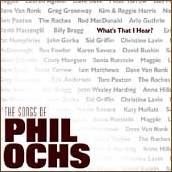 Well, if everybody else and their brother is getting a tribute album, Phil Ochs should certainly get his slice of the reverential pie. The late, great '60s folk/protest singer-songwriter, despite his early death, was around long enough to leave a substantial legacy of songs that mesh the political with the personal in a daring, innovative manner. Those songs are performed here by a wide-ranging crop of contemporary folkies, both well-known (at least for folkies) and obscure. Unsung legend/onetime Ochs protege Sammy Walker honors his mentor with a faithful take on the piano ballad "Jim Dean of Indiana." Ochs contemporary Dave Van Ronk weighs in with the classic "Oustide of a Small Circle of Friends." Elsewhere John Gorka, David Massengill, Steve Gillette and others lend their voices in service to the Ochs canon. Kudos to PA folk DJ/impresario Gene Shay for putting this 2-disc piece of history together.
The tribute album features the track "When I'm Gone" (Phil Ochs) from Eric Andersen's album Memory of the Future, with Garth Hudson playing accordion and tenor sax.
Tracks
Disc 1

Power And The Glory - Magpie
Boy In Ohio - David Buskin
Jim Dean Of Indiana - Sammy Walker
Chords Of Fame - Agnelli-Rave And The Charmers
There But For Fortune - Peter Yarrow
Flower Lady - Iain Matthews
I Ain't Marchin' Anymore - Arlo Guthrie
Is There Anybody Here? - Sonia Rutstein
Draft Dodger Rag - Tom Paxton
Changes - Nancy Tucker
Bells, The - The Roches
Pleasures Of The Harbor - Rod MacDonald
Tape From California - Greg Greenway
Another Age - John Wesley Harding
When I'm Gone - Eric Andersen

Disc 2

What's That I Hear - Kim & Reggie Harris
Hands - Pat Humphries
Bracero - John Gorka
Sailors And Soldiers - Sid Griffin/Billy Bragg
Highwayman, The - Steve Gillette/Cindy Mangsen
Gas Station Women - McDonough/Lavin/Christian
Outside Of A Small Circle Of Friends - Dave Van Ronk
Crucifixion - David Massengill
Here's To The State Of Mississippi - Katy Moffatt
Freedom Riders - Kim & Reggie Harris/Magpie
Iron Lady - Anne Hills
There But For Fortune - Rex Fowler
No More Songs - Karen Savoca
Various Artists - What's That I Hear? The Songs of Phil Ochs - 1998 - Sliced Bread Records
---
[History] [Members] [Library] [Discography] [Videography] [Filmography] [Pictures] [Audio Files] [Video Clips] [Tape Archive] [Concerts] [Related Artists] [Merchandise] [Guestbook] [Chat Room] [Search] [What's New?] [Main Page]
Webmaster