Colin Linden: When the Spirit Comes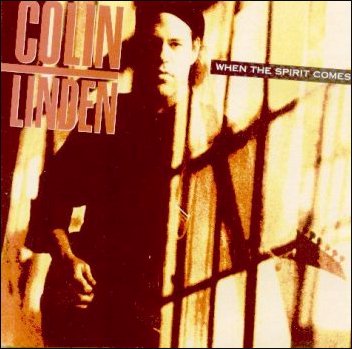 Members of The Band have been guesting on Canadian blues/rock artist Colin Linden's albums When the Spirit Comes (1988), South At Eight, North At Nine (1993), and Through the Storm Through the Night (1995). Linden has performed live with Band members several times and he co-wrote songs and played on The Band's 1993 comeback album Jericho. When the Spirit Comes has a cover of The Band's "Chest Fever", with guests Rick Danko and Garth Hudson.
Colin Linden: "Chest Fever was totally unprovoked. This song was first recorded on nature's most perfect album, Music From Big Pink. Rick Danko sings both the harmonies, but it's John Whynot playing the organ."
Re-releases on CD by Sony Canada in 1997 and in 2002, the latter with bonus tracks and liner notes by Linden where he praises The Band.
For more on Colin Linden and this album, see the Colin Linden web pages.
Tracks
Two Halves of a Whole
No Fortune Teller
I Kick For This House
Miles Away From You
Thy Will Be Done
When the Spirit Comes
Chest Fever (J.R.Robertson)
No Price For Love
I Know Her
There Goes the Neighborhood
Sidemen
(only members of The Band listed)
Rick Danko, harmony & lead vocals
Garth Hudson, keyboards
Colin Linden - When the Spirit Comes - 1988 - A&M Records
Compact Disc: Sony Canada (1997)
---
[History] [Members] [Library] [Discography] [Videography] [Filmography] [Pictures] [Audio Files] [Video Clips] [Tape Archive] [Concerts] [Related Artists] [Merchandise] [Guestbook] [Chat Room] [Search] [What's New?] [Main Page]
Webmaster