The Wild Magnolias: Life is a Carnival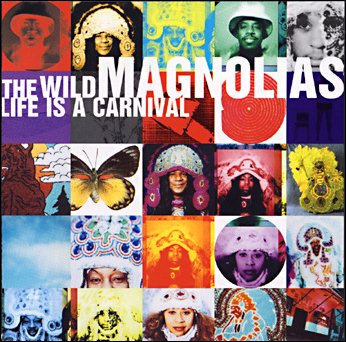 The Wild Magnolias, Bo Dollis and Monk Boudreaux, sang on Storyville and the subsequent live performances at Seville and on TV. Here Robbie Robertson repays the favour and is joined by Bruce Hornsby from the same Seville line-up on one track on this album. The album was recorded in November 1998 in New Orleans. The title track, "Life is a Carnival" is credited as The Wild Magnolias featuring Robbie Robertson and Bruce Hornsby.
On the inner sleeve it says "Featuring Robbie Robertson, Levon Helm & Rick Danko". In 1998? In New Orleans? I couldn't wait to hear it, but then I read further to see the musician line-up. It became apparent that "featuring" is a misprint for "written by". The performers follow. I've never seen the credit 'vocal flavor' or 'piano flavor' before. Dr. John appears on another track, "Blackhawk."
The lyrics are changed heavily "Hey Buddy, would you like to meet a real big chief? ... I've got rhinestones and feathers from my head to my feet." I don't find this an improvement. As you'd expect Robbie adds beautiful and restrained touches, as does Hornsby behind him.
-- Peter Viney
Tracks
Pock-A-Nae
Coochie Molly
Who Knows
Life is a Carnival (featuring Robbie Robertson & Bruce Hornsby)
Party
Old Time Indian
All on a Mardi Gras Day
Shanda Handa
Cowboys and Indians
Blackhawk
(a duet with Dr John)
Pocket Change
Herc-Jolly-John
Battlefield
Hang Tough
(a duet with Marva Wright)
Tootie Ma
Peacepipe
Musicians on "Life is a Carnival"
produced by Cyril Neville
Bo Dollis - lead vocal
Monk Boudreaux - raps
Robbie Robertson - guitar, vocal hamony and vocal flavor
Bruce Hornsby - piano, vocal hamony and vocal flavor
June Yamagishi- rhythm guitar
Norwood Geechie Johnson - bass drum, vocal harmony
Cyril Neville - percussion, vocal harmony
George Rossi- piano flavor
Willie Green - drums, percussion
Nick Daniels - bass guitar
Leon Alexander - steel drums
Earl Smith & Nick Daniels - vocal harmony
Michael Ward - congas, whistle
The Wild Magnolias - Life is a Carnival - 1999 - CD - Metro Blue 7243 8 23737 2 8
---
[History] [Members] [Library] [Discography] [Videography] [Filmography] [Pictures] [Audio Files] [Video Clips] [Tape Archive] [Concerts] [Related Artists] [Merchandise] [Guestbook] [Chat Room] [Search] [What's New?] [Main Page]
Webmaster