Garth Hudson's Diamond Jubilation
by Adam Betley
Garth Hudson, the musical genius from The Band, is an international treasure. His mastery of keyboard instruments, organ, accordion, piano, horns and music theory is simply unequaled. It was announced that Mr. Hudson would receive the Lifetime Achievement Award from his hometown of London, Ontario, Canada this year. He is also celebrating his 75th birthday in August 2012. I was able to meet Garth at a historic Midnight Ramble, his final performance with the late Levon Helm. I knew seeing him perform again was an opportunity I couldn't pass up.
After writing about my previous experience, I was so fortunate to become friends with Garth and his wife Sister Maud Hudson. When they called me from their home in upstate New York, we ended up talking about music late into the night. Mr. & Sister Hudson were warm and friendly throughout our conversations. Garth shared wonderful stories from his legendary career, often laughing and playing musical examples on one of his pianos. The topics included his early life, his role in The Band, his learning methods, and his dear friend Levon Helm. The highlights are featured in the sections that follow. A few weeks later, Garth & Sister Maud Hudson headlined at the the London Music Awards. The event was hosted at the Wolf Performance Hall, where the duo recorded their LIVE at the WOLF album ten years earlier. Mr. Hudson was dressed in a classic black suit with his fedora, thick white beard and reading glasses He certainly appeared like the brilliant professor he's always been. Garth accepted his Lifetime Achievement Award and thanked his wife Sister Maud, friends, family, and fans. He spoke about a music education program based on his own unique learning methods, closing his speech with a truly heartfelt moment: "Thank you, and bless each one of you."
Garth sat down at the grand piano for an elegant 'Solo Instrumental'. His playing brought memories of the past, while moving adventurously into the future. He incorporated classical and jazz styles into a brilliant musical journey. This master musician was in superb form. Sister Maud joined him on vocals for a majestic version of 'Tears Of Rage'. This song opened The Band's historic Music from Big Pink album in 1968. Her vocal was soulful and heartbreaking. Garth's rich chord voicings and beautiful embellishments just poured from the music. As this timeless music resonated once again, the duo honored their closest friends Richard Manuel, Rick Danko and Levon Helm. It was among the finest performances of Garth Hudson's career.
Mr. & Sister Hudson invited everyone to join them at a local restaurant after the show. They graciously spoke with friends, family and fans as we congratulated them on their wonderful night. I spoke with the Hudsons once again, thanking them for their kindness, generosity, and incredible music. As the recent A Canadian Celebration of The Band album demonstrates, Garth & Sister Maud Hudson are still creating, performing, and sharing a musical legacy. Thankfully, we can all celebrate with them.
All quotes are from Garth Hudson.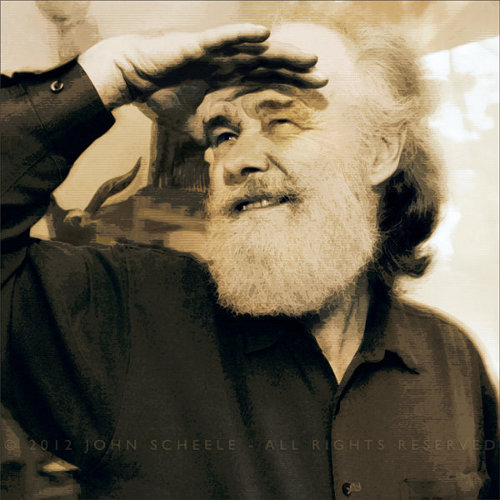 Photo copyright © 2012 John Scheele - All Rights Reserved
London, Ontario
"We will be visiting old school friends and family. Take pictures, drive around, look for landmarks and take more pictures. Sister Maud and I are committed to preserving anything about the wonderful characters in our family. My cousin Keith, a dedicated genealogist and archivist, has found a poster for a concert presentation by Thomas Hudson in the year 1899 on the front lawn of the family farm north of London.
Alan Freed has been given the title King Of Rock & Roll. He called his program, from Cleveland Ohio, the Moondog Matinee. From 5:05 to 5:55pm, Richard Manuel and I took R&B lessons when reception was good. To catch his show, I took a little radio downstairs into the basement and set it up in my Dad's photography dark room. I drilled a hole in the floor, and ran an aerial up to the back porch around the top of the curtains. My mother didn't like the honking saxophones and wild sounding music, so I had to sneak off. I'd be about 14 years old then, listening to Alan Freed, King Of Rock & Roll. I was convinced that some people over in Cleveland were having a lot more fun than I was. When I joined The Hawks, the first real music lesson was changing a chord in 'Georgia On My Mind'. They'd stick a diminished chord in bar four. I said to them, 'Why don't we move a fifth down.' That was the first big breakthrough, a big change, when they realized they could pull that one off. I also gave them a turnaround or two.
I was brought up in a home with a shop in the basement and a dark room for photography. Hints and tips for using wood, metal working tools, and assembling a minimum sized personal repair kit for the road are subjects in the curriculum. Along with the performing, playing, and recording with The Band, I monitored and participated in the activities of the support crew, road crew, and made notes on pre-production problems and solutions. I made notes on general information, logistics, priorities and sustaining an effective operating procedure. Also contact information, where to find parts and access to repair centers. A gentleman gave me his card in Houston. On the card, it said 'Oboe & Flute Repair'. That means that he was tops in the whole area and does the symphony instruments. There are many reasons for keeping a captain's log. It's entertaining to look through the notebooks. I have about 18 or more through the years. It's great to look back and see a date on something. We were talking about writing a book and manual for the working musician. It could be a pocket sized, leather bound manual with gold embossed letters TSS, code for Top Secret Stuff."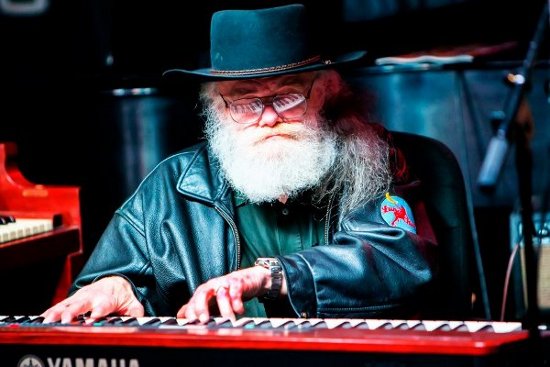 June 2012, Iridium Jazz Club, New York City, New York. Photo by Arnie Goodman.
Sounds & Textures
"Recently, I am working with variations of what we might call ornamentation: slides, trills, wobbles, shakes, grace notes, appoggiaturas, mordents, and even gruppettos! One of the goals in orchestrating Band songs was to make the background or keyboard work somehow fit an era, or imply a certain life situation. Another of the goals was to give each song a different sound. Listen to the melodeon sound from the Lowrey organ, which you hear in 'Tears Of Rage'. For the first part of the piece, the Lowrey is soft, a pure sound, like a muffled flute with no vibrato in the background of the verse. In the chorus, it sounds like a melodeon or harmonium, an old pump organ, accordion like with a slow attack. The Hammond organ does not do this. It was rewarding to hear again recently what I had done on that first song, on our first album.
I had this box built by Pete Traynor from Toronto. We knew him when he was starting out designing and manufacturing amplifiers. I asked him to build this cube shaped box. Inside he mounted a Leslie device from the Baldwin organ factory. It was a chute that rotated, a belt, pulley, motor and speed control. The speaker was above the chute and pointed down. When you rotated the chute, it would change the direction of the sound. So you get a doppler effect. For 'This Wheel's On Fire', I picked up a telegraph key. There was a bar with a weight that you could slide back and forth, to vary the rate or number of oscillations. With the telegraph key, you have an on/off signal. What could you call that, machine gun? Yeah, you could call it that. A reiterative effect, and it was great. That keyboard was an RMI Rock-Si-Chord."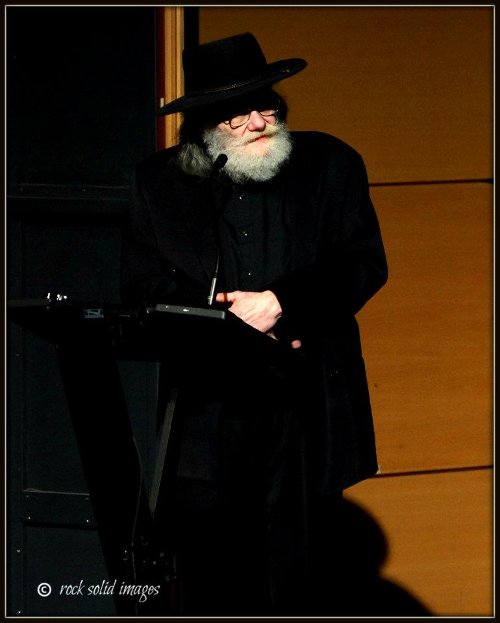 June 2012, Wolf Performance Hall, London, Ontario, Canada. Photo by Tommy Alcatraz.
Music Education
"Another subject in the curriculum includes the great dance orchestras from 1928 to 1938. I want to mention McKinney's Cotton Pickers. Don Redman was the leader and an influential player on alto saxophone. A very important early band. When we focus on the music from that period of time, we are looking for something exceptional. We are going to find beautiful passages, played by Claud Jones on trombone. His solos are perfect, they are magnificent. Flawless within the idiom. Also listen for magnificence in Ben Webster's tenor saxophone solos on 'Conga Brava' and 'Cotton Tail'. He had a lot of attitude. Webster, I guess you could call him the Papa Haydn of rhythm and blues saxophone. I actually saw him play at a little club in London, Ontario called Campbell's Restaurant. I was about 18 then. Webster, Coleman Hawkins and Illinois Jacquet are the main three that were the most influential for tenor players in the urban small horn band jump swing blues era (1942-1958). This was the golden era for Bud J, Louis J, Arnett, Cleanhead, Thin Man, Big J, Red P, Joe H, Gator Tail, Lockjaw, Maxwell, Sam The Man, Big Al, Fathead, Earl B, Sil, Lee, and master Clifford Scott. His variation, hipness, strength of playing uptown blues can't be equaled.
When I was about 15, a London Ontario jazz fan, historian and archivist Jack Wingate recommended I listen to several important players and lent the LPs from his collection. In the study of jazz and uptown blues, I've included many of the musicians that Wingate suggested I listen to. This subject in the curriculum is extensive. I've been compiling music pieces and information on music for the past 42 years. I continue to make notes on everything that goes by. The hints, tips, quotes and stories will be an inspiration to anyone interested in going further into the history of the music industry. It's good to know that folks are interested in stories which can help in solving music business enigmas, along with the presentation of music arranging and composing in an orderly but entertaining fashion. Whether it be for classroom, private study, or master classes.
I want to acknowledge the academics, practicing administrators and students who have assisted Sister Maud and I in the gathering of information and for sharing our concerns with the design and use of new technology for better learning. Thanks to our associates and industry related professionals who guide us in the advancement and dissemination of knowledge, for a better understanding of music and the arts. Here and now, we wish to introduce you to the Garth Hudson Institute for the development and presentation of musical and literary talent, and the preservation of source material and artifacts."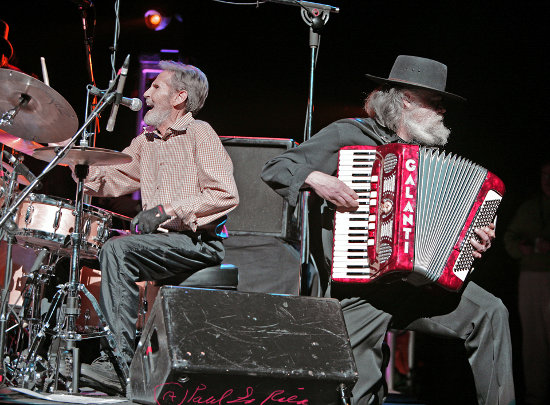 March 2007, Beacon Theatre, New York City, New York. Photo by Paul La Raia.
Levon Helm
"I recall my last Ramble with Levon. I accepted an invitation to guest with Jimmy Vivino who had put together a nice tribute to the voices Rick and Richard. My wife said she believes he hears them singing in his head and heart. Jimmy is very good on piano and vocals. He, Byron Isaacs, and Tony Leone were doing unusual Band songs that they don't do with the rest of the group. I played Jimmy's set before Levon and his band came on for one of his last Rambles (January 21). That's where I last saw Levon in action and he looked fine. I remember Howard Johnson coming up to him in the back room, in the kitchen. Howard said 'You were strong tonight'. And then Levon said 'Ohhhh thank you!' I sat at the round oak table for the last time and listened to one of the greatest story tellers I have heard.
I hope Levon's barn will survive for the legacies. It will take well-known artists to continue performing at the barn in the spirit of Levon to actually save the barn and turn it into a national music treasure. It is a fantastic cathedral-ceilinged, wood-pegged recording studio big enough for an orchestra.
I miss Richard, Rick, and Levon. They walk these hills."
I would like to sincerely thank Garth & Sister Maud Hudson. The time I've spent with them has been the most joyful experience of my life. I would also like to thank everyone who made this article possible: Jan Høiberg, the Scheele Brothers, Arnie Goodman, Tommy Alcatraz, Paul La Raia, my friends and family. Thank you all so much!
---
[History] [Members] [Library] [Discography] [Videography] [Filmography] [Pictures] [Audio Files] [Video Clips] [Tape Archive] [Concerts] [Related Artists] [Merchandise] [Guestbook] [Chat Room] [Search] [What's New?] [Main Page]
Webmaster