Albert Grossman's Ghost
---
by Rory O'Conner
From Musician Magazine, June 1987.
The text and images are copyrighted, please do not copy or redistribute.
---
Albert Grossman is dead. He passed away unexpectedly on January 25, 1986 on a flight bound for Europe, years after he stopped being the most important manager in rock and roll. Years after Bob Dylan left him and Janis Joplin died and the Band dis-Banded and his other acts drifted away or ceased to matter. But somehow Albert Grossman still matters.
Albert Grossman was rock 'n' roll's Citizen Kane -- a brilliant mover and shaker who ended up roaming alone through the halls of his rural Xanadu. Albert owned a big part of the town of Bearsville, New York. There was a story that one of his houses was haunted. Some musicians who stayed there reported meeting the ghost of a woman in black. Other ghosts walk those hills now, the ghosts of Janis Joplin and Richard Manuel among them. But Albert Grossman's is the biggest ghost of all.
His presence is still felt by those in the music business, and not just in the sense that Woodstock, the upstate New York artist colony he popularized, is still a haven for musicians, or that his Bearsville recording studio continues to prosper, or that other rock managers try to act as Albert acted. No, Grossman's effect is much more direct than that. Musicians who long ago tried to leave Albert behind still find themselves legally stuck to him. In life, Albert Grossman cast a long shadow, and death has not made that shadow disappear.
Take NRBQ: one of the greatest rock 'n roll bands going, but as strong-willed as Grossman himself. NRBQ was signed to Albert's Bearsville Records in the early 80s, released one album (1983's Grooves In Orbit) and then got on Albert's bad side. So the Bear of Bearsville came down on them. He would not release anything NRBQ recorded, nor let them leave to record anywhere else. NRBQ was trapped in Musician's Hell. Only recently, after a year of wrestling with Albert's estate, was the band emancipated. If Albert hadn't died they would still be in thrall. But compared to some people, NRBQ got off easy. Bob Dylan's been haunted by Albert for years.
Take these new Dylan bootlegs. Since Albert's death, previously unknown "basement tapes" have been popping up in record stores. Few people could have access to the home recordings made by Dylan and the Band in Woodstock in 1967. Sure, the original Basement Tapes were widely copied, but this stuff was never suspected to exist (not all of it is music to brag about; posterity did not need to know that Tiny Tim was in on some of those sessions). Either one of the ex-Band members is broke and making some fast money, or someone else found a goldmine in Albert's closet. Singer-songwriter Steve Forbert said that he recently came across a board tape from Dylan and the Band's tumultuous 1965 Forest Hills concert in a box of tapes in one of Albert's houses. "I was tempted to steal it," Forbert smiles, "but I was a guest." Are less scrupulous visitors carrying other tapes out of there? One recalls the pilfering that followed John Lennon's murder, and wonders if thieves are robbing this grave, too.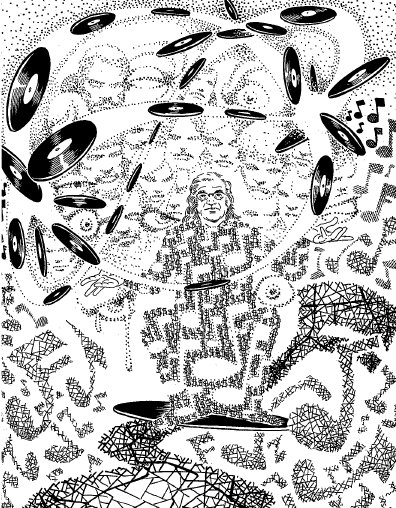 Illustration by Steve Ditko.
Sally Grossman, Albert's widow, waits until Garth Hudson is settled into his chair. Then, without a word, she hands him two nearly identical dull brown album jackets.
"Oh, no," mumbles Hudson in his unmistakable basso profundo, peering down at the song titles. He sits for a moment, shaking his massive head from side to side. Finally, he looks up. "Oh, no," he intones again. "Oh, noooo..."
These double albums come as an unexpected blast from the past, a Zen telegram from an earlier era, to nearly everyone in the offices of Bearsville Studios this crisp new morning. Like Band keyboardist Hudson, Sally had been taken by surprise when I showed up on her doorstep with the "lost basement tapes." She suggested we see what Garth knew about them.
"I only hope this doesn't end up costing me money," says Hudson mournfully.
"Money?" I ask.
"From a lawsuit," he explains. "There'll probably be one somewhere down the line."
Despite his sad demeanor, Hudson seems more interested in the music than the money. He begins ticking off the songs listed on Side One, Volume One of the new bootleg -- "All I Have To Do Is Dream, "I Can't Make It Alone," "I'm Not There," "Get Your Rocks Off," and "Down on Me" -- and confirms that, yes, these and all the others have been culled from those legendary sessions. It was the period just after Dylan and the Band took a ride to the height of fame, glamor -- and exhaustion and then retreated to live in this quiet upstate New York community which Albert had pioneered. While a curious outside world waited they sat around for months and jammed like a neighborhood garage band.
"We were doing seven, eight, ten, sometimes fifteen songs a day," Hudson remembers. "Some were old ballads and traditional songs, some were already written by Bob and Richard [Manuel who hanged himself last year while touring with a reconstituted version of the Band], but others Bob would make up as he went along."
Then Hudson stares down at the albums once again "Ah yes, 'Sign On The Cross.'" He nods with approval. "That would have been a real good one, but Bob never finished it. We'd play the melody, he'd sing a few words he'd written, and then make up some more, or else just mouth sounds or even syllables as he went along," Hudson says of the man whose lyrics inspired and intrigued millions. "It's a pretty good way to write songs," he concludes.
After perusing the list of songs in front of him one last time, Hudson looks up and says, "There are definitely others not included here."
Asked if he has any idea where the bootlegged tapes might be coming from, Hudson mumbles a suspicion to Sally Grossman that a friend or employee of one of the other members of the Band might be behind it. But when pressed for further details, both he and Sally shut off any further discussion of the topic.
I was pretty blown away when Albert died, like a lot of people, I guess," Bob Clearmountain remembers. "And later, I wondered what might happen to all of this. But now Sally seems totally into the studios, and it seems she wants to keep them going just the way Albert was doing it, to respect everything he wanted for them. It's hard for her but I think she'll make a real go of it."
In Bearsville Studio B, Jim Kerr and Simple Minds are busy mixing their forthcoming live album. If any part of the sprawling Bearsville complex -- restaurants, real estate, a record company, music publishing firms, rehearsal barns, an abandoned video center and an unfinished theater arts space -- is happening these days, it's the studios. Throughout the relative lull that followed Grossman's death last year, both studios have been active, with such top groups as the Pretenders, Psychedelic Furs and 'Til Tuesday in residence, The studios have more recently become heavy-metal heaven as bands like Cinderella and Tesla come in to mix or record. In between, everyone from Marshall Crenshaw to Suzanne Vega laid down tracks here. Now Simple Minds is back for a second stint.
"Do We like it here at Bearsville?" Kerr asks in his lilting Scottish burr. "I guess we must, as the last time we were posed to come for five days and stayed five weeks instead! And now we're back again... For one thing; it's great to get out of the city, and into a place like this to work. It reminds me a lot of the countryside just near Glasgow. But also, naturally, it's due to the sound we get here. To tell you the truth, I don't know much about the technicalities of studios; I can't even change the batteries in my tape recorder without help from one of the roadies! But I do know that you can get a great sound here, really clear and bright. I don't know how they do it though... You'd have to ask the engineers and producers."
Jimmy Iovine calls Bearsville "one of the top three or four studios in the world right now."
"The combination of the two studio rooms is one of the best I've ever worked at," says Clearmountain who owns a house in the Woodstock area. "The recording room -- Studio A -- is a very large space that produces a brilliant sound, and it has one of the best Neve boards ever built, custom-made after hearing ideas and input from a producer like myself. And Studio B has an SSL with everything you'd ever need -- it's one of the best mixing rooms there is."
Upstairs in the studio office, Jim Kerr, Sally Grossman and I finish watching a cassette of Eat The Document, a brilliant film that chronicles the 1966 Dylan/Band tour of Britain commissioned and then rejected by ABC TV, Eat the Document was meant as a followup to the previous year's Don't Look Back. But after ABC turned it down as "totally unsatisfactory" and threatened legal action to get its investment back, the film was hardly shown. In retrospect however, its herky-jerky handheld verite shooting and quick-cut editing captured the intensity and paranoia of those pre-Woodstock touring days better than any other "document" Dylan ever released.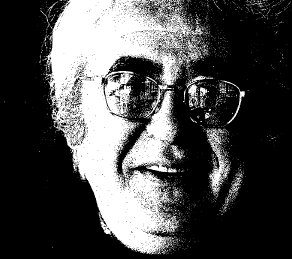 The Citizen Kane of the 60s.
Taken together, Eat the Document and Don't Look Back offer a unique insight into the Bob Dylan persona circa 1965-66 -- a persona composed in part of put-downs, posturing and paranoia that some say was wholly adopted from his challenging, combative, domineering and at times sadistic manager, Albert Grossman.
When the film ends, Sally and I head over to lunch and talk at the Little Bear, one of the two restaurants built by Albert as part of the ever-expanding world of Bearsville. Known as the "Baron of Bearsville" or simply, "The Bear," Albert Grossman was a financial wizard, who could be "a teddy or a grizzly, depending on your point of view," as Robert Shelton notes in his Dylan biography No Direction Home. But the one thing that everyone agrees on concerning Albert Grossman is that he redefined the role of personal manger, and in the process profoundly changed the nature of both popular music and the music business.
Born in 1927 to immigrant parents, Grossman grew up in Chicago and attended university there, where he earned a master's degree in economics. In 1957, he opened one of the first folk music clubs in America, the Gate of Horn. Grossman booked singers like Josh White, Big Bill Broonzy, Odetta and Bob Gibson. He also ran the restaurant. Gibson, who says he later became the first artist Grossman ever managed, remembers the Gate of Horn.
"I played the third night the club was open, and I stayed for eleven months!" he recalls. There was absolutely nothing like it at the time. One unique thing about the Gate of Horn was the fact that if the audience wasn't attentive, if they really didn't listen to the act, then they were asked to leave. This was unheard of at the time."
Gibson and Grossman shared an apartment for two years on the North Side of Chicago. Gibson says the club became the hippest spot in town within a matter of months, "The inside place for inside people." Although undercapitalized and with a tiny capacity, the Gate of Horn had a real impact -- it affected people not only in Chicago but all across the country.
Gibson's's memories are confirmed by folksinger Odetta, who was living and working in San Francisco at the time. "There was a phenomenal grapevine in those days, a vital folk scene that stretched from Manhattan through Chicago all the way to the West Coast, where I was. Somehow, Albert heard of me when I was still in San Francisco and wrote asking me to play the Gate of Horn. One sensed that Albert was brilliant, a man of impeccable artistic taste." Soon Odetta too was under contract to Grossman.
Shortly after the Gate of Horn opened, Bob Gibson's recording career began to take off. "In a sense, that was one of the most meaningful things that happened in terms of Albert's future direction," Gibson says. "He became involved for the first time with the record business. Then he came east with me, met George Wein and launched the first Newport Folk Festival in 1959. That in turn got him launched as a personal manager in a big way."
Once he got a taste of both the business and the East Coast, Grossman kept going back for more. Greenwich Village was where it all was happening, where the burgeoning folk music scene had begun to make Chicago's "inside place for inside people" pale by comparison. Soon he left the club business and Chicago behind.
Peter Yarrow was among those active in the Village scene at that time, doing a solo act. He met Grossman in the Cafe Wha? in 1960, and took him on as a manager. One year later, says Yarrow, "Albert said to me, I have an idea for this group that is really sure-fire." The group was Peter, Paul and Mary.
"Albert was a man of unusual tastes and a different kind of insight into music," says Yarrow, who admittedly had "a special ride and a special relationship" with Grossman that lasted until his death. "He was concerned first and foremost with authenticity. Did the music have real substance, value and honesty? But he was also concerned with having impact and influence in the larger world, the heartland. It was a very rare combination.
"Everybody was ready for the change," says Yarrow. "But how could you reach them? How could you tap the public's ability to take in and incorporate our taste? Albert realized that it wasn't enough just to write and perform songs, that there was a multitude of ways to be successful and to happen, to become important, to be wanted by that public. It was necessary to couple artistic success with enormous economic success in order for that to take place."
Under Grossman's guidance, the trio of Peter, Paul and Mary began enjoying some of that success. And there were other more powerfully original stars burning in the basement clubs of the Village at that time. The brightest was Bob Dylan. Soon, he and Grossman would enter into a long and stormy personal and contractual relationship. The merger of Dylan's artistry, Grossman's business sense, and Peter, Paul and Mary's mainstream appeal was about to take the tiny Village folk scene to the top of the charts.
First, however, there was the matter of Sally Buehler. "I used to see Albert Grossman around the Village back when I was still a student at Hunter College in the beginning of the 60s," Sally says. "Everybody knew everybody else on the street at that time. It was incredible. The folk music scene was starting to happen, the beat poets were all around. Bill Cosby used to test out his new material after hours at the Gaslight. Soon I figured that what was happening on the street was a lot more interesting than studying seventeenth-century English literature, so I dropped out of Hunter and began working as a waitress. I worked at the Cafe Wha?, and then the Bitter End, all over," Sally laughs. "I had real upward mobility as a waitress... Back then Albert never even said hello to me. He was too purposeful, too busy."
Eventually, Albert Grossman began saying more than just hello to the young brunette dropout he saw everywhere. Then things began to happen fast.
In short order, Dylan signed Albert Grossman as his manager, a relationship that lasted from 1962 to 1971, and which is still being legally resolved. Then Peter, Paul and Mary scored a major hit with Dylan's "Blowin' In The Wind," even before it was released on The Freewheelin' Bob Dylan in May 1963. Soon Dylan, Peter, Paul and Mary, Albert -- and Sally -- were on a one-way ride to the top.
In 1964 Sally and Albert, thirteen years her senior got married. "The years between '64 and '70 were a total blur," Sally remembers. "Our life was incredibly intense. Every night about thirty of us would meet at Albert's office on 55th Street to go out. The office was constantly packed with people -- Peter, Paul and Mary, of course, but also Ian and Sylvia, Richie Havens, Gordon Lightfoot, other musicians, artists, poets... Then there were tours to England and Europe, command performances for the Queen and then the move to Woodstock..."
Sally earned her own bit of immortality by posing -- languidly -- with Dylan, on the cover of Bringing It All Back Home.
Even as the Village folk scene was just beginning to percolate in the early 60s, Albert Grossman had begun buying property near Woodstock, a countrified arts colony about a hundred miles north of Manhattan. Dylan began spending more and more time in the area as well, first at Peter Yarrow's house, then over at the growing Grossman holdings in nearby Bearsville. Sally's good friend Sara Lowndes was also on the scene.
"I remember the first time Bobby was ever on television, I watched the program with Sara," says Sally. "I probably shouldn't say this, but she thought we were going to watch Bobby Darin! Later, I introduced them, though they like to deny it now." She snaps back to the present and scows a little. "I don't want to get into all that now."
Bob and Sara Dylan were married in a civil ceremony on November 22, 1965. The Woodstock era was about to begin in earnest. Meanwhile, Albert Grossman was busy redefining -- some say -- reinventing - the role of personal manager
David Braun, Bob Dylan's attorney for many years (and Albert Grossman's for a few), says Grossman was "the most successful manager ever... as smart as anyone I ever met regarding business... the man who invented personal full-time management." Braun says Grossman fundamentally altered the traditionally unequal relationship between artists and record and publishing companies.
Electra Records chairman Bob Krasnow, a friend and business associate of Grossman's, agrees. "What you see today in the music business is the result of Albert," he maintains. "He changed the whole idea of what a negotiation was all about. Albert understood that music was becoming an industry."
"He was the first person to realize that there was real money too be made in the music business" says Braun.
Soon real money was flowing directly to Grossman and his clients. Whether it concerned record royalties, music publishing agents, promoters, even overseas licensing of songs, Grossman was breaking new ground in the rapidly growing business of popular music, even as his acts were leasing an artistic revolution of their own. Together they made millions.
Grossman used his money to expand in seemingly every direction. He continued to guide the careers of Dylan, Peter Paul and Mary, Lightfoot, Havens, Ian and Sylvia, Paul Butterfield and Jim Kweskin. He added new rock acts like The Band, the Electric Flag, and most notably Janis Joplin. But somewhere along the line he may have spread himself too thin. Parts of his empire began to crumble and crack and people started getting angry and resentful.
Among them was Odetta, one of his first successes. "Eventually, my account was no longer being taken care of properly. I tried everything to get attention -- crying, screaming, being logical," she says. "Because he began by building his credibility on my success, I later felt so betrayed by him that at one point in my life I could not hear the name Albert Grossman without the hairs on my back standing up."
Other clients began to complain as well. Some felt neglected and others taken advantage of. Mary Travers said Albert was sexist, and made more money than either Peter, Paul or her. Odetta accused him of racism. And Grossman's relationship with Dylan was deteriorating dangerously as well.
Some listeners imagine references to the Dylan/Grossman tensions in John Wesley Harding, Dylan's first post-accident album. When Dylan sang; "Dear landlord please don't put a price on my soul," it was easy to think he was addressing the laird of Bearsville. And who was the "Poor immigrant... who falls in love with wealth itself and turns his back on me?"
David Braun explains it this way: "Albert got a little avaricious. He began to lose feeling for his artists, and stopped standing in the background. Like all managers, he eventually got to the point where he just couldn't do it anymore."
Braun's opinion is echoed by Jonathan Taplin, another longtime Grossman associate. "In the end it all just got to be more than Albert could handle. He began to let other people run things for him. He made everybody move up to Woodstock, then lost his heart for the music and started getting into restaurants and real estate. As far as Bob goes, Albert just got too greedy. He kept a huge percentage of Dylan's publishing rights at a time when many other artists completely controlled their own publishing."
That Grossman was losing interest in management around this time is confirmed by Sally. "Absolutely. He couldn't wait to get out by then," she says. "He was burnt out."
Even Grossman's most ardent defender, Peter Yarrow, admits that the Bear of Bearsville was losing his touch by the end of the 60's, particularly after the tragic death of Janis Joplin. "He was burnt out and heartbroken. He didn't want to and couldn't any longer do the job," says Yarrow. "But there was an additional element of adolescent rebellion on the part of some of his artists as well, as history was forgotten," and they symbolically broke with their parents by breaking with him..." Then, rather pointedly, he adds, "Look, just as there never would have been a Peter, Paul and Mary, there never would have been a Bob Dylan who could have survived and made it without Albert Grossman. Personally, artistically and in a business sense, Albert Grossman was the sole reason Bob Dylan made it."
Unfortunately, by 1971, Dylan didn't seem to agree -- or else no longer cared. After years of rowing complaints and mistrust, Dylan fired Albert Grossman as his personal manager. Dylan later told Robert Sheldon, "I finally had to sue him. Because Albert wanted it quiet, he settled out of court... He had me signed up for ten years... for part of my records, for part of my everything. He only had me for 20%. There were others who had to give him 50%."
By the early 70s, Grossman's days as a "personal full-time manager" were nearing an end. He discovered he had a life of his own to lead, away from the twenty-four-hour-a-day business of managing other people's lives and careers for them. There were recording studios to build and operate, records to be produced and a record company to be managed. There were publishing companies with more than fourteen hundred songs to account for. There were substantial real estate holdings, and then a music video center with Todd Rundgren, and the long planned 400-seat theater he never quite got around to completing. And there was fine conversation to enjoy, and good food to eat in the two restaurants he owned...
And in one of them, in 1987, Sally Grossman and I sit looking out over the creek at the fading afternoon sun. Suddenly Sally looks up. "Bob called me a couple of weeks ago," she suddenly blurts out. "You know what that was about, don't you?"
"Did he finally offer his condolences?" I ask.
"No, no, not at all. It was about the lawsuit," says Sally. "I think he wants to settle."
Ah yes, the lawsuit... the one last piece of unfinished business for the pop music world's preeminent businessman. The lawsuit he had filed in 1981 against his former client Bob Dylan, and which his estate was still pursuing.
According to Jewel Grutman, one of the attorneys for the Grossman estate, Albert filed the suit because he felt he had been receiving less than he was owed by Dylan for years on the basis of the management and publishing contracts they had entered into. Dylan promptly stopped paying Grossman anything, and filed in turn his own counterclaims, saying in essence that none of the agreements were legally valid. The case is now before the Supreme Court of the State of New York with a trial due sometime later this year.
Despite Sally's suspicions, however, Grutman calls the chances for a settlement "unlikely." Although she declines to estimate exactly how much money is involved in the suit, Grutman will say that it is a "very substantial amount." Millions and millions of dollars? "Albert Grossman certainly said it was that much," she admits. Both Dylan and his attorney, Frank Berman, decline comment on the suit.
"Albert's only comment to me about the suit was that he just wanted what he was entitled to contractually," explains Sally. I ask for details of what Dylan said to her in his phone call, but she suddenly gets suspicious and doesn't want to talk about it.
"I shouldn't have even said what I said," she tells me. "Albert always told me not to say anything the press."
The large video screen in the corner of the restaurant shows a scene from The Last Waltz, the Band's swan song. As if on cue, bass player Rich Danko walks in.
"We were just watching you on MTV," Sally tells him, after hugs all around. Then she asks if he wants to come over to the studio and listen to the lost basement tapes. Danko says sure.
Meanwhile I try to reconcile my images of Good Albert and Bad Albert. I flash back to some of the stories his friends and his opponents had told me. Bob Gibson, who fired him, called him "one of the most honorable men I've ever known." The once-powerful pop scribe Al Aronowitz, down on his luck and living on welfare in Washington, D.C., had run into Grossman at the funeral of Emmett Grogan; he was invited back to Bearsville, given money and a free place to live for years. Yet Aronowitz calls Grossman an ambivalent man with a sadistic sense of humor who could be kind and cruel at the same time.
Bob Krasnow wanting desperately to meet Dylan in the 60s, was caustically told by Grossman, "You can buy the best of Bob Dylan for $5.98. Don't ask to meet him." David Braun remembered Albert and Janis Joplin walking arm-in-arm and Janis asking Albert why he'd never tried to sleep with her. Albert's reply: "Because if I was bad you'd never forgive me."
Myra Friedman, author of the Joplin biography, Buried Alive, told me Albert had been "unwilling to give Janis the kind of direction that could have made the difference in saving her life." His great friend Peter Yarrow told me that Grossman, although "tough, combative and judgmental, showed great warmth and love to intimates." And Odett<, having moved from "dislike and hate to forgiveness," had concluded that she wasn't sure "there's anybody who knew Albert Grossman person-to-person...maybe Sally or Peter... But he was a very private, very lonely and very alone person." Finally Sally said Albert told her how "maybe he knew he was going to die."
Back in the studio Jim Kerr and Rick Danko are introduced, although it's unclear if either knows exactly who the other is. Danko looks casually at the much-ballyhooed bootlegs, and then starts talking about the Band's reviving career, their recent trip to Tokyo, their new videos and their upcoming gigs in Albany and Long Island. He for one doesn't seem too disturbed by ghosts in the air.
I ask him if he doesn't at least feel ripped off by the bootlegs. He grins. "No way, man." I look at it this way... Sooner or later I'll probably see some money from this, down the line. In the meantime, I gotta get out there and play, you understand? This is what I've been doing ever since I was a teenager back in Ontario in the 50s, man. Besides, I got a couple of kids in college to support. You gotta keep moving ahead, you know? All this stuff was a long time ago. I'm more interested in what we're doing now, in what's coming up, you see?"
I see. Don't look back.
---
[History] [Members] [Library] [Discography] [Videography] [Filmography] [Pictures] [Audio Files] [Video Clips] [Tape Archive] [Concerts] [Related Artists] [Merchandise] [Guestbook] [Chat Room] [Search] [What's New?] [Main Page]
Webmaster