Home Is Where the Fans Are
---
by Will Hermes
From the New York Times, December 18, 2005.
Copyright © 2005 The New York Times Company.
All rights reserved.
---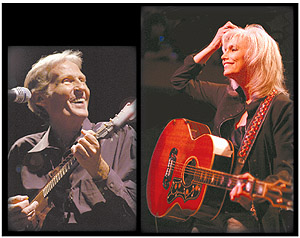 Levon Helm and Emmylou Harris, the Midnight Ramble, Levon Helm Studios, Woodstock, NY, 12.03.2005.
Woodstock, N.Y. YOU drive down a rural lane near the base of Mount Overlook, off Route 212 on the east side of Woodstock, and negotiate a stretch of unlit bends and rises until you reach a turnoff marked with only a number. Turn right into the woods, bounce down a pitted dirt road for a bit and you come to a field where an older gentleman with a flashlight helps you find a parking spot. Exiting your car, you find yourself under a canopy of stars outside a large timber building, hearty blues music seeping out into the cold December night.
This backwoods juke joint is the home studio of Levon Helm, 65, the former drummer and vocalist with the Band, and one of rock 'n' roll's great figures. On this Saturday night, as he has once or twice a month for the past couple of years, he plays host to what he calls a Midnight Ramble: a night of music played casually by friends for friends, as well as roughly a hundred fans gathered over the Internet. Guests eat, drink and sit in front of a large bluestone fireplace watching a variety of acts. The night is capped with a set by the Levon Helm Band, a blues outfit featuring a local veteran singer and blues-harp blower, Little Sammy Davis, and a rotating cast of players.
Attending a Ramble works like this: You request an invitation at levonhelm.com, and if you can be accommodated, you pay a $100 "donation" to help with expenses. Audience members are also encouraged to bring a dish for the community snack table, which this evening is heavy with chicken wings, pasta salad, cheeses, cookies, bottled water and other free refreshments. CD's and T-shirts are also for sale. A large-screen TV in the buffet area shows a video feed of the stage so noshers won't miss anything.
Professional musicians performing in home settings is not that unusual; www.houseconcerts.org is one source of listings for such events. But it's rare for musicians to open their own homes to the public. (One notable exception is the composer La Monte Young, who lives and performs in a TriBeCa building in New York City known as the Dream House.) But just as the Internet is changing how recorded music is sold, it is changing the way live music is presented. An enthusiastic posting on a well-trafficked blog can dispatch a crowd to a gig by a little-known group in a matter of hours. In this case, a select group of fans can be summoned to a semiprivate show by world-class musicians that neighbors down the road are barely aware of.
Among the pilgrims this evening is Craig Karner, 31, of Niagara Falls, Ontario, who made the six-hour drive along with 19 friends to see one of his heroes. "I was, like, 2 when 'The Last Waltz' came out," he said, referring to Martin Scorcese's documentary of the Band's farewell 1976 concert. "I've watched it a million times. To be here for this is really amazing."
Mr. Karner's countrymen are well represented tonight - after all, the Band first came together in Canada (Mr. Helm, an Arkansan, was the sole non-native). Others have come from as far away as Norway. Romeo and Michele Stodart, of the gentle British rock band-of-the-moment the Magic Numbers, have also made the trip. So has the butcher from Woodstock Meats over the hill.
In the studio, Alexis P. Suter, a Brooklyn-based blues singer with a powerhouse contralto, belts out the Elvis-associated gospel standard "Precious Lord Take My Hand." Mr. Helm's daughter, Amy, celebrating her 35th birthday this evening, sits on the floor and sings along. Later, her band, Ollabelle, takes the stage. Named for the singer Ola Belle Reed, the band sings old-time spirituals and country songs with handsome, democratic harmonies that conjure the spirit of the Band; it even has a singing drummer.
The evening's special guest is Emmylou Harris, who arrives with Malcolm Burn, a musician and producer who lives in nearby Kingston. Dressed in tight jeans, cowboy boots and a black blouse, Ms. Harris balances a glass of juice on an old drum stool, tosses her trademark mane of white hair and begins a short set of signatures, including Gillian Welch's "Orphan Girl" and the Louvin Brothers' "If I Could Only Win Your Love," the latter sung with dizzying harmonies by the guitarist Larry Campbell, who took a couple of days off a tour with the Grateful Dead's Phil Lesh to come here and play.
But the evening's most moving vocals are yet to come. Near midnight, Helm, clean-shaven in a blue down vest, mounts a stool with his mandolin, his dog, Muddy, rooting around his feet. He sets into Bruce Springsteen's "Atlantic City," a song he covered on "Jericho," a 1993 album produced by the Band in the wake of its break with the guitarist-songwriter Robbie Robertson and the death of Richard Manuel, the singer and multi-instrumentalist who hanged himself on tour in 1986. It's a song about hope in the face of desperate odds, and Mr. Helm sings it likes he owns it.
In fact, the line "Everything dies, baby that's a fact/ But maybe everything that dies some day comes back" has special resonance because, in the wake of a bout with throat cancer, Mr. Helm has until recently been unable to sing. But the voice tonight sounds strong, essentially the same Deep South holler that created Band classics like "The Weight" and "The Night They Drove Old Dixie Down" - a voice as ancient, murky and threatening as the Mississippi. The rasp of age and ailments only enhances the effect.
Ms. Harris then joins Mr. Helm for a couple of numbers: the Stanley Brothers' "Angel Band" and the Band's "Evangeline," which Ms. Harris sang with Mr. Helm on the "Last Waltz" album. Both voices well-weathered since then, they still mesh like blood kin. The evening finishes with Mr. Helm behind the drum kit, driving through a set that includes Bob Dylan's "Don't Ya Tell Henry" and "It Takes a Lot to Laugh, It Takes a Train to Cry," Willie Dixon's "Hoochie Coochie Man," and the Band's "W. S. Walcott Medicine Show," complete with a New Orleans-flavored horn section approximating Allen Toussaint's arrangement on the group's "Rock of Ages" album.
One of the many remarkable things about the evening is how, briefly, it makes real the imaginary Woodstock conjured by Mr. Dylan's "Basement Tapes" and the Band's "Music From Big Pink," both famously recorded in the area: the peaceful, off-the-grid arts colony where great musicians sat around one another's homes every night drinking cans of Piels Real Draft, smoking whatever and picking out timeless music while the outside world tore itself apart.
That was part of the idea. "I'm one of those guys who came to the festival and didn't leave," Mr. Helm said, laughing, in a phone conversation two days later. "There's not as many places to play here as there used to be, though there actually seem to be more musicians who live up here now. One of our intentions with the Rambles was just to have a good place to play and experiment. And to gimme a shot to get some of my voice back."
Helm's recovery, which involved throat surgery and 28 radiation treatments following his cancer's diagnosis in 1997, has been long ("and not any kind of guarantee, I might add"). Singing "Evangeline" with Ms. Harris was not something he ever expected to do again. "I thought those good days were behind me," he said. "So you can bet Saturday night was the celebration of a miracle in my little life."
Possessed of a famous temper, which flickers across his 1994 autobiography, "This Wheel's on Fire," Mr. Helm seems to have mellowed a bit. He has never suffered fools gladly. He walked off Mr. Dylan's historic debut electric tour in 1965 rather than endure hostile folkies. And he has long been at odds with Mr. Robertson, who owns most of the Band's publishing rights, over what he sees as a grossly unfair distribution of royalties.
These days, Mr. Helm just seems happy to be back at work. The Rambles - the name taken from the risqu after-hours portion of the traveling minstrel shows he frequented as a kid - are his main musical outlet. "If there was a big demand for me out there, I would certainly enjoy touring," he said. "But there's not a wealth of music jobs to be had lately."
Still, he's done some session work (he plays on Norah Jones's "Feels Like Home") and is revisiting a sideline career, acting, which began with his role as Loretta Lynn's father in the 1980 film "Coal Miner's Daughter"; he has a small part in Tommy Lee Jones's new film, "The Three Burials of Melquiades Estrada."
Mr. Helm is not much for nostalgia. He missed Mr. Scorsese's recent Dylan documentary, "No Direction Home" ("I watch a ballgame every now and then, but that's about it for me and the TV"). And while he still does some of the old Band songs - with the death of Rick Danko in 1999, Mr. Helm became the group's sole surviving vocalist - his musical well runs deep. "We're not trying to give history lessons," he said with another of his trademark braying laughs. For now, he plans to continue the Rambles monthly at least throughout the next year; the next is scheduled for New Year's Eve.
When the music ended early that Sunday morning, visitors thanked the players, and players thanked one another, with hugs and handshakes. People stood around outside chatting by the wooden cows; some grabbed sodas from the snack table for the drive home. A white tarp, hung for visitors to sign, was now clotted with messages, like an unraveled cast from an outsize limb. One read "Levon - the reality is greater than the myth."
Tonight, for more than a few fans, that seemed gospel truth.
---
[History] [Members] [Library] [Discography] [Videography] [Filmography] [Pictures] [Audio Files] [Video Clips] [Tape Archive] [Concerts] [Related Artists] [Merchandise] [Guestbook] [Chat Room] [Search] [What's New?] [Main Page]
Webmaster