Big Foot Delivers Hot Rockin' Electric Blues
---
by Philip H. Farber
This article originally appeared in Hudson Valley Music, March 1998.
Copyright © 1998 Tuned-In, Philip H.Farber. Reprinted with permission.
---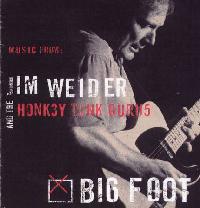 Artist: Jim Weider and the Honky Tonk Gurus
Album: Big Foot
Label: Moon Haw Records
Rating: **** 1/2 (out of 5)
The debut album for Jim Weider and the Honky Tonk Gurus is called Big Foot, but, really, it should be titled "Big Rockin' Sound." The group of well-known musicians from the Wodstock area have put together a recording of some of the hottest electric blues that I've heard in a long, long time.
If you haven't yet heard this incarnation of a band, odds are you've heard the Honky Tonk Gurus members in various other guises.

| | |
| --- | --- |
| Jim Weider | Paul LaRonde |
| Richard Bell | Randy Ciarlante |
Most notably, Jim Weider, Richard Bell and Randy Ciarlante are current members of The Band, the legendary group that once backed Bob Dylan (though Weider and company joined The Band later, circa 1985). Bassist Paul LoRonde hails from the Syracuse area, where he was a member of the blues band The Kingsnakes. Knowing that much, you'll expect this band to rock, but add in a long and stellar list of guest musicians-- including Harvey Brooks, Tony Levin, Rob Leon, David Sancious, Garth Hudson, Rick Danko, Ernie Cate, Jonell Mosser, Robbie Dupree and too many others to list here-- and you've got some near-legendary performances.
The songs are mostly Weider's originals, but they throw in a few well-chosen covers as well-- from Hendrix, Chuck Berry, Bobby Womack, King Floyd, and Jimmy CLiff. The emphasis throughout is on groove, with out-front highlights from Weider's guitar, which variously soars, tears, and sings. Even in the lighter moments, the Honky Tonk Guru's have a big and irrepressible sound.
The album was recorded over a period of years, with band members dropping in to the studio between their other gigs, but reports from their recent live shows suggest that these guys can do the same thing on stage as they don on the CD-- rock their butts off. Check area record stores for Big Foot, or send check or money order for 15$ for CD, $3.50 for shipping and handling, and 7.75 percent tax for New York residents to Moon Haw Records, PO box 208, West Hurley NY 12491.
Jim Weider and the Honky Tonk Gurus will be holding a CD release party at the West Strand Grill's Downtown Underground on March 28th. Highly recommended.
Philip H. Farber is a freelance writer who lives in the Hudson Valley. He writes for a variety of area publications, including the Kingston Daily Freeman and the Woodstock Times, as well as national magazines, books, web sites and anyplace else that will offer him money or gratification. He can be reached at PStuart@aol.com
Copyright © 1998 Tuned-In, Philip H.Farber
---
[History] [Members] [Library] [Discography] [Videography] [Filmography] [Pictures] [Audio Files] [Video Clips] [Tape Archive] [Concerts] [Related Artists] [Merchandise] [Guestbook] [Chat Room] [Search] [What's New?] [Main Page]
Webmaster