Jim Weider and the Honky Tonk Gurus: Big Foot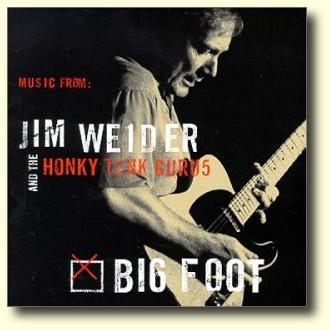 "Make no mistake, this album isn't only for guitar connoisseurs. Keep a look out for the CD as it could be the best investment you've ever made."
-- Lee Gabites, Jawbone magazine
Big Foot is the first solo album from The Band's guitarist Jim Weider. Besides The Gurus, Randy Ciarlante (drums, vocals) and Richard Bell (piano), all the other members of The Band appear on the CD. In addition Tony Levin of Peter Gabriel's band appears with Harvey Brooks, David Sancious, Jonell Moser and many others.
See also the Jim Weider web site, Lee Gabites' 1997 interview with Jim Weider and Philip H. Farber's review, for more about this CD.
Big Foot was first released on the independent Moon Haw label in 1998, then re-released with major distribution by EKG Recordings in June 2000. In Europe it came out on the German label Ulftone in March 2000.
Big Foot can be ordered with credit cards on-line at CDfreedom or by calling toll free (800)-937-3397. The album is also available from internet CD shops like CDnow.
The Japanese version of Big Foot has an extra bonus track, the instrumental tune "Elmo's Mambo"
Tracks
Big Foot
(774K) (3.5MB)
Influenced by Paul Burlison this hard rocker has Weider performing some stinging guitar on his 1954 Fender Esquire. Robbie Dupree blows harp around open string pull-offs and country bends. A strong opener that wears a size ten.
Little Miss Lover
(844K)
Thankfully, not an obvious Hendrix cover. Funky wah wah abounds with Lamont Depew's vocal spookily close to the Hendrix original. Thundering drums and some spine-tingling guitar work.
Deepest Cut
(843K)
A slow blues that oozes with feeling and emotion. With delicate acoustic guitar, piano and organ behind Weider's heart-wrenching fluid guitar, this song really takes you places. A Jim Weider original that's an atmospheric masterpiece.
New Orleans Boogie

The title gives this one away. Rockabilly guitar, punchy horns and barrelhouse piano from Richard Bell. With Harvey Brooks on bass, this is a good-time instrumental that gives Weider plenty of space for some guitar gymnastics.
Love's Like Rain

A more uptempo arrangement to the Burlison version. Nashville songstress Jonell Mosser's raw, uninhibited vocal smokes alongside an insidious R&B pattern from The Band and The Uptown Horns. A great harmony vocal from Danko, unmistakable keyboard fills from Hudson and a fine horn arrangement from Tom Malone makes this song a strong contender for a single release.
Sliding Home
A beautiful instrumental written by Jim Weider and Colin Linden. Both play slide guitar (Linden on acoustic), with bass from Tony Levin and horns by Garth Hudson. Some nice mandolin plays throughout. This track leaves you with a sense of longing and mystery. A big slice of melancholy.
Deep Feeling
Using pedal steel bends, hammer-ons and harmonics Weider spins beautifully executed variations on the songs melody before bursting into an inspired lead solo. A Chuck Berry instrumental, this slow-burner features Stan Szelest (one of the best rock and roll piano players, ever!) and Garth Hudson on organ.
Groove Me

Originally a US #1 R&B single for King Floyd in 1970. Jim does an instrumental version that highlights his virtuosity as a guitarist.
I'm In Love
Written by Bobby Womack and originally released by Wilson Pickett in 1968. This soulful groove contains a magical vocal from Ernie Cate of The Cate Bros Band. David Sancious (of Bruce Springsteen & Sting fame) has sole credit for drum program, keyboard and strings, horn and song arrangements.
Texas Shuffle

Weider gives a nod to the late, great, Stevie Ray Vaughan. A glorious mix of country blues rhythms, string snapping and screaming guitar bends. Jim pulls out all the stops on this Weider/Richard Bell original with master bassist Harvey Brooks along for the ride.
Many Rivers To Cross

The final track that sees Weider as a consummate master of the guitar fretboard. Each note is as tearful and spiritual as the Jimmy Cliff original. Full backing vocals enhance the songs gospel quality. Harvey Brooks returns on bass, Richard Bell and Randy Ciarlante play their part.
Elmo's Mambo
Bonus track available only on the Japanese release. A nice instrumental tune.
Sidemen
Harvey Brooks
Gary Burke
David Sancious
Benjamin Alexander
Tony Levin
Robbie Dupree
Stan Szelest
Rose Odom
Garth Hudson
Colin Linden
Ernie Cate
Ben Odom
Rick Danko
Crispen Cioe
Larry Etkin
Rhonda Ferguson
Jonell Mosser
Rob Leon
Lamont Depew
Roger Mason
Paul Branin
Jimmy Eppard
George Lembesis, photographer
Jim Weider and the Honky Tonk Gurus - Big Foot - 1998 - Moon Haw Records
---
[History] [Members] [Library] [Discography] [Videography] [Filmography] [Pictures] [Audio Files] [Video Clips] [Tape Archive] [Concerts] [Related Artists] [Merchandise] [Guestbook] [Chat Room] [Search] [What's New?] [Main Page]
Webmaster