Boogie to Woodstock with
Jim Weider
---
by Lee Gabites
This interview was conducted in November 1997, and was first published in the Band fanzine Jawbone.
Copyright © Lee Gabites 1997, 1998. Reprinted with permission.
---
In the summer of 1985, Jim Weider (master of classic Telecaster and traditional blues slide guitar) joined The Band. Prior to that he was a member of Levon And The Woodstock All-Stars performing songs from Levon's solo albums and old blues and rock and roll favourites.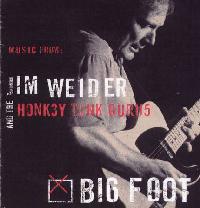 Jim was born and raised in Woodstock and comes from Italian and Swedish background. As you can imagine, being a Woodstock native had it's advantages. Jim got to see all the musicians that would come into town, be it Jimi Hendrix, The Band, Van Morrison, Paul Butterfield... they would all jam at the local clubs. In 1973 Jim moved to Nashville, TN, taking a major step in his musical development. While based in Nashville he toured with Johnny Paycheck and James Talley, and when in town he did session work and recorded his own material. In the early eighties Jim returned to Woodstock and began a national tour with Robbie Dupree.
Jim has five instructional videos available from Happy Traum's Homespun Tapes that are among the catalogues best sellers. He is also one of a select group of musicians to have an endorsement from Fender. I recently got a chance to speak with Jim about two projects close to his heart: Paul Burlison's Train Kept A-Rollin' and Jim's debut album which will be available soon.
How did the Burlison project come about? Was it down to the sessions for All The Kings Men in '96?
Well, what happened was... I was playing at the Danny Gatton Benefit at Tramps in NYC. I do that every year. I went down to do my instrumental show and I had Richard Bell, Randy Ciarlante and The Uptown Horns with me. Paul Burlison was on the show playing with The Sun Rhythm Section, and an old friend of mine was there, Dan Griffen, who's managing Scotty Moore. I just started hanging out after we played and Paul played. I started hanging with Paul because he was a big hero of mine. That guitar playing he did on those early Johnny Burnette records changed the word. It was really incredible stuff. So we hung out and got along really good. Dan says, "Hey, I got this album I'm doing on Paul Burlison." And he was executive producer on it. He was getting it together and looking for a producer, and asked me if I would do it. So I said, "sure." I ended up producing it all over the country. We did it in Nashville, and L.A. with Los Lobos.
Was the idea to have a nice mix of the old songs with the new?
Yes. It was not do all the old tunes, have every artist who came in bring in a song. I brought one in and Cesar [Los Lobos] wrote a song. They also did Lonesome Tears In My Eyes, which is a totally new rendition. It almost sounds like you can hear the Latin influence on it. Billy Burnette sang a tune, and he also sang Train Kept A-Rollin' with his cousin, Rocky. That was like full circle there, Burlison doing it with the sons of Johnny and Dorsey Burnette. There playing the heck out of that song in America now. So it was nice to mix-up and everybody bring in an original tune, and make it a little bit current and also do some of the old ones.
Burlison said you worked him like a slave?
Laughs. After we cut the tracks everything was done really fast. We had two days for three songs per-session, in each city that we did it in. And we'd cut it pretty much live. I'd set everybody up in the studio and cut kind of the way The Band cuts. All together live. In that tradition. For Train Kept A-Rollin' I think we had about eight people playing in the studio at the same time.
So that's real old time, isn't it?
Yeah. it was fun. It made it fun. it really got that rock and roll thing happening. Then I'd go back, and I had Paul isolated. I'd go into my studio at home and we redid a lot of his guitar work down here. We really worked on getting the right tones with the amplifiers, and we had all those old tweed amps and tube echoplex's. We just took our time until we got it right, you know.
Burlison said he got to pick who played on the record. Was it his decision to bring Mavis Staples on board?
No. Actually that was mine and Colin Linden's. I was saying, "God, I'd really like to get this background singer on it." And Colin goes, "Why don't you get Mavis?" So then I went and started calling around and getting hold of her.
That really gave me goose bumps!
Yeah, they way she trades off with Kim Wilson. That really came out fantastic. And also, with Mavis and Levon on Hound Dog - that really made it funky. She's great. Great to work with and a beautiful person. Everything that comes out of her is rhythm, it's just all rhythm. The way she sings and talks.
Was there anything from the Burnette catalogue you would have liked to include that didn't make it?
We had some tracks that have never been released, that Johnny Burnette recorded. We had access to them and I really wanted to put one of them on. We just had it on two track that were cut in 1960. I wanted to put Paul back on top of it, and add to it. I thought that would have been really unique, but I guess the record company didn't want to go through the licensing and buy the track. Whatever. They just decided lets keep it all fresh, so I went with it. Other than that, I was pretty happy with the ones we chose.
I believe Burlison started out playing guitar for Howlin Wolf. Was there anything available from those'sessions?
You know what? We did search for the tapes of him playing with Howlin Wolf and we could not find them. I asked Paul to go back to a couple of the radio station guys where he worked, but he couldn't find it. A lot of the times the radio stations and studios would go over the tapes. He told me some good stories about Howlin Wolf. He said that when he would play with Howlin Wolf, Wolf had this big gumball machine - the big round bottle from the fifties - he'd have all his harmonicas in that. And he had some patent-leather shoes that had holes cut out of them for his toes. He'd come right off the cotton fields, put his patent-leathers on, and come right into the radio station. Paul would sit down and start playing with him. He said it was fantastic.
Are Sweetfish Records trying to put some shows together?
Paul's going out on the road starting the end of November. We wanted to put a big showcase together, and so far, not yet. Maybe they're testing the waters with the record. I'm hoping we do three or four big shows in the United States. We did play a show in Austin, Texas.
How did that go?
It went great. People went nuts. I put a rhythm section together with Harvey Brooks, Richard Bell and Gary Burke. Then we backed up Rocky and Billy and two guys from Los Lobos came out. We also played with the Scotty Moore Show.
One of the tracks I kept finding myself programming on the Burlinson CD was Love's Like Rain. This song was actually down for High On The Hog sessions?
Yeah. I wrote that for the High On The Hog album. And we actually recorded it for the record.
That's from your songwriting partnership with Colin Unden. You wrote Remedy for the Jericho record and Out Of The Wilderness on his last album.
I brought that song in to Colin and I had the chorus and chords. Then me and Colin sat down and wrote. We were hoping it would be the second single for The Band, because it was in that Remedy kind of vein. It didn't go on The Band album so it's now going to be on my new solo album.
What's the title and instrumentation for your debut album?
I was going to call it Jim Weider And The Honky Tonk Gurus. The main guys, of course, are Richard and Randy, the bass player was Rob Leon. And Harvey Brooks played on a bunch of cuts. Some of the guests that are on it include Tony Levin, who played with Peter Gabriel, King Crimson and John Lennon. He plays on a song called Little Miss Lover, a Hendrix tune. David Sancious who also plays on the album helped me arrange it and we got a pretty good cut of that. That's with a vocal friend of mine that lives up here named Lamont Depew. I've also got Robbie Dupree playing harmonica on an instrumental. But the main band will be me, Richard Bell and Randy Ciarlante.
And this album is finished?
The album is mastered and finished. As we speak, I'm shopping to get it licensed and/or sell it. The album has seven instrumentals and three vocal tunes, it also has some cuts I did at Levon's in 1990.

Deep Feeling: Stan Szelest plays piano on that with Garth Hudson. That's a special thing because Stan has passed. So I kept the track and redid everything on it except for my solos, the bass, and what Stan played. I also added Garth to it which made it really nice.

Love's Like Rain: Jonell Mosser. She's played with Bonnie Raitt, The New Moroones, Don Was' band, a great singer. She sings Love's Like Rain with the guys in The Band. The Uptown Horns are on that song too.

Sliding Home: Sliding Home is an instrumental I did at Levon's studio also, and that's got Tony Levin and Garth Hudson on it. Colin Linden plays acoustic slide on it with me.

I'm In Love: I'm In Love is an old Wilson Pickett tune and that's arranged by David Sancious. That's got Emie Cate, from The Cate Bros singing on it. And he does a beautiful job with it.
You mentioned Robbie Dupree. You go way back with that guy, don't you?
He's an old buddy of mine and I played on a lot of his records. Robbie plays harmonica and co-produced a couple of tracks on this with me. The basic track. He plays harmonica on a song called Big Foot, that I wrote, it's an instrumental.
Didn't one of your instructional tapes have some original songs on it?
The last one I did, Electric Country Blues, had pieces of three or four of these songs on it. It kind of gave people an idea of what I want to come out and play. And you'll hear me play like you've never heard me play on any Band stuff. I'm hoping to be able to take this over and play in England, and work with it.
Really!
I'd love to. I'm trying to hookup with our agent to come over and play with this group. Soon. Maybe next year.
Copyright © Lee Gabites 1997, 1998
---
[History] [Members] [Library] [Discography] [Videography] [Filmography] [Pictures] [Audio Files] [Video Clips] [Tape Archive] [Concerts] [Related Artists] [Merchandise] [Guestbook] [Chat Room] [Search] [What's New?] [Main Page]
Webmaster