Fest Focus '94: The Band
---
by Scott Jordan
From the Louisiana music magazine OffBeat, May 1994.
The Band played at the New Orleans Jazzfest that year. This article was one of a series of interviews of Jazzfest musicians. The text is copyrighted, please do not copy or redistribute.
---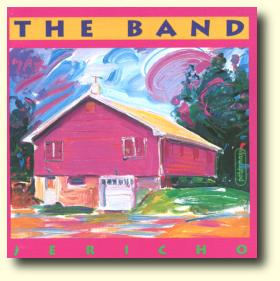 When recent Rock N' Roll Hall of fame inductees The Band arrive for two Jazz Fest performances, drummer and lead vocalist Levon Helm will be commemorating an early, New Orleans-induced career change.
Helm moved to the Crescent City in 1966 prior to the Initial genesis of The Band, and discovered that the romance of the French Quarter can fade quickly under lean circumstances.
"I lived down at the St. Louis Hotel by Jackson Square for a little. I went broke and couldn't afford those po-boy sandwiches" Helm said in a recent call from his Woodstock, NY home. "So I signed up with the aquatic engineering and construction out there in Houma. I went and worked offshore for a bit and made some money - then I retired from the naval side of life."
Instead Helm recommitted himself to helping navigate the course of one of the most revered and influential groups in American music. After blazing a hellfire chitlin-circuit trail backing rockabilly wildman Ronnie Hawkins and The Hawks, Arkansas native Helm and his four Canadian cohorts - Rick Danko, Robbie Robertson, Richard Manuel and Garth Hudson - caught the attention of Bob Dylan, who was strictly acoustic at the time but itching to go electric. Bob Dylan's recruitment of The Hawks would have been enough to surround any group in legend, but The Hawks were able to one-up their frontman: with three stellar vocalists, musical proficiency on seventeen instruments between the five members, and guitarist Robbie Robertson writing songs steeped in folk myth, their own 1968 debut album, Music From Big Pink, lived up to the promise of their new name: The Band.
The meteoric rise continued, with their self-titled second album hailed as a masterpiece. And Helm fondly remembers The Band's collaboration with New Orleans arranger Allen Toussaint for the 1971 live set Rock of Ages. "I would like nothing better [than to work with him again]. Allen is our favorite when it comes to moving the horn section side of things. He was our first choice years ago when we cut 'Life Is A Carnival.'"
Unfortunately, that song proved highly ironic, as relations inside The Band's camp turned far from jovial. Heroin was taking a toll, and critics and fans alike took subsequent releases like the lackluster Northern Lights-Southern Cross as a sign that the creative well was quickly evaporating. Regardless, it was still a shock when an all-star farewell concert, "The Last Waltz," was announced as a swan song in 1976.
The murky circumstances leading to the demise of the original Band line-up are chronicled in often painful but loving detail in Helm's new autobiography, This Wheel's On Fire, for which Helm recently returned from a book-signing tour. "It's certainly different than anything I've done," he says, "and I've had the opportunity to shake hands with a lot of people in a lot of places. There's enough funny stories [in the book) that people seem to enjoy it; there's some downside stories there,too. It's not all one big happy ending."
Especially in the relationship between Helm and former Bandmate Robbie Robertson as Robertson's current jet-set image seems worlds removed from Helm's sustained graciousness and determination to carry The Band's legacy further. (Levon chose not to attend the Hall of Fame induction ceremony in light of Robertsonšs presence.) When asked to comment on Robertson, Helm simply states, "I don't run in the same circles as he runs in. I wish him well, and I'm glad to see him get the success he wants--and I'm happy to see The Band have some success on our own. He has his own destiny to fulfill, but things are moving along for us also."
The current Band tour marks the release of Jericho, their first studio recording in 18 years. With the addition of new members Jim Weider on guitar, keyboardist Richard Bell (original piano man Richard Manuel committed suicide in 1986), and percussionist Randy Ciarlante, Helm and Band founders Danko and Hudson followed a simple formula for Jericho: "A lot of those songs we'd been doing in our live show, and we've proven'em in front of a crowd. That was our bottom line-to do songs we liked and that we knew worked."
With Jericho as a catalyst, Helm is ecstatic to be adding a new chapter to the saga of The Band. "It feels great. It's a day that I started to wonder if it was ever going to come or not. We thought it would arrive sooner, but it's better late than never."
---
[History] [Members] [Library] [Discography] [Videography] [Filmography] [Pictures] [Audio Files] [Video Clips] [Tape Archive] [Concerts] [Related Artists] [Merchandise] [Guestbook] [Chat Room] [Search] [What's New?] [Main Page]
Webmaster