Levon Helm & The Barn Burners with Bob Margolin
Woodstock, N.Y. - Aug. 9
---
by Kay Roybal
From the December, 2000 issue of
Blues Revue
magazine. Reprinted with permission from the author. The text is copyrighted, please do not copy or redistribute.
---
In Woodstock, the place to be on Wednesday nights is the Joyous Lake, a funky joint on the main drag of the upstate artist-colony-turned-tourist-attraction. Most weeks, Band drummer Levon Helm and his blues band of young area musicians, The Barn Burners, rip it up for the locals with a revolving cast of guests.
That's what happened when Steady Rollin' Bob Margolin came to town for the first time since he and Muddy Waters played the same club 20 years ago. Five years before that, they'd recorded Waters' Woodstock Album at Helm's studio.
This time around, Helm and Margolin are the old pros, putting their age and experience to the service of the next generations in the time-honored blues tradition. The younger players are also serious Waters fans, and Margolin's presence is clearly an honor for them. The Barn Burners (Helm's daughter, Amy, on vocals and piano; bassist Frankie Ingrao; guitarist Pat O'Shea; and harp player/singer Chris O'Leary) are a savvy outfit -- they're veterans of several tours and a stint as the house band at Helm's New Orleans club.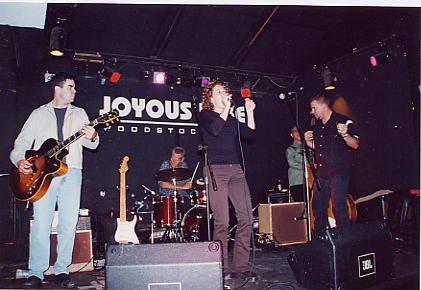 Levon Helm & the Barn Burners at the Joyous Lake, Woodstook, NY, October 2000. From left: Pat O'Shea, Levon Helm, Amy Helm, Frank Ingrao, Chris O'Leary (photo by Joe Lore.)
Miss Amy, as she's called, delivers her blistering version of "Hound Dog" in jeans and a do rag. Her vampy contralto can belt one out or ease one over, and she uses her graceful hands to great dramatic effect. Ingrao, his thumping doghouse bass exceeded only by his facial gyrations, takes the rhythm section into another zone while helping the boss hold down the bottom. O'Leary, who has the crewcut-and-muscles appeal of the former Marine he is, is a forceful harp player, a powerful singer and a natural frontman. He also writes songs for the band: His New Orleans ode "Goin' Down," during which O'Shea dances with his guitar, always packs the dance floor. A guitar-slinger with patent leather hair and a wide grin, O'Shea is equal to the company.
They've done this before when Margolin sat in on the road, and it's definitely a party on the bandstand. A highlight is Waters' "Long Distance Call," which O'Leary has come to own. He growls out the lyrics and joins the others in whistling, shouting homage to Margolin after a transcendent guitar solo. Margolin's band also contributes to the lineup of next-generation blues stars: His bass player, Tad Walters, comes up for a few songs. He has a gravelly voice -- startling, because he looks so young -- and plays nervy harp with the depth of an old soul. It's fun to watch him and O'Leary side by side. Different styles, two sizable talents.
Despite a loose presentation for the hometown crowd, The Barn Burners couldn't get much tighter. That's good news, since they're headed into the studio to record their debut album. And Margolin clearly had a ball. "Levon is playing blues drums at their most advanced level," he said. "When I sit in with him and The Barn Burners, I can just get on his groove and ride. He's as good as it gets."
---
[History] [Members] [Library] [Discography] [Videography] [Filmography] [Pictures] [Audio Files] [Video Clips] [Tape Archive] [Concerts] [Related Artists] [Merchandise] [Guestbook] [Chat Room] [Search] [What's New?] [Main Page]
Webmaster