Interview with Rick Danko, May 8, 1996
---
by Brian Taylor
Transcribed from a taped telephone conversation Broadcast on KDUR Radio, Durango, CO.
---
I interviewed Danko during the Band's 1996 summer tour, following the release of High on the Hog. The Band was taking a day off in Albuquerque before a show the next night, and I spoke with him from his hotel room that morning. I was a dumb college kid at the time, and it unfortunately shows in my questions. About halfway into it, he started interviewing me, and I've left that in.
--Brian Taylor, May 2002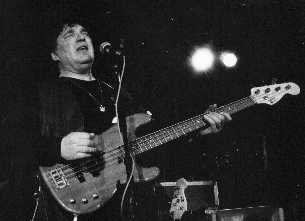 Rick Danko w/The Band
The Midnight Rodeo, Albuquerque, NM, May 9th, 1996.

Hi there.

Danko: Hi... I don't really have a clear signal -- does this mean that we're recording?

I guess so - maybe it's just my phone - let me try to adjust it...

Danko: Let me turn this TV down. I was watching, eh, Rush Limbaugh (laughs). Ah, what a funny guy.

Is he on right now? I thought he was just on late at night?

Danko: Not any more. He's out there in the ozone, traveling through thin air at 7000 miles an hour... Shit, we don't even play tonight. We've got the night off.

Is that nice?

Danko: It's nice to be here in the desert with some free time. The Band is sounding real good. We've been doing some dates together and they've been going well. People are great, you know?

What have the crowds been like?

Danko: Well, young. It's amazing.

Does that surprise you?

Danko: Well, especially when I see them singing not only the old stuff, but the new stuff too. It gives me a sense of reward.

That's good; I'm pretty young myself. A lot of us have woken up to your voice at seven o'clock in the morning for a long time.

Danko: Oh God. I have to wake up thinking "What kind of a voice am I going to have today?" Yeah, every day I look for a new voice. You never know.

Danko: Have you heard High on the Hog?

I have it right here in front of me. It's a nice bit of work. I like it a lot.

Danko: How do you like that pig?

It's pretty frightening, actually.

Danko: Did you see the money clip and everything?

What made you choose that?

Danko: Oh, that's just a great picture. The logistics, you know? (laughs) It was part of the therapy, I'm sure. It's just a great picture.

Danko: Have you heard the Jericho album?

Yeah, have that too.

Danko: All right man, that's good. And The Last Waltz, of course...

Uh-huh. And all the stuff - well, most of the stuff before that.

Danko: Well, you know I'm thankful, man. I'm glad that we can travel and do what we do. We're smart enough to know that we're not going to change the world, but we're certainly going to help the neighborhood.

Well, we're all pretty excited to come down and see you play. Is it much different touring now than it was, say twenty or thirty years ago?

Danko: It's hard to even think that I'm touring, but I guess I am. I don't know: it feels good. The Band is playing good, we're great bus-mates, and it's good. There's about eight people on the bus and it's like a little family. It's nice to have that feeling: just kind of going out fishing with the fellas.

Is it hard to be away from your own family that long?

Danko: If I get real lonesome, my wife, she'll join me. I think she's coming to California in a couple of days. We're in that area for a week, week and a half. She likes it though when I'm in Japan or Paris or London, you know?

So what are you listening to? You've got so much stuff on this album, a lot of different kinds of songs. Do you just listen to whatever's on around you?

Danko: I've done a whole lot of listening in my life, I must confess, but I don't have the radio on today. Not yet. The day's still young - What do you listen to?

Oh, I don't know...

Danko: I mean, besides The Band. You like the Grateful Dead, of course,

Some of their stuff. I like the Beatles.

Danko: Oh man, absolutely.

And I like a lot of bluegrass: you know, a lot of that old stuff.

Danko: That's the real stuff. Bill Monroe, the Louvin Brothers, the Osbornes.

Yeah, in fact, I saw you play up in Telluride hear a couple years ago. (at the Telluride Bluegrass Festival in 1994, when The Band closed the festival's Sunday shows)

Danko: That's right. That was where the air was really thin, up in the mountains. Yeah, the doctors - when I was a young kid up in Canada, I had asthma: and they used to tell me "Rick, when you grow up, you're going to have to live in the desert."

So does it feel pretty good when you're down there in New Mexico?

Danko: Yeah. You know, I like the dry air, although it takes a minute to get used to it. You just can't jump in it when you've been living down at sea level.

-o0o-

From here the interview descended into more weather talk, finishing with an invitation to stop by the bus after the show, which I did. It was a great show, and afterward, a friend and I knocked on the door of the bus and were waved up. Danko was kind, courteous, and seemed to genuinely enjoy "holding court" for the fans, getting his picture taken and signing anything put in front of him. I wish now I had the sense to bring a tape recorder or camera for that, but I was enjoying the moment far too much.
---
[History] [Members] [Library] [Discography] [Videography] [Filmography] [Pictures] [Audio Files] [Video Clips] [Tape Archive] [Concerts] [Related Artists] [Merchandise] [Guestbook] [Chat Room] [Search] [What's New?] [Main Page]
Webmaster