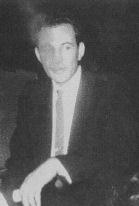 Fred Carter, c.1960
Fred Carter Jr.
In 1959 Lousiana guitarist Fred Carter Jr. left the band of Ronnie Hawkins' cousin Dale Hawkins to join Levon Helm as a member of the Hawks. He took over the role as lead guitarist after Jimmy Ray "Luke" Paulman, at the same time as Robbie Robertson was hired to be the Hawks' bass player. Carter functioned as Robertson's guitar "teacher" until he left the Hawks again in 1960 to join Conway Twitty. He has released the album Blue Grass (Gusto GT-0091), and later worked with Levon Helm as musician and producer on Levon's solo albums Levon Helm & The Rco All-Stars and American Son. Fred Carter Jr. joined the reunited Band as guitarist in 1987, just to play a few concerts with the group.

The father of country singer Deana Carter, Carter was also the inspiration for her 2007 album, 'The Chain,' featuring her covers of songs on which he played guitar for the original version. Among the most well-known songs on which this Nashville-based studio veteran can be heard are Marty Robbins' 'El Paso,' Bob Dylan's 'Lay Lady Lay' and Simon and Garfunkel's 'The Boxer.'

Fred Carter, Jr. died July 17, 2010, 76 years old.

---
[History] [Members] [Library] [Discography] [Videography] [Filmography] [Pictures] [Audio Files] [Video Clips] [Tape Archive] [Concerts] [Related Artists] [Merchandise] [Guestbook] [Chat Room] [Search] [What's New?] [Main Page]
Webmaster