Famed Rock Photographer Elliott Landy to Give Rare Narrated Presentation of his Classic Rock Images of the 60s
After Three Stellar Decades of Photographs, a NYC Debut
---
Press release from Carol Caffin/CRW MUSIC.
---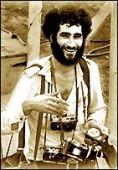 Elliott Landy at the Woodstock festival '69. Photo © Amalie Rothschild.


Elliott Landy today

New York, February 8 - Legendary photographer Elliott Landy, known for his famous photographs of 60s rock icons and Woodstock-era musicians, will give a rare narrated presentation - and his first-ever New York show - of his classic rock images at the Sande Shurin Studio & Theatre in New York City next month.

The narrated slide show, which will feature photographs of some of Landy's famous subjects, including Bob Dylan, The Band, Jimi Hendrix, and Janis Joplin, will run from Thursday, March 2 through Sunday, March 5. The $15.00 admission fee will include refreshments, as well as a meet and greet with Landy.

"I wanted to present my work in the context it was created," says Landy, "not as a record of superstars, but as part of the political, social, cultural and spiritual revolution that was taking place in the 60s, and of which I was part."

Though Landy's body of work - including his non-musical subjects - is expansive, the Woodstock-area resident is best known for his rock & roll photos, particularly some of his landmark album covers, including Bob Dylan's Nashville Skyline; The Band's Music from Big Pink; and Van Morrison's Moondance. More than any other photographer, Landy captured the essence of Woodstock-the town, the festival and the spirit.

"Elliott brings the spirit of the 60s into the new millennium," says Sande Shurin, Artistic Director at the theatre, "and [talent agent/co-host] Bruce [Levy] and I are happy to bring Elliott and his work to New York."

In addition to his music photographs, and images from his book, Woodstock Vision, Landy will also show images from "the next part of his life," a seven-year travel through Europe in a 40-passenger bus with his wife and two young children. The show will end with some of Landy's super 8 music films from the period.

"I've done similar presentations in other parts of the country and the world," says Landy, "but this is my first one in New York. I felt it was time, since New York has been so much a part of my life."

Showtime is 7:00 pm Thursday, Friday and Saturday; 1:00 pm on Sunday. The Sande Shurin Studio & Theatre is located at 311 West 43rd Street, Suite 602 (Between 8th & 9th Avenues). Admission is $15.00; $12.00 for students and seniors. For reservations or more information, please call 212-262-6848. For more information on Elliott Landy or his photographs, log onto Landy's website, www.Landyvision.com. For interviews, media information, or a copy of Elliott Landy's book, Woodstock Vision, please e-mail Carol Caffin at Crwmus@aol.com (complimentary copies of the book are for serious media ONLY, and requests must be accompanied by proof of media credentials).

---
[History] [Members] [Library] [Discography] [Videography] [Filmography] [Pictures] [Audio Files] [Video Clips] [Tape Archive] [Concerts] [Related Artists] [Merchandise] [Guestbook] [Chat Room] [Search] [What's New?] [Main Page]
Webmaster