John Simon: Truth, Lies & Hearsay
A Memoir of a Musical Life in and out of Rock and Roll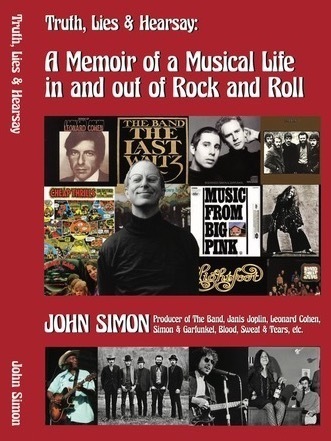 Celebrated music producer John Simon has produced some of the greatest rock'n'roll ever recorded including The Band's Music from Big Pink, The Band, The Last Waltz; Janis Joplin's Cheap Thrills; Simon and Garfunkel's Bookends, and the first albums by Leonard Cohen and Blood, Sweat and Tears. His contributions to popular music have helped tell the story of a generation in the 1960s and 70s, and now he is sharing his own.
"When John Simon joined The Band's brotherhood, he fit like a glove. I can't imagine another record producer in the whole world who could've matched John's work on music from Big Pink and The Band."
-- Robbie Robertson

"Reflecting on the amazing life he's led, I found myself thinking he ought to write a book. Then I realized that he did. Now he tells never-before-told tales of those rich, often rollicking years in his colorful new book."
-- Steve Israel
In writing TRUTH, LIES & HEARSAY, Simon has created an invaluable memoir of the music revolution in the 1960s and 70s. Given his truly unique perspective on music and the music business, Simon has courted interviewers for years. Yet, with so many anecdotes to choose from, Simon found himself only skimming the surface of his experiences. Drawing on a lifetime of first-hand accounts, fascinating stories are revealed for this first time, including:
Getting down the sounds for Music From Big Pink and The Band's 2nd album
How everything was changed by a hit record of a Paul Simon song that Paul didn't even like
Experiencing the volatile personal dynamics during the recording of Cheap Thrills by Big Brother & The Holding Company featuring their new vocalist, Janis Joplin
Living and playing in Woodstock when it was just a small town safe haven for musicians.
Behind-the-scenes at The Band's "farewell concert appearance"
Writing two ballet scores for the legendary choreographer Twyla Tharp
Being on tour with American blues master, Taj Mahal
Recording secrets revealed and much, much more!
John Simon - Truth, Lies & Hearsay: A Memoir of a Musical Life in and out of Rock and Roll - 342 pages - Independently published - September 2018 - ISBN 978-1720047162
---
[History] [Members] [Library] [Discography] [Videography] [Filmography] [Pictures] [Audio Files] [Video Clips] [Tape Archive] [Concerts] [Related Artists] [Merchandise] [Guestbook] [Chat Room] [Search] [What's New?] [Main Page]
Webmaster