The Band is Back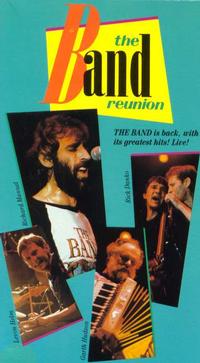 [VHS cover] [VHS back cover] [Laser disc cover] [Australian DVD cover] [Australian DVD disc]
There are two versions of this video tape out there. The American version is 60 minutes long, only music. The version from Canada, also released under the title Reunion Concert, is 87 minutes long with more songs and interviews. It's their first taped appearance since The Last Waltz.
Filmed in Vancouver's Queen Elizabeth Theatre at the final concert of the reunion tour of '83, with Levon, Rick, Garth, Richard, Ernie Cate, Earl Cate, Ron Eoff and Terry Cagle.
The original 120 minute version of the concert was shown on a pay TV network in Canada, with no commercials. The interviews are longer and there is more music. Amateur video copies of this TV version may be circulating... The four songs not included in the official video releases are "Voodoo", "You Don't Know Me", "Caldonia", and "Rock'n Roll Shoes".
Also available as extended play, stereo laser disc. An Australian digitally remastered Dolby 5.1 DVD (87-minute version) was released on the Umbrella Entertainment label in 2003.
Contents (original Canadian TV show)
(all the things that are not on the 87 min. Canadian video release, written in italics)
Interview: Rick, Levon, on beginnings
Milk Cow Boogie
Interview: Levon, Rick, Richard, on Big Pink, Dylan, band names...
Voodoo
Interview: Richard, Rick, on roots and influences
You Don't Know Me
Caldonia
Levon and Garth jamming blues in the Dressing Room
Interview: Rick, Levon, on Sonny Boy Williamson
Java Blues
Chest Fever (no Garth intro. on any version)
Rock'n Roll Shoes
Interview: Levon, Richard, Rick, on music and performing
Back To Memphis
Blaze of Glory
Willie and the Hand Jive
Garth and Levon, blues (over the credits)
Contents (Canadian video release)
Levon/Rick/Richard Interviews
Milk Cow Boogie
Levon/Richard Interviews
Levon and Garth jamming in the Dressing Room
Rick/Levon Interview
Java Blues
Levon Interview
Back To Memphis
Blaze of Glory
Willie and the Hand Jive
Contents (US video release)
Back To Memphis
Blaze Of Glory
Willie and the Hand Jive
The Band - The Band is Back - 87 min (US version 59 min) - 1983 - Pioneer Artist Video
Also released in PAL format in the UK and Europe.
DVD: Umbrella Entertainment DAVID0174, Australia, 2003
---
[History] [Members] [Library] [Discography] [Videography] [Filmography] [Pictures] [Audio Files] [Video Clips] [Tape Archive] [Concerts] [Related Artists] [Merchandise] [Guestbook] [Chat Room] [Search] [What's New?] [Main Page]
Webmaster