Various Artists: Woodstock - The Music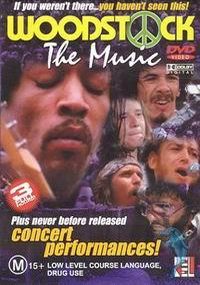 Australian 2001 DVD with performances from the 1969 Woodstock festival, including previously unreleased material. This is the first official DVD release of The Band's Woodstock version of "The Weight," that was ommited from the original 1970 documentary and later released on the VHS tape/laserdisc Woodstock - The Lost Performances in 1991.
Dolby Digital/AC3 sound. Special features: Band biographies, downloadable DVD ROM biography section, The Woodstock story. interviews, interactive motion menu. Interviewees include John Roberts, Joel Rosenman, Michael Lang, Lisa Law and Wavy Gravy.
Performances
I can't make it anymore - Richie Havens
Freedom - Richie Havens
Fixin' to die - Country Joe McDonald
Rainbows all over your blues - John Sebastian
When you find out who you are - Incredible string band
Jennifer - Bert Sommers
If I were a carpenter - Tim Hardin
Evening raga - Ravi Shankar
Walkin' down the line - Arlo Guthrie
Drug store truck drivin' man - Joan Baez
Sir Galahad - Joan Baez
Waiting for you - Quill
Soul sacrifice - Santana
Leaving this town - Canned Heat
Southbund train - Mountain
Love city - Sly & The Family Stone
Try (just a little bit harder) - Janis Joplin
Ball and chain - Janis Joplin
My generation - The Who
Somebody to love - Jefferson Airplane
White rabbit - Jefferson Airplane
Let's go get stoned - Joe Cocker
Thing called love - Country Joe & The Fish
I'm going home - Ten Years After
The Weight - The Band
Mean town blues - Johnny Winter
Black bird - Crosby, Stills, Nash & Young
Everything gonna be alright - Paul Butterfield
Duke of Earl - Sha Na Na
Star spangled banner - Jimi Hendrix
Woodstock improvisation - Jimi Hendrix
Various Artists - Woodstock The Music - 2001 - 180 min. - Roadshow Inc.
---
[History] [Members] [Library] [Discography] [Videography] [Filmography] [Pictures] [Audio Files] [Video Clips] [Tape Archive] [Concerts] [Related Artists] [Merchandise] [Guestbook] [Chat Room] [Search] [What's New?] [Main Page]
Webmaster