Bobby Charles: Bobby Charles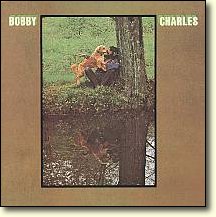 [CD back cover] [CD song list]
Co-produced by Rick Danko and John Simon, Bobby Charles was the perfect marriage between the good-time Danko side of the Band and Bobby Charles Guidry's own swampy cajun roots. On the opening "Street People", Bobby sounded like a Bowery version of Randy Newman; on "Long Face", he was a bayou Lee Dorsey. Behind him Rick put together a wonderfully loose sound somewhere between the Muscle Shoals Swampers and the band Allen Toussaint had used for his great Minit productions in the '60s. With guest appearances by Garth, Levon, and Richard, as well as Mac Rebennack and Woodstock guitar maestro Amos Garret, it was certainly a far more enjoyable record than Cahoots.
-- Barney Hoskyns, Across the Great Divide
The musician credits on Bobby Charles are not very detailed. This has lead to discussions about who's playing what instrument on what track (see e.g. the notes by Tappenden and Palermo.) The probably most correct personnel listing for the Bobby Charles LP is based on information from Jim Colegrove and Geoff Muldaur.
A 1999 CD rerelease of Bobby Charles on the Castle label features four bonus tracks and liner notes written by Ivan U. I´mac.
The nice Japanese Bobby Charles home page is a good starting point if you want to know more about Charles.
Bobby Charles was reissued by Rhino in 2011, as a 3-CD set with loads of previously unreleased tracks.
Tracks
(*: bonus tracks on 1999 rerelease)
Street People (B.Charles)
Long Face (B.Charles)
I Must Be in a Good Place Now (B.Charles)
Save Me Jesus (B.Charles)
He's Got All the Whisky (B.Charles)
Small Town Talk (B.Charles/R.Danko)
Let Yourself Go (B.Charles)
Before I Grow Too Old (B.Charles/A.Domino/D.Bartholomew)
I'm That Way (B.Charles)
Tennessee Blues (B.Charles)
* Homemade Songs (Charles)
* New Mexico (Charles)
* Rosie (Charles)
* Small Town Talk (Charles/Danko) [single mix]
Bobby Charles - Bobby Charles - 1972 - LP - Bearsville BR2104
Compact Discs:
Bearsville/Victor Music Ind. Inc. VDP-28045, 1988, Japan.
Stony Plain 1202, 1994.
Bearsville/Pony Canyon Inc. PCCY-00725, 1995, Japan.
Bearsville Records/Castle Music ESM CD 675, 1999 (with bonus tracks.)
AMG Rating: 5 (out of 9)
---
[History] [Members] [Library] [Discography] [Videography] [Filmography] [Pictures] [Audio Files] [Video Clips] [Tape Archive] [Concerts] [Related Artists] [Merchandise] [Guestbook] [Chat Room] [Search] [What's New?] [Main Page]
Webmaster