Juliane Werding: In Tiefer Trauer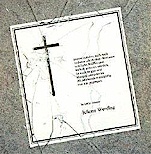 At the age of 15, Juliane Werding topped the German charts in the spring of 1972 and stayed in the Top 10 for 14 weeks with "Am Tag Als Conny Kramer Starb," a German take on The Band's "The Night They Drove Old Dixie Down", inspired by Joan Baez' horrible version. It's the runner-up to Norwegian Gro Anita Schönn's "Dixie" as all-time-worst-Band-cover.
The lyrics , written by Hans-Ulrich Weigel, is a rather embarrassing anti-drug affair about Mr. Kramer's death caused by "Joints und Trips." The song was first released as a 45 in early '72 and then included on Werding's debut album In Tiefer Trauer later the same year.
Several versions of "Am Tag Als Conny Kramer Starb," including acoustic (640K) and techno (485K), have been released over the years. Ms. Werding is still touring and releasing albums at the beginning of the new millenium, according to her German web site.
Tracks
Bangla-Desh
Danke, Freunde!
Grostadt-Indianer
La uns miteinander reden
Mach Dich nicht kaputt
Ein morscher Baum ....
Der letzte Kranich vom Angerburger Moor
Das ist die Freiheit, die ich meine
Der Computer macht alles
Die Kinder Gottes
Am Tag, als Conny Kramer starb (485K)
Juliane Werding - In Tiefer Trauer - 1972 - BMG/Hansa

---
[History] [Members] [Library] [Discography] [Videography] [Filmography] [Pictures] [Audio Files] [Video Clips] [Tape Archive] [Concerts] [Related Artists] [Merchandise] [Guestbook] [Chat Room] [Search] [What's New?] [Main Page]
Webmaster