Goodbye Letter to Rick Danko, December 12, 1999
My Dear Amigo, Rick
---
by Eric Andersen
Copied from Eric Andersen's web site. Reprinted with permission from the author. Copyright © 1999, 2000 Eric Andersen.

---
I look across the ocean tonight and see it's silent and dark in Woodstock.
Here the snow is falling outside the window and the world is suddenly quiet and white. It's almost Christmastime in Norway and I'm looking out on the Blue Hour, when a deep cobalt saturates the air like blue ink; that special time of afternoon, when it isn't day or night. It's the color of a soul now. You probably remember those famous Norwegian blue hours on your first visit here nine years ago.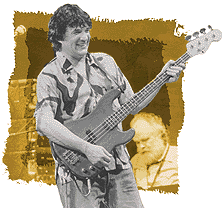 Rick Danko, 1994

The kids are home tonight. They are quiet and sad. You were "Uncle" Rick to them and they all remember the stuffed animals you and Elizabeth'd bring them off the plane. And they loved you because you gave them confidence. When you'd leave, they'd crowd around and ask when you'd be coming back? You'd give each one a hug and answer with a chuckle, "I'm easy to get to know and impossible to get rid of."

It's not really quite sinking in that you're gone. How your big heart flew away in your sleep. The strings must be still shivering on the instruments leaned against your walls. To you, singing was to dream out loud. I remember a passage from Turgenev. It seems poignant tonight. "There are no phrases adequate for such feelings: they are deeper and stronger than any words, and cannot be defined. Music alone could convey them."

I remember the hilarious incident with Salman Rushdie, when Jay McInerney brought him down to the Bottom Line to see our trio show with Jonas Fjeld. He had arrived backstage with no bodyguards. You hadn't read "Satanic Verses" and actually didn't know who he was til someone kicked you under the table and told you he had a famous book and a $2 million price tag on his head from a fatwa 5 years before. During the break you paced in with a scarf around your neck, leaned over and pointed to him and said, "Now YOU are a celebrity!" You walked out as quickly as you came in. Salman leaned back on the couch and laughed from the belly along with the rest of us. You never read many books but could read people. And he knew it.

Your home was Woodstock but you moved two years ago to West Hurley, the town next door. I remember your cabin on Breeze Hill and its fine view of a huge woodland valley and the Catskills. You were a kind and unselfish host. I recall it was a year ago... October... I'd driven from Syracuse where a doctor had given me some shots for both flu and pneumonia. I was fine until later that evening, when a chill and fever set in. It felt like I was coming down with a miniature dose of the very diseases the shots were intended to prevent. In the late hours before midnight, the air had turned sharply colder. You and your wife Elizabeth made me a bed in the living room and covered me with blankets. I watched you build a fire in the woodstove and began to feel more at ease. During the night, between the sweats and chills, I saw your silhouette coming and going from the bedroom and kneeling down to gather and feed wood into the glowing stove, making sure the room was warm enough. It was. The next day at breakfast I felt good as new. But then, you always believed in families taking good care of each other.

A friend called me tonight from New York. She told me that little white cards had been circulated quietly, hand-to-hand, by your final resting ground in Woodstock. It was before they lowered you down next to your son, Eli. The words were lovely and simple: "When you were born, the angels sang and Rick Danko was singing harmony." She added that a lot of friends were there today to read that card, huddled together, listening.

You were born with a voice of a free beautiful bird. It was pure charm from a deep soul and it touched and moved everyone who ever heard it. Your singing was always you! As I'm writing this, that sound of that voice, its poignancy and sincerity, with its uplifting positive spirit, kindness and cheer and boundless enthusiasm, is out there somewhere. But where is it tonight? If Life is music, and if life means light and consciousness, then a huge candle has been blown out. A sacred harp fell silent. It's hard to hear you in this dark and some of us are free-falling down a black hole with ears straining for the sound of that beautiful voice once more. I am numb, my senses suspended. I sit with a pile of yarn and run my fingers through the threads of some of the time I spent with you first met you in Hollywood in 1967. I sensed immediately, a good-natured jovial fellow spirit. We walked along Sunset Boulevard one fine spring evening, passing the dimly-lit used car lots where I watched you point to different models behind chainlink fences. One caught your eye, an odd green-color Karman-Ghia convertible. When I saw you again in Woodstock, it was parked outside your garage. You chauffeured me around the town the next couple days and introduced me to Robbie Robertson. I remember we visited with Fred Neil. Next was an image I never forgot. We drove to see the broad blue mighty Hudson, for a first-time up- river view. You were pure energy then and drove like you lived; fast. You never could sit still.

Back home in Venice, California, I got inspired and wrote "Blue River" with that image and your voice burning in my mind. But you didn't know that until later.

We had done a train tour across Canada and some festivals but it wasn't until 1990 we finally got our first chance to actually create and work together. You were playing the Wetlands in New York. It was my daughter Sari's idea to call you, so I did. You sang a great blues-soaked version of "Crazy Mama" that night. You asked me up to sing harmony on "Long Black Veil." Anybody will tell you, you were always generous in sharing the stage.

It was early autumn when you invited me to visit you in Woodstock to try and write some songs. Songs for a new Band album, you said. I came up from New York in a downpour and you picked me up wearing a lunatic Amtrak conductors hat. We drove straight to Levon Helm's to pick up some guitar amps. Your driving was like a Neal Cassady nightmare. I gripped the door handle while you navigated the slick backwoods roads deftly as a bat while I stared blindly at the splashing raindrops, bigger than maple leaves, stream across the windshield. You drove me past the wooded hill where you had once driven your Porsche off the road and broke your neck. They didn't find you for 6 hours, you said.

The idea was to visit the mountains for a few days but I ended up staying over a month. Elizabeth kept giving me clean tee-shirts and loaned me a coat. The leaves changed colors. One night you told me how your son Eli had sadly died of asthma in college. He was only 21.

We finished "Driftin' Away" there. We used your old rickety electric piano and guitars. Sometimes you'd pull out a fiddle or an accordion. But the best thing was just to hear you sing and play the bass in the same room. The music got rich. At first, you seemed shy because you never fancied yourself a songwriter though you'd written a great song with Bob Dylan at Big Pink, "This Wheel's on Fire." But as the nights rolled on we even wrote one for Richard Manuel called "All Creation."

A month later, in December, you came down to New York and played and sang on some tracks. Jonas Fjeld had flown over from Norway to play rhythm guitar. The songs were to be used as bonus tracks for Stages: The Lost Album. It was funny. I still can see you in the studio, hunched over the bass, sweating over the changes to the songs; trying to read and follow them while I sat next to you shouting and prompting the chords. On your forehead, propped in a row, were three pairs of reading glasses which you kept switching. You were never a "session man." But as time went by, you never wore glasses when we were cutting tracks.

Immediately following those sessions in 1990, before Jonas and I were due to fly back to Oslo, you arranged a farewell gig and party at the Tinker Street Café in Woodstock. Mick Ronson was sitting in and playing slide. At one point, you asked me to play "Blue River" on the piano. You added bass and a 2nd part harmony. Then Jonas suddenly jumped up and sang the 3rd part. Those harmonies jolted the room and everybody knew that something new had been born. "It's all chemistry," you would remark later. The following winter in Oslo we recorded our first trio album. For that, we won the Spelleman's Pris, or Norwegian Grammy. You were always proud of telling the audiences about that. We ended up making 2 albums. You introduced us to the concept that something truly good can be fun and also "big, big, big." You never spoke of divisions of music. No matter what style, it was all music.

I still remember your first few days in Norway. There were more mentions of blue. You stayed at a house in Jessheim. It belonged to a blues-musician friend named Frode Larsen and we called it the "House of Blue Lights" because it offered safe sanctuary for local musicians and night owls. Blues or jazz could be heard playing at all hours. Frode lent you his bedroom upstairs. When you woke up next day, the first things you asked for were a vacuum cleaner and a small, reading light. Frode was delighted and thought, "What a great house guest. First he's going to clean my bedroom and he also likes to read."

Next morning when you were out in the neighborhood making new friends (something you did easily), Frode went upstairs to check if everything was allright. He was amused by what he saw. You had removed the hose from the vacuum cleaner and laid the reading light behind it on the floor. The vacuum was switched on high and a tropical breeze was blasting into the cold room. You had fixed it so the cold air was sucked over the hot light bulb and began blowing warm air out from the vacuum to heat the room up. One more example of that crazy Canadian homespun ingenuity; some inborn talent shared between you and the other cohorts in The Band.

Through our travels we all got to see a little more of the world. I still remember the wonderful crazy gig we did with Townes Van Zandt in Genoa. And that beautiful dinner next day off in Pietra Santa, a Tuscan town where I once had lived in '85. It was November and rain was blowing down from the mountains and a fire roared in the fireplace. We ate roast wild hare and you chose some beautiful red wines. A cozy happy day.

We played festivals in Italy and on the north coast of Denmark, a concert in Taos near the home of the Pueblos, shows in California, an upstate New York Amtrak tour, and much of the East Coast. If given half a chance, we would've probably toured the world. Then there was that final tour with Jonas and Garth Hudson in Japan. It was in a Tokyo hotel room in 1997, on a beautiful June day, we lost sight of you for nearly three months. You were detained for having something you shouldn't have had.

In late August you were released. As it turned out, your detainment was mercifully short (we later discovered the 70-year-old sentencing judge was a huge Band fan). You were never deported. I wrote you letters that summer about the apple blossoms in the yard turning into apples.

It wasn't until mid-September at the one day and night "Welcome Home Rick" festival in Woodstock, where Jonas, Garth, you and I had a reunion. We sang and played that night and the audience loved it. Happy Traum and others sat in. On the bus, I asked you off-handedly what it was like being the special guest of the Narita Airport holding facility? Your answer was simply a shrug and a laugh, "the food in jail was better than half the hotels I stayed at in Japan." Jonas stood there smiling, next to new his wife, holding his new baby in his arms.

You remained miraculously unscathed. In jail, you said, you started taking books out from the lending library. You'd lost weight and quit smoking. The guards and inmates on the block started calling you "Lucky Rick." In fact, I don't ever recall hearing a complaint or a discouraging word pass from your lips. Negativity wasn't part of your repertoire. You appreciated things, no matter how small. And as you liked to say, with a smile and a wry shake of the head, "we got nothin' but time." I was convinced then it was really true. But now that is a dream.

You had released the last Band album Jubilation last spring and were looking forward to recording our new trio album next summer in your home country of Canada. We had started gathering material. We did make a live album in Japan which I hope comes out someday.

I think that all who knew you deeply admired your loyalty and sharing of spirit. Probably even in jail. You never hesitated to show people gratitude or affection. Sincerity was the hallmark trait in your singing and your personality. Whoever heard you could FEEL that. It was ingrained. And your "stagefright" was utterly real.

"Music has been kind to me." You would remind us. Your roots were always close at hand and you never forgot them. "We're blessed," you'd confide, if something good was coming our way. I'd look at those bright shining brown eyes and watch your thick workman's hand slide up the bass neck, and remember; you were the fifteen year-old kid who apprenticed with Ronnie Hawkins and the Hawks, who would soon become one of the most cherished singers and musicians, in one of the world's most respected and musically influential groups in history, the Band.

In the early Sixties, the music got you out of the Canadian bars onto the big stages all over the world, even receiving the dubious trial-by-hell-fire tributes of getting booed, while making stinging fierce music with Bob Dylan. And like Bob, you never quit. You went on to play the Woodstock Festival, the Bangladesh benefit, and made one fine solo album in the Seventies before the Band's Last Waltz concert. You had a great tour with Ringo Starr in the Eighties, and performed at the Pink Floyd The Wall extravaganza in Berlin. The Band continued without Robbie and did some of the best shows of its career. But beneath it all, you always knew below the firmament, stardom and fame are fickle and can easily come and go.

And you stared death clear in the face though maybe with a blinking eye. Your son Eli was not the first to go; there was your good friend and singing partner, Paul Butterfield; and your closest mate and musical twin soul, Richard Manuel, who you found in a Florida motel room after a show.

But you didn't dwell on sorrow. If you did, you kept it secret. I saw you cry only once, in Oslo, over Eli. Your spirit was true and strong and you always kept on the sunny side. Your pride lay first in being a good musician. By all accounts, you were a brilliant one.

You had profound respect for your God-given talent that provided you a livelihood. After all, back in Turkey Point, Ontario, long ago, you'd been trained as a meat-cutter's apprentice. You'd quit school at fourteen to become a full-time musician. You described growing up and playing little shows in Ontario tobacco country, living on a land "flat as pancake." You'd chuckle at the idea of some local wintertime fun, taking the family car out onto the ice for a spin and fish-tailing it on Lake Ontario. Then the dark drive home, past the wood-frame houses with only a bare light bulb illuminating the curtainless parlors. People were poor in Turkey Point but everyone seemed rich in music. You would remind us how lucky we were being musicians. "You know," you'd like to say, "we're too old to work, and too young to retire." Whoever had the privilege of hanging out with you became a bigger person for it. You had charisma and possessed the secret to inspire.

The last show we did was June 6th, 1999, a block down from where we began, at the Joyous Lake in Woodstock. It was a revelation to play and to hear those beautiful harmonies again. Your singing remains one of the everlasting glories of American music.

Working with you was a deep honor. I learned alot. For that alone, I'm lucky. I got my fingers crossed that maybe you were really Zen-right about this life; that it makes no difference. You had one of the friendliest and most generous spirits I've ever known. I can remember you telling reporters at interviews "we're not here to change the world; we're just here to help the neighborhood." You surely helped mine. Even your joke, "gravity cares" has us praying it's caring tonight. Backstage, before a show, you'd like to say, "quicker we get on, the quicker we get off." We'd grab our guitars and laugh. But who ever dreamed you'd walk off so fast. Yesterday, Jonas said it simply: "Rick was kind. It's sad. He was a good man.

Now, amigo, they've said you've left the building. And tonight, staring out into all this whiteness and blue, I'm missing you like hell. Sleep in peace, angel.

All my Love from a brother-in-arms
Eric Andersen

(P.S. My thoughts go out to Elizabeth and Justin, Levon and Sandy, Garth and Maud, and all of your dear and good friends in Woodstock and all over the world).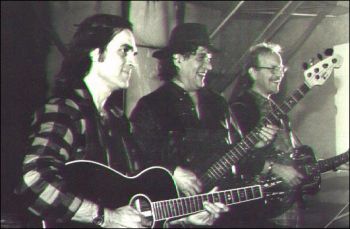 Eric Andersen, Rick Danko and Jonas Fjeld, 1994
---
[History] [Members] [Library] [Discography] [Videography] [Filmography] [Pictures] [Audio Files] [Video Clips] [Tape Archive] [Concerts] [Related Artists] [Merchandise] [Guestbook] [Chat Room] [Search] [What's New?] [Main Page]
Webmaster