Various Artists: Elvis Costello - Artist's Choice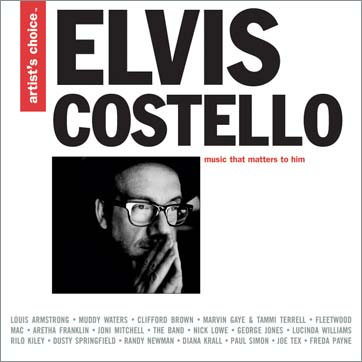 Compilation CD released in 2005 by Starbuck Coffee's on-line music magazine Hear Music. Their "Artists Choice" series offer compilations hand-picked by artists with established credibility (e.g. Lucinda Williams, Sheryl Crow, the lovely Norah Jones and Ray Charles).
The 18 songs chosen by Mr. Costello for this CD includes "Tears of Rage" from The Band.
Tracks
Let's Do It (Let's Fall In Love) - Louis Armstrong
I Love The Life I Live (I Live The Life I Love) - Muddy Waters
Yesterdays - Clifford Brown
You Ain't Livin' Till You're Lovin' - Marvin Gaye
Oh Well, Part 1 - Fleetwood Mac
Do Right Woman, Do Right Man - Aretha Franklin
Tha Last Time I Saw Richard - Joni Mitchell
Tears of Rage - The Band
I'm A Mess - Nick Lowe
Mr. Fool - George Jones
Over Time - Lucinda Williams
Does He Love You? - Rilo Kiley
I Don't Want To Hear It Anymore - Dusty Springfield
Real Emotional Girl - Randy Newman
Almost Blue - Diana Krall
Peace Like A River - Paul Simon
The Love You Save (May Be Your Own) - Joe Tex
Bring The Boys Home - Freda Payne
Various Artists - Elvis Costello: Artist's Choice - 2005 - Starbucks Corp.
---
[History] [Members] [Library] [Discography] [Videography] [Filmography] [Pictures] [Audio Files] [Video Clips] [Tape Archive] [Concerts] [Related Artists] [Merchandise] [Guestbook] [Chat Room] [Search] [What's New?] [Main Page]
Webmaster