Richard Manuel: Whispering Pines
Live at the Getaway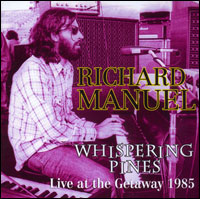 [Order CD!][USA/Canada cover] [Japan CD cover] [Japan Back cover] [Japan Inside cover] [Japan Promo postcard] [Japan Poster] [Dutch CD] [Dutch CD back] [Review]
Japanese 2002 release on the Dreamsville label, from a Richard Manuel concert at the Getaway Club, October 12, 1985. Rick Danko, Jim Weider and Sredni Vollmer are present on some of the tracks. See Peter Viney's review of Whispering Pines for more about this album.
Dreamsville Records has also released Jim Weider's album Remedy and the Rick Danko compilation A Memorial Edition, plus other Band-related artists like Hirth Martinez.
US/Canadian release on the Other Peoples Music label in November 2005, with bonus studio cuts from the Garth Hudson archives not found on the Japanese CD.
Dutch release on the Corazong label (#255 099) in 2007, with 21 tracks, including the bonus tracks of the 2005 US/Canadian issue save one (the alternative version of "Georgia On My Mind" is missing), new cover art by Venice Music, Den Haag, The Netherlands, and new liner notes by Bert de Ruiter. Corazong Records released Rick Danko's Times Like These (#255 034) and Cryin' Heart Blues (#255 098) and Garth Hudson's The Sea To The North (#255 039) as well.
Tracks
*: bonus track on 2005 CD
**: not included on 2005 CD
Credits
Richard Manuel: Vocal, piano
Rick Danko: Vocal on tracks 7, 11, 16, 17 / guitar on tracks 7, 16, 17
Jim Weider: Guitar on tracks 4, 5, 6, 11, 14
Sredni Vollmer: Harp on tracks 11, 14, 17
Richard Manuel - Whispering Pines - 2002 - Dreamsville Records, Japan YDCD-0082
US CD - 2005 - Other Peoples Music CD-OPM-6603
Dutch CD - 2007 - Corazong 255-099
---
[History] [Members] [Library] [Discography] [Videography] [Filmography] [Pictures] [Audio Files] [Video Clips] [Tape Archive] [Concerts] [Related Artists] [Merchandise] [Guestbook] [Chat Room] [Search] [What's New?] [Main Page]
Webmaster