Richard Manuel: Whispering Pines
---
Copyright © 2002 Peter Viney.
---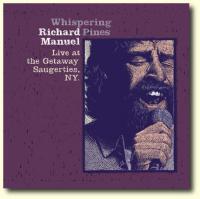 Whispering Pines
2002 - Dreamsville Records, Japan YDCD-0082

Recorded by Andy Robinson, The Getaway, Saugerties, NY 12 October 1985.
Licensed through the Estate of Richard Manuel.

Richard Manuel: Vocal, piano
Rick Danko: Vocal on tracks 7, 11, 16, 17 / guitar on tracks 7, 16, 17
Jim Weider: Guitar on tracks 4, 5, 6, 11, 14
Sredni Vollmer: Harp on tracks 11, 14, 17
I had this obsessive collecting phase with Band-related cassettes, and have had the 7 December 1985 tape of Richard Manuel from The Getaway, Saugerties, NY for years, and had got used to the accompanying hiss, audience murmur and low fidelity of an n'th generation copy. The Whispering Pines CD features an earlier soundboard recording, made at the same venue eight weeks earlier on 12 October 1985 by Andy Robinson who was in charge of sound on the show. Andy had preserved the original tape carefully over the years, and thank goodness someone has the ear for an historical artifact. The biggest surprise about the CD was the sound quality. It's full, clean and clear with no distortion, no tape hiss. It's direct and real.
Trying to assess the CD as "an album"presents a problem. This was never designed as an official live album, nor was it a try-out for an album. It's just an intimate live show in his neighbourhood. This is what makes it such a treasure. The 1990s Band has used other Richard Manuel solo recordings, also recorded by Andy Robinson. The studio Country Boy appeared on Jericho, and a different version of She Knows was on High on The Hog. Work had been done by The Band on overdubbing the solo material (including versions of Hard Times, Crazy Mama and Miss Otis Regrets), produced and arranged by Garth Hudson, but this never came to fruition. The Garth Hudson-produced version of She Knows was done for Bearsville Records (owned by Sally Grossman) and came from a Lone Star Café benefit show. Butch Dener reported that Levon had been trying to persuade Sally Grossman to release it for years, to no avail. Dirth of new material may have been the commercial problem. It would have been pointless to overdub the other guys back onto the Band songs in any case, which leaves only about half an album of previously unreleased stuff. Apart from Country Boy, there are versions of it all here. I'm happy to hear it without the sweetening of extra instruments, because this CD is an experience and a document, not a blueprint for a Band attempt to emulate Reminiscing, the posthumous Buddy Holly album with overdubs by The Fireballs. Of course if the overdubbed one ever gets released, I'll be first in line to buy it!
The joy of the solo settings of Band classics here is that they are one guy doing all the parts. The voice and lyrics aren't "perfect" but are all the more moving for the occassional imperfections. In the last couple of years there have been a few posthumously-released Eva Cassidy live recordings from Washington D.C., and everyone agrees that they're enhanced by the straightforwardness and intimacy of a solo live show. This falls into precisely the same category. I wish it could sell like the Eva Cassidy albums (one million of Songbird in the UK alone)!
The show contains no fewer than three Ray Charles' hit songs and a fourth that Richard learned from a Ray Charles album.
Richard: I learned from Ray Charles and Bobby Bland and...Ricky Nelson probably influenced me too. Let's see... Howlin' Wolf, Muddy Waters, Jimmy Reed. Nearly all the singing influence is black. People think that I sound just like Ray Charles. And I don't sound like Ray Charles. I imply, I make the same implications, I infer the same kind of things. You know what I mean?
Ruth Albert Spencer: Yes.
Richard: Lyrically, but I don't sound like Ray Charles. Undoubtedly, he's been my biggest influence.

--Richard Manuel, Woodstock Times interview, 1985
The 'sounds like Ray Charles' suggestion has often come up. Go back and listen to the Ray Charles versions of the songs here. Apart from the orchestra and choir, the actual phrasing is different on every line. Richard Manuel neither imitates nor sounds particularly like Ray Charles, but there is a powerful connection:
Soul is when you take a song, and make it part of you – a part that's so true, so real, that people think it must have happened to you. I'm not satisfied unless I can make them feel what I feel.

--Ray Charles, Life magazine, 29 July 1966
According to Barney Hoskyns in Across The Great Divide, Richard Manuel had been 're-energised' by a reunion show with his former bandmates from The Rockin' Revols in Stratford, Ontario shortly before the Getaway shows. This is plain wrong. The Stratford reunion came after this recording on 12 October but before the return date on 7 December. Levon's autobiography gets the dates right. The Getaway shows had been organized by Joe Forno, who persuaded him to do them, booked the venue and sent out invitations. So this preceded Stratford. There were in fact two shows on 12 October, and Richard repeated some numbers within the shows (hence the alternate takes of Across the Great Divide and Georgia On My Mind).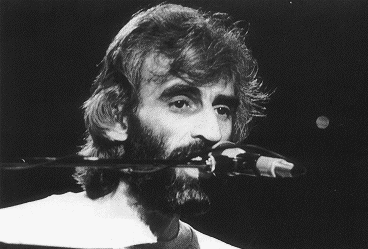 Richard Manuel, 1985

This show shares a couple of songs performed at the reunion (Grow Too Old, Crazy Mama). The R&B songwriters are joined by Cole Porter and Hoagy Carmichael. The 'novelty' of Miss Otis Regrets, and the "standard feel" of She Knows as well as two genuine standards You Don't Know Me and Georgia On My Mind give the act a surprisingly middle-of-the-road content, though not a middle of the road delivery. Some great singers find themselves leaning towards standards, or perjoratively 'show tunes,' and Bobby Darin and Marvin Gaye are two other greats who followed the same route. Darin's efforts worked. Marvin Gaye's were 'perplexing.'

I'm always a bit dubious of the underlying attitude. I once spent twelve weeks doing lights on the Frankie Vaughan show (yes, he was the one who declined Marilyn Monroe's amorous advances) and he always prefaced his "serious section" with an announcement that he was now going to do real songs (i.e. Mack the Knife, Cabaret and Hello, Dolly). I hadn't seen that much wrong with his energetic versions of American hits - he always had the UK hits with the cover versions - Loop de Loop, Green Door and Tower of Strength, and thought it odd to deny his past by paying such lip service to an older style as superior.

OK, that's convoluted, Mack the Knife is superior to Frankie's Don't Stop, Twist! by almost any frame of reference, and Cabaret beats Gotta Have Something in The Bank, Frank with ease, but I found the rejection of the other songs to be misguided. I'd take Sleeping over She Knows and Lonesome Suzie over Country Boy, and for me both have superior melodies and lyrics, but with characteristic self-deprecation, Richard Manuel didn't stick to his own songs, and hey, we already have perfect versions of both on record, so what would be the point? Any live performer is saddled with songs the audience demand, in this case Band back-catalogue, and inevitably J.R. Robertson picks up four sole writing credits and one joint credit on Whispering Pines. A couple of songs performed later at the 7 December show don't get on this album, The Rumor and Country Boy. Unfaithful Servant, The Rumor and Java Blues were performed on the night, but don't make it to the CD. As there are two repeated songs this is presumably because of quality or technical faults. Here is the actual content of the shows, courtesy of Andy Robinson:
Being the source from which the Richard CD was made, and being the soundperson and announcer at that gig and to clear any questions, I am listing the songs in the correct order as they were performed from the original master cassettes:

Saturday October 12, 1985:

1st show: 1. Grow Too Old 2. Georgia 3. Instrumental 4. Across The Great Divide 5. You Don't Know Me 6. King Harvest 7. Unfaithful Servant 8. I Shall Be Released

2nd Show: 1. Shape I'm In 2. Instrumental 3. Miss Otis Regrets 4. The Rumor 5. Java Blues(w/Rick) 6. Crazy Mama (w/Rick) 7. She Knows 8. Hard Times 9. Chest Fever 10. Georgia 11. Across The Great Divide 12. Whispering Pines 13. Tears of Rage

--Andy Robinson, Band website, March 2002
The choice of the non-Band songs in the act is a guide to current interests, and apart from She Knows none of the interests are remotely contemporary. He's performing songs he's been aquainted with for twenty five years, and he's performing them in straightforward arrangements. In interviews a few months before this show, Richard had expressed dissatisfaction with the touring schedules, interrupted by everyone's solo work, and had suggested that he wanted to develop his solo career.
That's why I'm irked to the point of just saying, 'Fellas, this is it, I'm going on with my own career.' So I've been planning how to catapult this whole thing with myself into a position where I can remain occupied all the time...and have some work at all times, because it's the down time that drives me crazy. I get nuts when I'm not working. When there's nothing to look forward to, when there's no work. Not that I won't play with The Band, anytime, I'm there a thousand percent, whenever, whatever the Band is, 'cause it's certainly not one person. The Band is five people and anything less than four is just a taste of what the Band is.

--Richard Manuel, Woodstock Times interview, 1985
The new direction / position would seem to have been melodically complex songs which showcased his voice, and She Knows, Hard Times and Country Boy indicate the intended line of development. They don't clash with songs like Whispering Pines, and Tears of Rage. Rick Danko was also exploring ballads like My Love around this time (to the horror of biographer Barney Hoskyns) and you can imagine a more melodic, less R&B 1990s incarnation of The Band. Richard was seeing himself as an interpreter of songs, rather than as a singer-songwriter. The writing had dried up and interpreting others' songs was more appealing. The Ray Charles connection resurfaces. Look at a copy of (any) of his 'greatest hits' compilations. He wrote hardly any of the songs, but his effect on the songs was such that most people automatically think of them as 'Ray Charles' songs'. In recent years Van Morrison has moved from a couple of covers in his shows to shows where almost half the songs are covers (and often vastly inferior to his own back catalogue). Maybe the interest in Ray Charles as a singer leads to focussing on interpretation rather than writing. Richard's own compositions got a disproportionately low amount of attention in selecting the songs the Band performed on stage, so he'd been principally an interpreter since about 1969.

My love of The Band started with Big Pink and I used to be puzzled by the contention that Richard was the "lead singer" or "our best singer" as Levon Helm and Rick Danko often pointed out, because to me they were a triumvirate of equals, all three great singers.
Richard was always our lead singer - and I always felt real confident with Richard in The Band. I knew that nobody had a better singer than what we had.

--Levon Helm, video / DVD, Classic Albums - "The Band"
It wasn't until I heard hissy, scratchy, dull-toned early-Hawks tapes (recorded by sticking a little plastic mic in front of a PA speaker by the sound of it) that I understood their point. He had been the lead singer in the early days, something that the Canadian fans of the early Hawks always took as read. Back then, Richard took all the soul standouts and the ballads, and Levon alternated with the rockers and R&B material. Rick Danko was doing backing vocals. But the other two caught up, though they'd have denied it themselves. There is a degree of lip-service, in that the first time they got to cut loose on a session featured Levon on lead for She's 19 Years Old. Richard's decline as a singer can be heard on the bootleg, undubbed versions of The Last Waltz, where his voice was partly shot. Here he is back on form, with the gut-wrenching emotional vocals holding up throughout. You owe it to yourself to hear it.
Richard Manuel could really sing that stuff ('rhythm and blues before Motown') at that time. I hired him strictly as a vocalist. Richard wasn't a very good piano player at that time: his piano-playing was very average, or even less than average. I hired Garth Hudson to come in as a teacher to teach us more music, right? And he taught (Richard Manuel) all the proper chords and all this stuff.

--Ronnie Hawkins, interview by Michael Gray, The Telegraph, 1985
Ronnie Hawkins' offhand remarks that Richard was hired for his voice and played basic rhythm piano has been repeated many times, and has remained largely unchallenged, even though Garth has suggested that Richard's ability caused him to shift to organ.
When Richard and I hooked up - Richard had the voice and also this great rhythmic feel called energy piano - I went to organ.

--Garth Hudson, The Woodstock Times, 28 March 1985
This album proves that things happen in twenty-five years and that Richard's keyboard work was far better than Hawkins'assessment of his ability a quarter of century earlier would lead you to believe. And always was. Great piano playing (and yes, he has a wonderful sense of rhythm with it).

The Dreamsville CD of Whispering Pines is presented with a high-quality booklet, including lyrics, that puts Capitol to shame. Above all they get the lyrics damn near right (one error in King Harvest compared to more than a dozen in Capitol's transcription for Japanese release). It came out in 2002 together with releases by Rick Danko (The Memorial Edition) and The Jim Weider Band (Remedy). It makes you ask the question, how come a Japanese company can produce such a faithful (and loving) testament when no North American company can be bothered to do the same? Come to think of it, the Bearsville Box Set is a Japanese issue too.
1 Grow too Old
(B.Charles/A.Domino/D.Bartholomew)

Bobby Charles wrote this song for Fats Domino back in 1960 and it was the B-side of a minor US hit (#51). By a coincidence, it was the follow up to Domino's Country Boy, a completely different song to the one Richard was performing around this time (and which landed up on Jericho). Grow Too Old was revisited in 1972 on the Bobby Charles album, to which Richard Manuel was a contributor. The credits on the album have been much disputed as no track credits were given. It was often assumed that Richard Manuel contributed piano and backing vocals to a wonderfully almost-sloppy, definitely floppy rendition of Grow Too Old, because it was a song he played in concert in the 80s. Tony Palermo, in his analysis, credits it to Richard. The first time full track credits were given was on the Bearsville Box Set compilation, and according to that John Simon was on piano and backing vocal and N.D. Smart was on drums. The best effort at listing personnel is on this site, and is based on Jim Colegrove and Geoff Muldauer's recollections. They don't recollect Richard playing on anything specifically, but as his name is listed on the sleeve, their best recollection isn't complete (i.e. good enough) and while you may be present at a session, you only know who really did what if you're present at the final mix.

Anyway, he plays it here, with a rolling piano riff, relaxed laid-back vocals. I'm surprised this didn't get reprised when they were digging out Richard performances in the 1990s. It would have fit the mood and feel of the 90s Band albums better than She Knows or Country Boy.
2 Georgia on My Mind
(H.Carmichael/S.Gorrell)

In 1987, CIUT-FM in Toronto did a tribute radio show, produced by Tim Gladwyn, 'The Music of Richard Manuel' where former members of The Rockin' Revols recounted Richard's recruitment by Ronnie Hawkins, in the summer of 1961 (Both the Hoskyns biography and the Helm / Davis autobiography quote from this radio show in my opinion, the nearest to a credit being Hoskyns 'I have quoted freely from various radio shows'):
I remember that night very clearly. Robbie was up there and had a brand-new Fender bass amp, and Robbie says 'You're welcome to use it'... and we caught Hawkins show and I almost pulled out my hair, I'd never seen anybody that dynamic... this was in Stratford, and so it was our turn to play, and we went up on stage after Ron was done, and Richard, well... I said 'What tune?' and he said, 'Georgia.' 'Georgia'. And it just about took the house down. And that did it - I think that was what impressed Ronnie. When Richard did 'Georgia'. And he did it so well, it was almost his.

--The Revols, interviewed on CIUT-FM broadcast, 14 November 1987
He was just seventeen years old. Richard Manuel had been singing this standard since before he joined The Hawks. Hoagy Carmichael wrote it in 1930, in the prolific New York period when he was working with Louis Armstrong and Jack Teagarden. The same short era produced Lazy River, Rockin' Chair and Lazybones.

However in rock terms, it's irrevocably linked with Ray Charles, (The single was US #1, UK #24, September 1960) and it was on The Genius Hits The Road in October 1960. As this album had a loose concept based on place names, that may have prompted its inclusion (or the song might have prompted the concept!) The Hawks were certainly doing it in early 1964, and probably way before that, and it's on the Dallas 1965 collectors' tape. Levon describes a Port Dover show from 1964 where Georgia was the closing song of the evening. It emerged on a Band single in 1976 as a Jimmy Carter tribute during the presidential campaign, and then was on The Band's Islands. Something somehow failed to work in The Band version (in spite of extremely tasteful guitar fills), and I prefer this solo one with the piano at the front.
Ruth Albert Spencer: Do you have a favorite song that you've recorded?
Richard: Hm, that I've recorded, that's my favorite. (Turns to Arlie and asks, 'What is one of my favorites?')
Arlie: I don't know. You once said that after you heard the playback of 'Georgia On My Mind', you had tears in your eyes.
Richard: Yeah. But I think I oversang it. It was released as a single when Carter was running for President. We couldn't vote and we knew Carter; we'd been out to his place in Plains, Georgia.

--Richard Manuel, Woodstock Times interview, 1985
3 Instrumental #1 "Jazz"
(R.Manuel)

At the end of track 9, the other instrumental on the album, Richard calls at the end - "jazz..." Throughout, he's fond of one or two word summaries at the end of numbers. Why track 3 should be subtitled "jazz" is therefore a mystery.

It doesn't sound so much an instrumental as an unresolved backing track. A progression he was playing with, maybe work in progress, but there's almost a quote from The Weight in there. This is the sort of melodic solo piano thing that Windham Hill can put out by the mile, and if he could sit and play like this for sixty minutes he missed a vocation by failing to capitalise on it. The only difference is that Windham Hill would have recorded a real Steinway piano. But this is real, in a club and they were right to leave the little bit of mic feedback in the middle. It keeps it live (when a remastered version of Bob Marley's live No Woman No Cry eliminated a piece of feedback, the song sounded less for it!) It's a pity this piece never got worked up with lyrics.
4 Across the Great Divide
(J.R.Robertson)

Jimmy Weider joins Richard for this. When any Band member performs live, there's a buzz of excitement as the first classic Band song makes its appearance. Because this is the opening track of their most-acclaimed album, and so familiar, the effect is doubled. You're reminded that Richard's voice opened both the first two albums.
5 You Don't Know Me
(C.Walker/E.Arnold)

Written by Cindy Walker and Eddy Arnold in 1955, this was a 1956 Top 20 hit for Jerry Vale. The definitive version by Ray Charles was the second million-selling single (US #2, UK #9, July 1962), from Modern Sounds in Country & Western Music (US #1, UK #6). When Ray Charles said he was going to make a country album, ABC-Paramount thought he was joking. He wasn't and the soul take on country melodies was an inspiration for what The Band were to undertake.

The song was a major part of the Hawks early 60s stage act, with Manuel on vocals again. A 1964 version appears on the Crossing the Great Divide bootleg. It's also on the Port Dover 1964 bootleg and the "Dallas" 1965 collectors' tape (it may not have been Dallas in fact). It appears on various bootleg tapes of Manuel solo and also of The Band circa 1984-5. The Japanese video of the Cate Bros-assisted Japan Tour features Richard Manuel singing it (with the camera in the right place), and it was a natural part of his solo act. Richard's old friend Van Morrison recorded it in 1995, and his cover reminds me more of Manuel than Charles, especially in live versions. Van has also done I Can't Stop Loving You and recently covered Georgia On My Mind on 2002's Down The Road. Both shared a love of Ray Charles' music. And I hope Mr Morrison has a copy of this release. And whatever happened to that idea Van Morrison once had for an entire album of him and Richard duetting on Ray Charles' songs?
Van Morrison: Me and Richard Manuel were thinking of making an album of Ray Charles songs.
Danny Goldberg: Oh no you're not. I heard you two talking about it and you were very big on it but he was just kind of scared.
Van Morrison: No, no. He was up for it. Maybe if we could just get the studio to come here. 16 track. We could sit around here and work it out.

--Interview by Danny Goldberg, Jazz&Pop, December 1970
6 King Harvest (Has Surely Come)
(J.R.Robertson)

If push comes to shove, this is my favourite Band song of all time, eclipsing even The Weight. Richard switches between the powerful soul voice for his own part and then sings Levon's part in a high whispery voice. I love the sheer nerve in approaching such a complex song and taking on the whole thing alone. It makes you focus on the voice and lyric rather than being entranced by the instrumentation on the original version. And it works perfectly.

Jim Weider is standing by for the guitar solo and adds some light frills earlier on - but those early bits aren't a coherent 'guitar part'. It wasn't a Weider era number for The Band and while in later years he would play masterful solos in Robbie's place, this seems less steady and directed, more improvised.
7 I Shall Be Released
(B.Dylan)

Sung as a duet with Rick Danko, and sung brilliantly too. The piano playing is superb, and shines out with the sparse setting, just Rick Danko playing his characteristic 'bass-cum- rhythm guitar' on acoustic guitar along with Richard's piano. This also appears on the Japan Tour video. Rewatching that video, then listening to this, it sounds so much in line with Richard Manuel compositions that I wonder how fair the writing credit is. Maybe Richard just made it his own. Clinton Heylin in the revised edition of Behind the Shades describes it as the song Dylan wrote for Richard Manuel.
8 The Shape I'm In
(J.R.Robertson)

Debates on who sung what on Band songs have caused bitter dissent over the Moondog Matinee tracks Holy Cow and A Change Is Gonna Come (both in fact sung by Rick Danko, but don't e-mail me if you disagree). Richard and Rick could switch vocals seamlessly, and after Richard's death, Rick was to take this song over (and you couldn't see the joins). The Stage Fright original was Richard's lead vocal, which is what we have here too.
9 Instrumental #2 "Piano"
(R.Manuel)

This is the one that Richard frames by saying 'jazz' but inexplicably it's subtitled 'Piano'. It's an inconsequential warm-up riff, no more.
10 Miss Otis Regrets
(C.Porter)

This Cole Porter song dates from the stage play Hi Diddle Diddle in London, 1934. Porter said that it was written purely for the amusement of his friends. Robbie Robertson had produced and played guitar on Libby Titus's elaborate 1977 version, so Richard's version is the second Band-related visit to the number.

He introduces it as a 'novelty tune,' then at the end he laughs, and repeats 'novelty' which is as it should be. The best versions I've heard have been sung by a man in a Hollywood English-butler voice (a dinner jacket helps), yet the song has attracted mostly female singers over the years. Rosemary Clooney is the most-played one on radio. Po-faced sensitive versions of this are against Cole Porter's intent, and Richard tries to restore the humour to the story. He does unfortunately get the words completely wrong at the end, missing out the last two lines: And the moment before she died, she lifted up her lovely head and cried, "Miss Otis regrets..." etc. and repeats the last two from the previous verse instead (And from under her velvet gown she drew a gun and shot her lover down) which spoils the sense and story that he's been building up. The later Getaway tape from 7 December is of interest here. He makes the same error, repeating And from under her velvet gown... and a voice is heard saying (I think) 'Mistake!' then he does the two correct lines.
11 Crazy Mama
(J.J.Cale)

J.J. Cale wrote it and it was a hit single (US #22, March 1972) and was on his breakthrough album Naturally in 1972. (US #51, January 1972, Recorded 1970).

This dullish song has seemed a staple for every possible combination of Band members for years. The Danko / Butterfield Band featured this on live shows in 1979. Richard Manuel was playing this number on solo gigs in 1985, including those with Danko, and it featured at The Revols reunion gig at Stratford, Ontario the same year. After Richard's death, it remained in Band members' collective consciousness. Danko continued to feature it solo at various times, notably with Jorma Kaukonen in 1987 and later in 1992/ 1993. It was heard on many later collector's tapes, e.g. from Tokyo, 1994 and from Woodstock 1994. It featured throughout the 1994-6 tours with Levon on bass guitar and is captured on the Live at The New Orleans Jazz Festival video. Rick Danko solo versions from the late 1990s are on In Concert, Live At Breeze Hill, and the Laser Disc Deadheads Festival Japan 1997. The Band at last officially recorded it on High on The Hog and it turns up again on the DVDs New Orleans Jazz Festival and Live at Loreley. Generally, I dislike the song. I bought Naturally when it came out, and loved the album but not this song even back then. I've never seen why they persisted with it so remorselessly. But a couple of live versions have taken my interest, and this is one of them.

On this version Richard is joined by Rick Danko, Jim Weider and Sredni Vollmer. Rick and Richard share vocals, with Rick leading. Jim Weider is the most prominent musician throughout, and he plays it more interestingly than on later, heavier Band versions which got swamped by the inexorability of the monotonous riff. Sredni Vollmer's harp playing then comes in, duetting with Weider's delicate guitar part. Richard describes it as 'gang rock,' and his three supporting musicians as 'The Bandettes'.

The interchange with Rick Danko at the start has Rick offering to be his new booking agent. Richard quotes his duet with Van Morrison on 4% Pantomime, Just don't book those jobs too far apart.
12 She Knows
(J.Griffin/R.Royer)

This song was written by Griffin and Royer of Bread, and first appeared on the LP Breaking Up is Easy, 1974. It was also recorded as a single by James Griffin & Co. The Bread Retrospective 2CD set says it's an unreleased song, which it isn't. Ray Charles covered it on Love and Peace in 1978. David Powell describes Ray Charles' version as:
A beautifully orchestrated version featuring acoustic guitar, electric piano, strings, woodwinds and a fine trumpet solo. Ray turns in his usual amazing vocal rendition, complete with falsetto at the end.

--David Powell, theband.hiof.no
Love and Peace was Richard Manuel's source for the song. He also performed it on the Byrds Tribute Band tour, and a version from the Lone Star Café from 19 January 1986 appeared on the Across The Great Divide box set, and then again on High on The Hog, produced and arranged by Garth Hudson with overdubs. This was a show by Rick Danko and Richard Manuel, which was a benefit with Pete Fornatelle. There are also versions on Danko, Hudson, Manuel tapes from the Lone Star Café a year earlier in January 1985.

This is what I felt about the High on the Hog version:
It just does not fit this album, just as Country Boy doesn't fit Jericho. I'm delighted to have it. It's wonderful, and I can see that they wanted to keep Richard in mind, and hopefully put some royalties his family's way (especially if this had been a mega album). But it's got nothing to do with the groove of the album. It breaks the mood totally. They should have collected some Richard live stuff and put out a Richard album instead. As I say, I love hearing that voice again. But it's not contextualized.

--Peter Viney, theband.hiof.no, 1996, revised 1999.
Seth Rogovoy on alt.music.the-band expressed a similar feeling:
You all know this from the box set. It still features intro and outro spoken word by Rick, and as such really sticks out like a sore thumb on the album. It totally doesn't relate to the album as a whole, except as a reminder of what they've lost. Maybe they just can't imagine ever releasing an album by The Band without Richard Manuel on it. That's a nice sentiment; I'd prefer they just change their names to The Hawks and be done with it.

--Seth Rogovoy, alt.music.the-band, 1996
On this album it is contextualized and this earlier, undubbed performance fits its surroundings far better than the Lone Star version fit its surroundings. I think it benefits from the lack of adornement. As a composition, its gently meandering melody fits the voice, though so do Sleeping or Lonesome Suzie. I've never been taken with the song itself, but the performance is remarkable, showcasing the range of the voice.
13 Hard Times
(R.Charles)

Ray Charles first performed Hard Times (Nobody Knows Better Than I) as a 1950s single, which was re-released in 1961. It appears on the Atlantic Jazz compilation. Levon & The Hawks used to play this. Hard Times also appears on the 30th March 1976 out-takes from Eric Clapton's No Reason To Cry with Rick Danko on lead vocals and the album has Rick, Garth, Richard, Levon, Billy Preston and Van Morrison as part of the informal jam session. It appears on Eric Clapton bootlegs such as Happy, Happy Birthday, Eric Clapton. The eight minute version of Hard Times starts with prominent organ, bass (Rick Danko) and drums (Levon Helm) as well as Clapton's guitar, but the organ sounds like a Hammond to me, and like Billy Preston rather than Garth. There's no piano until near the end when piano joins to play beneath the guitar and organ solos, and Richard Manuel is the only pianist credited.

The performance at The Getaway is a genuine response to an audience request, and the mood follows well from She Knows which is presumably why he took the request at that point. It features his characteristic vocal range.
14 Chest Fever
(J.R.Robertson)

"This one I usually have a lot of help with. However..."

And then Bang! Straight into the riff. Richard plays alone before Jim Weider and Sredni Vollmer join him, and it's such a tour de force that I kind of hoped he'd carry on alone, but once Jim Weider comes in, he carries the main part of the song and Richard mainly stops playing and concentrates on the vocal. This is so associated with Garth's intro that it's a surprise to see it launched without any preamble, and that one guitar, one harmonica and one piano can emulate the excitement of the full group versions. Brilliant playing from all three musicians. And you can hear those enigmatic lyrics better.
15 Whispering Pines
(R.Manuel/J.R.Robertson)

The audience is calling for an encore.

This calls for something extreme - I really don't know if I can hit that one. Hum it if I miss...

It's deservedly the title track. He's slightly hoarse and misses just enough to let you be sure that you're THERE by screwing up the lyrics in the middle, but it's still transcendent.
Richard had briefly lived in a house in Woodstock that once belonged to the painter George Bellows. There was an old piano in the house which had been left behind and Richard wrote "Whispering Pines" on it. It had one key that was out of tune, and when he came to record the song he had the studio piano tuned the same way, so that one key was still out. That's what's responsible for the vamp figure at the beginning and end of the song.

--Joe Forno, CIUT-FM radio show, produced by Tim Gladwyn, as precised by Barney Hoskyns.
16 Tears of Rage
(B.Dylan/R.Manuel)
All the tears... all the rage
All the blues in the night.

--Robbie Robertson, 'Fallen Angel', 1986
Bob Dylan helped Richard with this number about a parent's heartbreak, and Richard sang one of the best performances of his life.

--Levon Helm, This Wheel's on Fire
Notice Levon's careful word order, Bob Dylan helped Richard.. not vice-versa.

This is a second encore following on from Whispering Pines. Slave drivers, he calls. The piano intro is unfamiliar, but then you get the first line of the first song on the first Band album... Rick Danko is playing staccato guitar and singing with him. As so often on Danko solo shows the guitar playing is almost deliberately unaccomplished, but all the more moving for that.
17 Across the Great Divide (alternative version)
(J.R.Robertson)

Nobody's heard enough of this one...

Suggests that it's the second version. Rick Danko has replaced Jim Weider on guitar, and has added backing vocals. Sredni Vollmer is there on harmonica. I can see why track 4 is the main track, and this is the alternate one. While Rick's voice is a welcome addition, his guitar playing is more basic and rhythmic and doesn't adorn the song as well as Jim Weider's earlier take.
18 Georgia on My Mind (alternative version)
(H.Carmichael/S.Gorrell)

It's hard to tell whether this is the first show or the second show. Great to have it twice, but it's not wildly different.
Availability
You can order it direct from Dreamsville in Japan.
In Canada, HMV, Toronto were reported to be taking and filling orders.
In Europe, SPIN mail order in Newcastle, UK obtained my copy from Japan.
---
[History] [Members] [Library] [Discography] [Videography] [Filmography] [Pictures] [Audio Files] [Video Clips] [Tape Archive] [Concerts] [Related Artists] [Merchandise] [Guestbook] [Chat Room] [Search] [What's New?] [Main Page]
Webmaster