For Rick, with love
Eric Andersen talks about Rick Danko, Festival Express, and DFA
---
by Carol Caffin
BandBites, Volume I, No. 1, February 15, 2007.
Copyright © 2007 by Carol Caffin. All Rights Reserved.

---
I remember the first time I heard the name "Eric Andersen." It was the summer of 1982. I was just a couple months shy of my 20th birthday and accompanying Robert Hazard, then Philadelphia's hottest rising rock star, on a press junket to promote his new record. We hit every major rock radio station in Philly, a couple of newspapers, and a local TV news show. With my trusty tape recorder and notebook in hand, I interviewed him in the limo -- en route to the "real" interviews -- for my college newspaper. Unfortunately, my recorder ate the tape, but I retained my scribbled notes. Only two had any significance. One said "New female singer will record Robert's song 'Girls Just Wanna Have Fun.'" The other said: "Robert's biggest influence: singer/songwriter Eric Anderson [sic]." Hmm, I thought. I'll have to check him out.
I never did. "Girls Just Wanna Have Fun" became a huge hit for the "new singer," Cyndi Lauper, but Robert Hazard faded into oblivion and, with him, my mental note to check out Eric Andersen. Little did I know that, in just a few short years, I'd be working with Eric, helping to promote some of the most loved and critically acclaimed music of his career, his collaborations with Rick Danko and Norwegian singer/songwriter, Jonas Fjeld. It was Rick who, both directly and indirectly, got me into Eric's music. The now-famous Woodstock gig at Tinker Street Café that brought he trio together in the fall of 1990 started as just another show, but, as Rick said later, "there was magic in the air" that night.
I wasn't there for the Woodstock gig, but I got a taste of the magic when, in early 1991 upon returning from Norway, where the trio had recorded what would become Danko Fjeld Andersen, Rick called me and played a few of the songs on his guitar. One of the songs that struck me was "Driftin' Away." Rick also sang a bit of "Blue River" that night and, though written by Eric many years earlier, it seemed to be custom-made for Rick's voice. (As I recall, it was around that time that Rick slowly began introducing those songs into his onstage repertoire, not just in his solo shows, but in gigs with The Band. In fact, one of the first times I heard Rick perform "Driftin' Away" onstage was at one of The Band's Roadhouse shows in New York City.) Rick was excited about the songs, and I realized that this was more than just a collaboration -- it was a connection. "I want you to meet Eric," he said, kinetic and hyper as always. "You'll love him! He's great! He's a poet!"
Soon after, Rick introduced me to Eric and I began publicizing Eric's shows as well as Rick's, and working on promoting DFA -- without the benefit of an American release. That didn't stop us. The music was infectious; there was passion in those songs. So I wasn't surprised when the Norwegian recording began garnering airplay in major markets across the country, mostly from the few CDs I had and from second-generation cassette tapes that I dubbed myself. The momentum was incredible; it was a heady time.
It would be more than two years before Danko Fjeld Andersen would be released in the States. By then, two relatively new sub-genres -- and their requisite accompanying radio formats -- had been spawned: Americana and Triple A (originally called PAR, for Progressive Adult Radio). I had to laugh when these formats were touted as "new." After all, The Band virtually invented these formats with a little record called Music From Big Pink a quarter-century earlier.
Though I've talked to him intermittently over the years since Rick's death, I have not seen Eric since January, 2000, when we ran into each other at a music conference in Cleveland. It was just a month after Rick died, and I guess we were both still in shock -- and denial. All he could manage to say to me was "Blue Christmas, huh?" "Yeah," I said. "Blue Christmas."
These days, Eric, who turned 64 on Valentine's Day, is still busy touring and making new music. His latest CD, Blue Rain, recorded live in Oslo with members of the blues band Spoonful of Blues, is about to be released. Recently married to Inge Bakkenes and dividing his time between the Netherlands and New York, Eric is as productive -- and prolific -- as he's always been, and, ever the wandering troubadour, just as difficult to pin down. He called me from a train in Norway, where he was traveling with his 20-year-old son, Henrik. The chugging train turned out to be an oddly apt -- almost metaphorical -- backdrop for our conversation. "We had a strange experience here in Norway," Eric told me, and I sensed a sadness in his voice. "I came up to see my family here and [I heard] that a 20-year-old boy had jumped in front of a fast train. His girlfriend had left him the day before. And today, Henrik and I were at the station -- it happened at the same station -- and you could see his footprints in the snow going out but not coming back." Knowing Eric, someday that heartbreaking image will find its way into a song.
During our conversation, Eric's mood veered from existential to jovial, with Rick, even in spirit, providing some welcome comic relief every time things got a little heavy.
CC: What was your first awareness of Rick and The Band?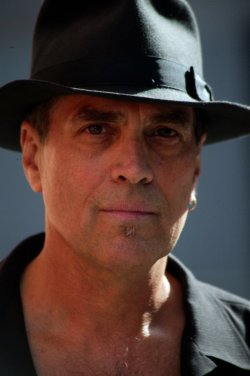 Eric Andersen, 2006
EA: I think I first met Rick outside the Continental Hotel in L.A., a hotel that a lot of musicians stayed at, probably in 1967 or 68. We hung out for a couple of days; I don't even remember what they [The Band] were doing. Maybe they were recording or doing a gig somewhere. I'm not sure; it's all in a haze. [laughs] But next to the hotel, there was a high-end used-car sales lot that had a chain-link fence. Rick found a car there that he liked. It was a green Karmann Ghia. And the next time I saw it, it was in his yard. He invited me to Woodstock to meet everybody in The Band and I went over there one day in the springtime, hung out for a few days, went up to everybody's houses and said hello. He introduced me; it was quite nice. I'd never been to Woodstock before, it was my first time.
Then I remember I played a festival, me and Townes Van Zandt; we were doing a lot of hangin' out at the time. I mean, I had seen Rick around, I'd run into him from time to time. There were actually many times I ran into him, but I remember one time, I was playing at a workshop at a festival in Canada, the Winnipeg Folk Festival, and I heard somebody playing music. I couldn't figure out where it was coming from; I thought I was hearing things. And it was Rick playing bass lines underneath the songs [laughs]. He was sitting down--I didn't even see him. He was substituting for somebody, but I don't remember who. Somebody couldn't make the gig, so they called Rick and he filled in and did a show. I didn't know that he was even there. Then of course we hung out at Festival Express [the famous 1970 trans-continental train tour of Canada featuring The Band, the Grateful Dead, and Janis Joplin].
CC: I'm sure that's a haze, too, but what do you remember about Festival Express? The shows, the train, the musicians?
EA: It was a whole train. The guy who produced it was a friend of mine, a family friend, Kenny Walker. I had done the Toronto Pop Festival and he just became my friend and he wanted to do something innovative. He was not afraid to take chances. So he rented a train for the musicians. And that's how Festival Express started.
CC: Do you remember everyone getting together, actually boarding the train?
What I remember is Rick ducking under a fence, coming from a car that had been chasing the train. He had a car follow the train, just waiting for it to slow down! It slowed down in a yard, and he jumped out of the car and just ran up the tracks to the train, and jumped in an open door [laughs]. He was a little late [laughs]. But better late then never! [laughs]
CC: Oh-my-God, Eric. So you're telling me he was late for Festival Express?
EA: Well, he was not late for the gigs. Just the boarding! [laughs] But it was just a wonderful time. Everybody was playing music and having a good time, just living on this train. Everybody had their rooms. There was a dining room. There were doctors on board if anybody had any energy problems. It was just one big, wild, fun thing. And the shows were great.
CC: How long did it last? Wasn't it cut short?
EA: Well, it was supposed to start in Montreal, but they had trouble with the separatists -- the Jean Baptiste thing. Then, the Vancouver date, they yanked that because the authorities were scared of cigarette burns on the Astroturf. It ended up being like three or four shows -- it was supposed to have been six shows. However, that said, it was great. It was so great that nobody really wanted it to end. I mean, people got stupid and silly and sentimental and really nostalgic, really crazy, you know? I spent a lot of time with Janis Joplin. That's where I became friends with her.
CC: What was she like?
EA: She was wonderful. She was very smart, very caring, very big heart. We had a good time. I took Sari [his daughter], who was a baby, up to see her the night she was recording "Mercedes Benz." [Janis recorded the song October 1, 1970. She died three days later]. It was just her in a dark room and a microphone and the producer Paul Rothchild. And I could see she was a little... she was a little, uh... she probably wanted a kid herself. It was a pretty shocking day [Janis's death]. But, if you know people in this business, every day is a shock, every day something happens.
CC: Unfortunately, I know what you mean. Someone's here and then, just like that, they're gone...
EA: Oh man, she was just the beginning. I don't know...then you wonder why you're around...
CC: And then you just gotta keep going...
EA: Well, you know, you can't go back.
CC: So you guys kept in touch after Festival Express?
EA: Oh yeah, I'd see him. We did some shows in Woodstock, though he was still in California when I got there. Rick was a night owl, man. I couldn't keep up with him. I'm sure you know what he was like.
CC: Yes, he was definitely nocturnal.
EA: So, I still saw him from time to time. And then he played in New York and I called him and he came to my house. He liked my daughter, Sari, a lot, and he came to see [us]. Then I participated in a show that he did with those guys -- you know, those musicians from Connecticut or Massachusetts, a blues band? They were good...
CC: The Chili Brothers?
EA: Yeah, those guys. I think it was at the Wetlands. Then I went up to Woodstock, we started to mess around, then Rick came to New York to do some recording [for Eric's record, Stages: The Lost Album]. Jonas Fjeld was there, and then we did this gig at Tinker Street Café. We started singing and we did "Blue River," and Jonas jumped up and started singing, too. And that was the beginning of the trio.
CC: And we all know what happened after that. It was a great time. Did you see Rick much after that?
EA: Yeah. We'd planned to do another record in Canada. We were gonna do it with Colin Linden. We had done some shows together and started talking about this, that, and the other. And Colin was gonna produce it. Everybody was happy about that and Rick trusted him. We talked about it about a year before Rick died. We were gonna do it in Kingston, Ontario of all places.
CC: Why there?
EA: Well, there was a cool studio there. Zal Yanovsky lived there and he had a restaurant in the area. Maybe Rick thought the food was good [laughs].
CC: Do you remember how you heard that Rick had died?
EA: Yeah. Somebody called me in Norway. But afterward, at the Ark in Ann Arbor, where he did his last gig, I saw that, on the dressing room wall, he wrote "Oh, I don't feel very well." It was one of the saddest things I've ever seen...
[*In addition to his work with Rick, Eric has also collaborated with Garth, including a series of shows in 2001 billed as Hudson/Fjeld/Andersen/Andersen, which also featured Sari Andersen.]
---
[History] [Members] [Library] [Discography] [Videography] [Filmography] [Pictures] [Audio Files] [Video Clips] [Tape Archive] [Concerts] [Related Artists] [Merchandise] [Guestbook] [Chat Room] [Search] [What's New?] [Main Page]
Webmaster