Burrito Deluxe
BB King's, Nashville, 09.25.2004
---
Copyright © 2004 Jeff Alexander. Used with permission from the author.
---
Burrito Deluxe Can save pop music. A bold statement about a bold band, but my ears had been seduced silly, and that is exactly what i was thinking about a third of the way into their set.
Burrito Deluxe is a no nonsense unit. They come out cranking, no muss, no fuss, just dive right into the sound. The original Burrrito's were a band with bravada galore, the attitude was in their songs, and in the cocksure poses they struck and the Nudie suits they wore onstage and on the album covers. Burrito Deluxe is a band in the spirit of the original Burrito Brothers, yet they are very different. Just two differences are that this is not a youthful band, and that with Garth Hudson a principal member, there is a big highlight on keyboards. But make no mistake about it, Burrito Deluxe is a unique musical force that has legs, and is extremely visually captivating.
Last Saturday night, at BB King's Nashville club,with a boldly delivered 18 song set of Burrito Bros. classics, original and cover tunes, Burrito Deluxe blended pop, rock, and country sounds, and countrified,funkified (courtesy of a slight funk in Jeff Davis's bass at times), rocked and geniusified the crowd to musical delight. p> That said, back to the beginning.
I had been waiting about two years to see Burrito Deluxe, and it felt like everyonein the room was as excited as I. Luna Chica Records occupied BB Kings to throw a party to showcase Burrito Deluxe for the last night of the Americana Music Association Convention. The concept of Burrito Deluxe, the lone Burrito being Sneaky Pete Kleinow, the Deluxe being the one and only Garth Hudson, Carlton Moody, Rick Lonow and Jeff Davis, well, the concept alone is enough to make your ears hungry. So Luna Chica wisely laid out a big spread of food and beverage, let the music industry folk graze and mingle, and the anticipation build. Richard Ferreira and David Olney delivered strong sets, but the room was waiting for Deluxe. Without a whole lot of whoopla, before you knew it,this band of extraordinary regular guys was onstage, playing.
They opened with "Cash On The Barrelhead"followed by an uptempo "Wheels". Immediately you notice what a unaffectedand smooth, great country singer Carlton Moody is.By the end of "Wheels"I am telling myself, this is one cooking country band. The sound was kind of rough, they sounded o.k. but you could barely hear Garth initially. If you could see his hands you could sure tell he was playing his heart out, fingers flying everywhere. About halfway through "Wheels"you could begin to hear Garth a little better occassionally.
Next up was a rocking version of "Rex Bob Lowestein", Moody's personality shining through. Sneaky Pete had been playing as great as you would expect him to, Lonow and Davis were locomoting along with feeling, but I, and probably everyone else, was aching to hear more of Garth. For the fourth song, Moody's "Zydeco Ball", Garth picked up his accordion and the world stopped, the wondrous combo of Sneaky Pete on steel and Garth on accordion, this was a highlight of the show. I thinkit is safe for me to describe Garth's accordion solo as a happy, fun interruption of events.
Richard Ferreira was called up to join in on a excellent performance of "Memphis Money".Once again, Garth's keyboards were here now, then gone again. Before the next song CarltonMoody thankfully looked towards the back of the room and pleasantly asked "Have we got the piano?"That seemed to do the trick, just in time, cause up next was "Hickory Wind".
Until this point, all the ingredients were there. Moody was singing wonderfully, effortlessly expressive, full of presence, a strong and generous frontman. Rick Lonow was playing his heart out, very strong backup voclas, with an incredible time and strength to his playing. Not only can you hear it, but you can see it. He is one of those great drummers to watch, funk, joy and rhthym in every fiber of his being and in how he sits his drums and plays em. Jeff Davis is as great and as unusual as the best bass players always are, something to see and hear , also donating strong backup voclas and a funky presence. And Sneaky was Sneaky, unflappable, smiling, playing those patently genius, unmistakably Sneaky signature sounds. And Garth, when you could hear him, was the one and oneliest Garth,brilliant.
But now something happened. It could of been just the sound in the room improving, or it could of been that the musicians couldhear themselves better now also, but all of a sudden, this went from being an excellent show by an excellent band, to being just what I had thought it would be, music to make you forget your mind, music that would take over your senses and float you away.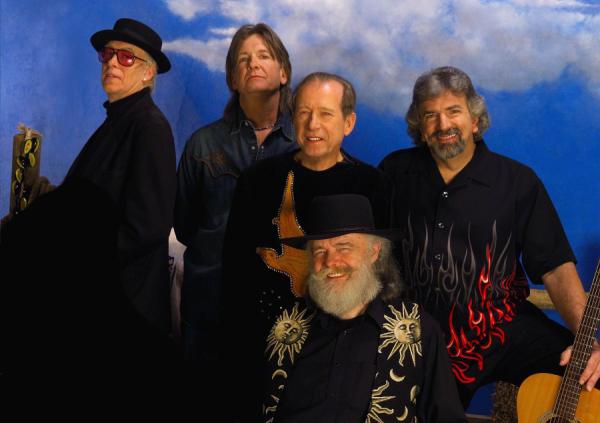 Burrito Deluxe 2004. L-r: Davis, Lonow, Kleinow, Hudson, Moody
"Hickory Wind "was beautiful, more uptempo than the original, but Sneaky and Garth were really playing off each other.Sneaky's unique steel , with Garth playing the piano with one hand, the synthesizer with his other, the 3 unique styles of sound forming a perfect genesis, presently by an equally organic and creative rhtyhm section.
The seventh cut was an extended version of John Prine's "Gold", Sneaky and Garth just magical, the band carrying on long and joyous. Next was a song that might of been called "The Devil's Last Ride", or something close to that. I was not familiar with it, and I hate to say this, but the lyrics did not grab me nor did it matter to me just then, the sounds, the playing, the dynamics of the band had already taken me to that place where only the sounds mattered, individually and collectively, only the sounds mattered. The best pop music.
"TheLetter "followed. I am still not sure how to describe the depth and feel of this song. A perfect country vocal over a mexicali baroque baritone sounding version of the pop hit? Maybe. By now i was completely awestruck. Genius,perfection, and beauty had run rampant.
Carlton said "Give it up for Garth Hudson"and he and Garth both introduced Garth's international medley. And all I'm thinking is Garth is loose, the world better get ready. Garth's instrumental led into a uptempo funky bassed country funky rockin version of "The Weight", with mercurial steel work by Sneaky. A highlight of the song was Garth(stage left) shooting one of his best Yosemite Sam like challenges to Sneaky (stage right). Garth is just incredible to watch play,fingers fast and furious, back arched and shoulders bent over foward, arms sometimes flying up and back, hand sgoing this way or that, or up, intense, joyous, serene, glorious,mad professor, Tchaikovsky, Mozart, all of those.
Next was "A Woman Like You", written by all 5 band members. Then came a Guy Clark number, followed by "Baton Rouge"and a raucous, strong, "Dim Lights , Thick Smoke"."Sin City"was next, Sneaky once again mercurial, strong backups from Lonow, then "Everwhere I Go", and finally "Devil In Disguise".
Obviously, I can't rave enough about Burrito Deluxe. Moody, Davis, and Lonow areworld class players, the best of the best, who have played with many of the all time greats, the iicons. Even so, there is the sense that they are having the musical time of their lives playing with Pete Kleinow and Garth Hudson and that even though they are very much peers, friends and equals, there is still the slight sense that part of their purpose is to honor Garth and Pete. There is also the greater sense that that the unspoken purpose and natural course of this band is to expand music. Andthat is exactly what happened last Saturday night at the Burrito Deluxe show.
Music was expanded.
--Jeff Alexander
---
Copyright © 2004 Jeff Alexander. Jeff can be contacted at by e-mail at Cousinmoe58@aol.com.
---
[History] [Members] [Library] [Discography] [Videography] [Filmography] [Pictures] [Audio Files] [Video Clips] [Tape Archive] [Concerts] [Related Artists] [Merchandise] [Guestbook] [Chat Room] [Search] [What's New?] [Main Page]
Webmaster