The Band's Jim Weider Steps out with Big Foot
---
by Mikel Toombs
Article copied from SonicNet, June 2000. Copyright © 2000 SonicNet, a division of MTV Interactive. All rights reserved. Please do not reprint.
---
Guitarist who replaced Robbie Robertson in The Band has solo debut — and a Fender Telecaster fixation.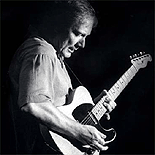 As a member of The Band, Jim Weider, pictured, got to meet and work with one of his first heroes, the late Roy Buchanan

It's hard to talk about Jim Weider, a former member of The Band, without mentioning his longtime companion: his guitar.

Weider brought along his 1952 Fender Telecaster when he was introduced to Levon Helm in the early '70s; in 1985, Helm asked Weider to join The Band, where he in effect replaced his boyhood guitar hero (a Telecaster player, naturally), Robbie Robertson.

Today, Weider can be heard playing that '52 Tele on his new album, Big Foot (audio clips available), his "decade in the making" solo debut that was released this month and features Weider originals as well as impressive versions of Jimi Hendrix's "Little Miss Lover" and Bobby Womack's "I'm in Love."

"I was a big Tele freak. ... I always played Telecaster, even in the very early days of the '60s."

The album is highlighted by an instrumental take on the Jimmy Cliff standard "Many Rivers to Cross" and by "Love's Like Rain," a reminder of what caused Weider to be considered to replace Robertson in the first place.

"So he was a big influence. Then of course I moved on to [Telecaster player] Roy Buchanan. But that influence of backing up and making the song really work came from him," Weider said of Robertson.

Weider, 48, was in high school when he became enamored of Buchanan, although it wasn't until shortly before Buchanan's death in 1988 that he (and The Band) got to work with the guitarist, who also influenced Robertson. As a youngster, Weider coveted Buchanan's guitar tone — and his guitar.

Striking Out To Find The Right Guitar

"I was a big Tele freak," said Weider, who also admires Steve Cropper and Elvis Presley sideman James Burton. "I always played Telecaster, even in the very early days of the '60s. And when I heard Roy Buchanan play, I just had to have an old '50s guitar."

"So I went on my search across the country, as I got out of high school, looking for one. And I ended up buying one, from the famous Norman Harris, who now has Norman's Rare Guitars out in L.A."

Wait a second: Weider went all the way across the country in search of a guitar?

"I think I was in my early 20s, and traveling across the country just to do that. Everybody does," he said. "From New York they go to California. And part of my travels, in that little Volkswagen, was I wanted to find an old Tele. And I wanted to find one like Buchanan's.

"The first one I got was in Oklahoma," Weider continued. "In New Mexico, after I bought it, I found out it wasn't the right year. It was '58 and something; it wasn't a '52. So I sold it at a concert to Jim Messina [Buffalo Springfield, Poco, Loggins and Messina].

"He bought it, and I went on my trek and went broke in L.A. But I still had $340 left, and I found this one in [an ad in] the paper. And it's the one I've always played."

Settling Down With The Band

Weider ended his wandering ways in the early '80s, when he moved back to Woodstock, N.Y., to back Robbie Dupree. In 1983, acoustic guitar master Artie Traum called on Weider to join the Woodstock All-Stars, which also included The Band's drummer/singer Helm.

"It first started with Levon, and then it was me, Levon and Rick [Danko, bassist] doing acoustic kind of shows. And then it was me, Levon, Rick and Richard [Manuel, keyboardist], and it built up," Weider said.

In 1985, Weider formally joined The Band. "Those guys made me feel comfortable. Nobody told me what to play. And I just fell into it, and I just felt great doing it. I had quite a time."

Those happy times, which include the 1993 Pyramid/Rhino album Jericho, are now just memories in the wake of the deaths of Manuel, who committed suicide in 1986, and Danko last December, after battling drugs and his weight.

Multi-instrumentalist Garth Hudson tours with his Professor Louie and the Crowmatix, while Helm still performs with his Barn Burners, though an operation for throat cancer has left him unable to sing.

So Weider forges ahead with his album and his band, the Honky Tonk Gurus, who also feature latter-day Band members Richard Bell (keyboards) and Randy Ciarlante (drums and vocals). He also has released several well-received instructional videos on Happy Traum's Homespun label, the first of which was called Get That Classic Fender Sound!

"It was just an idea I came up with, because I like all those old Fender amps. I collect them, and I collect guitars, Fender guitars," Weider said.
---
[History] [Members] [Library] [Discography] [Videography] [Filmography] [Pictures] [Audio Files] [Video Clips] [Tape Archive] [Concerts] [Related Artists] [Merchandise] [Guestbook] [Chat Room] [Search] [What's New?] [Main Page]
Webmaster