Robbie Robertson Taps Into Native American Roots
---
by Gil Kaufman
From SonicNet Music News, February 1998. © 1998 SonicNet, Inc., All Rights Reserved
---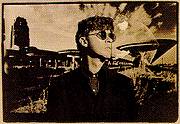 Robertson's signature ringing guitar sound can be heard on new tracks "Rattlebone" and "Code of Handsome Lake."
Ex-leader of the Band mixes tribal sounds, beats with Howie B's modern textures.
Robbie Robertson, former leader of seminal rock group the Band, said he had to journey back to his spiritual roots to find the inspiration for his third solo album, Contact From the Underworld of Red Boy (March 10).
The gravel-voiced singer/songwriter -- who has collaborated with everyone from Peter Gabriel and U2 on his 1987 solo debut to a host of traditional Native American artists on his 1994 soundtrack album, Music for the Native Americans -- easily bridges the gap between ancient and modern music on the 10-track effort, which seamlessly mixes politics, dance beats, ritual ceremony and traditional music.
"I guess it looks that way on the outside, a mix of the oldest and newest music," Robertson said. "And I guess it's true to a certain extent. But to me, it was just that I wanted to work with people from the native community whose talent I admire ... And the others were just ones that I thought were extremely good at what they do."
The oldest music, in this case, features collaborations with imprisoned American Indian Movement leader Leonard Peltier, whom Robertson interviewed by phone for the spooky tribal-beat track "Sacrifice," and a pair of Peyote healers, Primeaux and Mike, who provide the haunting vocals for the trance-inducing, nearly a cappella track "Peyote Healing."
The newest elements are courtesy of producer Howie B, who brings the same kind of programmed beats and ambient textures that he's provided for artists such as Icelandic diva Bjork and Irish megastars U2, and B's frequent collaborator, programmer Jony Rockstar, who gives several tracks an almost disorienting modern primitive sound.
Robertson -- who began his career backing up rockabilly legend Ronnie Hawkins and '60s icon Bob Dylan before creating such lasting American folk-rock classics as "The Weight" and "The Night They Drove Old Dixie Down" with the Band -- mixes his signature ringing guitar sound on the tracks "Rattlebone" and the "Code of Handsome Lake" with some more abstract, ambient sounds on the opening song, "The Sound is Fading," a traditional chant featuring vocals Robertson unearthed years ago. "That's Leah Hicks-Manning, a Northern Nevada Paiute, who I found on a Library of Congress tape a long time ago," Robertson explained.
The ethereal track, which spotlights Hicks-Manning's fragile singing over Robertson's whispered vocals and muted guitar and a spare tambourine, keyboard and drum-machine track, was built up from field recordings of the then-16-year-old Manning that Robertson had stashed away. "I have a whole lot of music, native stuff, that I've gathered over the years," said Robertson, whose mother was born and raised on the Six Nation Indian Reservation in Canada and is of Mohawk Indian descent. "But this one was always on the top of the pile for me. I wanted to do something with it, and Howie and I just experimented with ideas and with using this haunting melody with this naive, innocent sound in this girl's voice and to have this 'fuck you' guitar come blasting in your face and then back to this theme."
Other collaborators on the album include native singers Joanne Shenandoah, James Bilagody and Chief Jake Thomas on "The Code of Handsome Lake," Six Nation singers Star Nayea, Rita Coolidge, Cree Summer, Jackie Bird, Bilagody and Ivan Neville on the funky trip-rock "Making a Noise" and the Tudjaat throat singers on "Rattlebone."
Also included on the album is the spectral ballad "Unbound," a duet between Robertson and Caroline MacKendrick; "Stomp Dance (Unity)," featuring the Six Nations Women Singers; "In the Blood" and "The Lights." The album will also feature a "Red Alert Mix" of "Take Your Partner By the Hand," a song that appeared on B's recent solo album, Turn the Dark Off, remixed by Gang Starr's DJ Premier.
"There was a strong possibility that things could be yin and yang on this and not mix," said Robertson. "But from the very beginning ... my instincts told me that this was meant to be." [Tues., Feb. 17, 1998, 9 a.m. PST]
---
[History] [Members] [Library] [Discography] [Videography] [Filmography] [Pictures] [Audio Files] [Video Clips] [Tape Archive] [Concerts] [Related Artists] [Merchandise] [Guestbook] [Chat Room] [Search] [What's New?] [Main Page]
Webmaster