Garth and Maud Hudson
Magic Keyboard Tour 2004
---
by Ross W. Muir
Free Press Special

Photographs and article copyright © 2004 Ross W. Muir (Midland Free Press).
Published at The Band web site with permission from the author.
---
It's an illusion that Garth Hudson has big hands. Listening to the legendary rocker -- who anchored The Band's keyboard section for more than 30 years -- perform, you would expect massive palms and prodigious digits. But they're not, really. They are extremely talented, though, and provided the small but appreciative crowd who came out to see him play at the Inn at Bay Moorings in Penetanguishene with the same sweetlicks they remember from such classics as Music From Big Pink or The Last Waltz, copies of which many brought to have autographed.
(click photos to enlarge)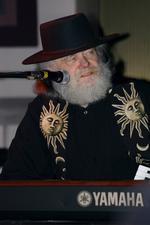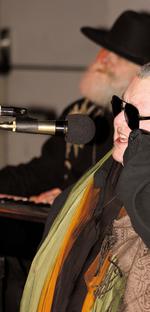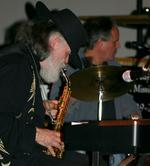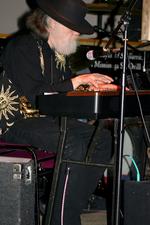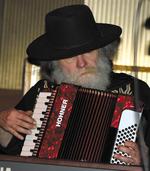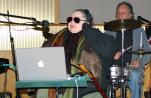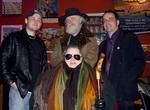 The show at the Inn was the first of four nights Garth and his wife, Maud Hudson, and their band played in Simcoe County as part of their Magic Keyboard Tour. The tour was arranged by Peter's Players, which first brought the Hudsons north from their home in Woodstock, N.Y., last year for a show in Barrie.
"I spied this room a few months ago, and began working with the new management," Peter Swanek said in introducing last Wednesday's show. He hopes to bring other roots, blues and jazz acts to the Inn in the coming months, as part of his widening list of Simcoe County venues.
Accompanied by Michael Sloski of Utopia on drums and Vancouver guitarist Paul Rigby -- who flew down to southern California two weeks ago to hang out with Garth and country rockers Burrito Deluxe (which includes Sneaky Pete Kleinow, a founding member of the original 1970s Flying Burrito Brothers), the four provided a truly "magic keyboard" evening.
While technically a paid performance, it felt more like a house party that the Hudsons had thrown -- and we were the invited guests. The requisite Band tunes were played (with Maud handling the vocals), including "The Weight," "It Makes No Difference" (sung in memory of the late Band member Rick Danko), and "The Shape I'm In." But Garth and Maud's repertoire -- spiced with homey banter and poetry in between songs -- included blues, rock, jazz and gospel, polkas, waltzes and oberecks, as well as classical, all of which Garth is equally adept at playing.
For those who have seen Garth perform with The Band in the past, sitting steely-eyed behind his bank of keyboards, you might beforgiven for thinking the man is just a musical machine. When he speaks, though, as he did with both the band and the audience last Thursday, you realize he could have a career as a stand-up comic if heever was to give up music. After first sitting down at his Yamaha keyboard, Garth quickly excuses himself. He comes back carrying a speaker that we all thought was to help him hear the rest of the band better. However, all he wanted was some place to sit his coffee mug.
Then, in introducing his set on accordion (probably the most unrocklike instrument ever, with the possible exception of the melodica, which he also played), Garth treated the audience to a short music lesson. After explaining the technical meaning of perfect pitch, he gave his own explanation: "Perfect pitch is when you can throw anaccordion 30 feet into a dumpster and not hit the rim." Willie Nelson had another explanation of perfect pitch that he also offered: "Perfect pitch is when you can throw a banjo 30 feet into a dumpster and not hit the rim, but hit the accordion."
Garth also gave one of his rare vocal performances. "I sang once in 1953 or '54, when I was with Buddy Brown and the College Men," he regaled the Penetanguishene crowd. "One couple was up dancing and another stood by the stage looking up at me with no expression in their eyes. It paralyzed me for years," he said with a grin before breaking into "Old Folks."
In keeping with the season, Maud sang a "Sloski shuffle version" of "Sleigh Bells" and then segued into a haunting song, "Beyond The Breakers," written by Garth with lyrics by folk singer Eric Andersen.
The Late Night Interview at Boston Pizza
Garth and Maud Hudson are famous, as are many musicians, for being night owls. So when the show wrapped up after midnight and the couple and their band went looking for a place to eat (since Garth never eats before a show), it became a challenge in sleepy North Simcoe. But with reviewer in tow, the Hudsons pulled into Midland's Boston Pizza just before their 1 a.m. closing time.
Between bites of lasagna, garlic bread and salad (the days of greasy spoon meals are long behind him), Garth talked of his years being in the spotlight with Ronnie Hawkins and Bob Dylan and then with The Band.
When asked of his early years, if he ever imagined he would still be touring at this point in his life, Garth replied that, as a young musician, "I had no idea I'd be doing this. All we thought about was getting our laundry on Yonge St. in time for our next job."
During his stint with Arkansas expatriate Ronnie Hawkins, Garth said Ronnie and The Hawks would often cross the border to play in the U.S. "We did a couple of frat parties, including one in Dallas," he recalled of those days back in '50s and '60s.
Garth was added to Hawkins' Hawks as both a musician and a music teacher. "Ronnie wanted the band to be better as individual players, "he said, noting that The Hawk had "seriously considered getting a music coach. When I came in, he sensed I'd bring a more uptown style to the music."
Garth and the other members of The Hawks left Ronnie Hawkins to join Bob Dylan on his fateful tour that began with the formerly acoustic folk singer being booed off the Newport Folk Festival stage for 'going electric.' "I think the whole folk movement was affronted," Garth said of this unexpected reaction at every stop on the world tour, except Paris, France. The experience was humiliating, he admitted. In those days, folk music was the domain of anyone with "a guitar, a harmonica and a harmonica holder," he suggested. In the war against 'electric folk,' he said, "we were in the line of fire." In wondering, "how did all the people know to boo us," he speculated (with a twinkle in his eye) that it "may have been set in motion by Pete Seeger."
The gig in Paris was unique, Garth recalled. When Dylan took the stage for his opening acoustic set, the Paris fans booed him, but cheered when The Band came on later in the show. The only thing Garth can figure is that when Dylan first took the stage, an American flag was raised behind him. "I don't think the French liked the backdrop," he speculated about the U.S. flag. "I think it was an insult to the French."
When asked why The Band (with such songs as "The Night They Drove Old Dixie Down") and other Canadian musicians, such as Joni Mitchell (with "Woodstock") and Neil Young (with "Southern Man" and "Ohio"), were such pungent commentators and critics of American life, Maud jumped in. A California girl herself, she wryly noted, "There is more information about the U.S. in Canada than in the U.S."
Maud met Garth in the mid-1970s, just after The Band's "Last Waltz" concert in San Francisco. "I was recording with Hirth Martinez in Hollywood, his Hirth From Earth album, and Robbie (Robertson) was producing and Garth was playing on it," she said while Garth slipped outside in the cold for a puff on his ever-present pipe. "Hirth and his wife said I should stay for dinner with Garth, so I stayed and I couldn't get him out of my mind. I fell in love with him before I even knew what he played (with The Band)."
The couple married in January 1979. Of their 25 years of marriage, Maud said that one of the things that had kept them together was that "we're both old-fashioned." And they're both musical. Maud is an accomplished musician in her own right. "I toured with (blues guitarist) Albert Collins and recorded and toured with Jeff Muldaur and Canadian Mary Margaret O'Hara, as well as The Band and Dr. John."
The two continue to keep busy, traversing North America recording and playing on a variety of diverse projects. For those who appreciate Garth's keyboard wizardry and Maud's vocals (that range from sultry toblues shouting), keep your eyes peeled for new albums by jazz vocalist Norah Jones, the Gypsy Kings, Los Lobos, Burrito Deluxe and ethereal modern country singer Neko Case.
Besides playing with these diverse artists from across the generations, Garth likes to listen to modern groups "that use keyboards well. Wilco is a band I like," he said. "They seem to have more variety in their sounds. They have a sound like a bowed saw that must come from a synth."
Next year will be a watershed of sorts for the Hudsons, as they will have three new CDs in release. A boxed set of The Band will be appearing in stores, with archived material from Garth and the other surviving Band members, Robbie Robertson and Levon Helm. "Some of it's never been heard before," Maud noted.
Will Garth, Robbie and Levon be getting back together to either tour or record new songs for the boxed set? "No," Maud replied. However, she said that rumours of feuding between Robbie and the others are old news and were greatly exaggerated. Their work together on the boxed set is proof of that, she suggested.
Other People's Music, a Canadian label, will be releasing a boxed set of the pre-Band music of Levon and The Hawks in 2005.
And finally, on February 15, the Hudsons will be holding a LIVE at the WOLF CD release party of their 2002 Wolf Performance Hall gig that opened London, Ontario's new library and performing arts centre. Garth grew up in London.
"Our current shows were borne that night," said Maud of the performance that featured her on vocals and Garth on grand piano. "Now we bring on musicians we like playing with. We were glad to have Paul as our guitarist tonight."
As we all packed into our cars sometime after 2 a.m. Thursday morning, the Hudsons to head back to their hotel in Orillia and me to my Barrie abode, Paul Rigby probably described his bandleaders best. "It's nice to know they're as good as people as the music they make."
If you missed the Magic Keyboard Tour last week, contact Peter's Players at petersplayers@rogers.com and tell Peter Swanek you want the Hudsons to come back to Penetanguishene to play.