Kelly Hogan and The Pine Valley Cosmonauts: Beneath the Country Underdog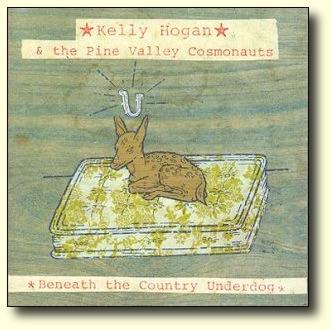 Album review from CDnow:
Born and raised in Atlanta, Kelly Hogan applied her prodigious gifts to a variety of area bands through the early to mid-'90s, most notably as lead singer for the ill-fated the Jody Grind and as a guitarist for semi-Gothic, low-fi popsters the Rock-A-Teens. While still with the latter, she released her eclectic solo debut, Whistle Only Dogs Can Hear, in 1996.

Hogan relocated to Chicago for the latter third of the decade, regularly lending her voice to recordings by such Bloodshot staples as the Waco Brothers, the Sadies, Neko Case, and Alejandro Escovedo as well as the label's numerous one-off projects and tributes. Although blessed with a wondrously expressive vocal instrument capable of ranging from a girlish whisper to a throaty, mature belt, Hogan seemed, for a time, content to remain on the periphery.

Whatever the reasons for the maddeningly slow development of a promising career, though, Hogan has finally stepped up front-and-center with Beneath the Country Underdog. Deftly produced by maverick U.K. transplant Jon Langford and lovingly backed by his Mekons' spin-offs, the Pine Valley Cosmonauts, Hogan and company have managed to deliver a tour de force that seamlessly blends elements of sassy honky-tonk, roadhouse weepers, 3 a.m. torch songs, high-stepping hillbilly romps, and Southern soul under one big country umbrella.

Easily straddling "classic" and "alternative" country forms, Beneath the Country Underdog is tethered by Hogan's effortless vocal command (as well as her obvious affection for the material) -- allowing Langford and crew to incorporate such out-of-country textures as copacetic horn charts, crunchy guitars, wrap-around organ swells, and spaghetti-western reverb without ever severing the connection with pure country soul.

It was a long wait for this big voice with a bigger talent to come to the fore; it's gratifying to report that the time was most assuredly not wasted.
--Jim Musser
The last track on Beneath the Country Underdog is Kelly Hogan's beautiful version of the Manuel/ Robertson classic "Whispering Pines" from The Band (sound sample available below.)
Hogan's producer/ musician Jon Langford's former group The Mekons covered The Band songs on their albums F.U.N.90 and New York, and Langford also produced ex-Mekon Rico Bell's cover of "Acadian Driftwood" on The Return of Rico Bell. Langford, currently with the group The Waco Brothers, is also a painter. His portraits of Rick Danko, Curtis Mayfield, Doug Sahm and Hank Snow appeared on the front cover of the March 2000 issue of Norwegian music magazine BEAT. The same issue had an article on Rick Danko written by the maintainer of The Band web site.
The Pine Valley Cosmonauts are Andy Hopkins (guitar), Jon Langford (guitar), Steve Goulding (drums), Tom Ray (bass), Jon Rauhouse (pedal steel) and "Celine" aka John Rice (guitar, mandolin, fiddle.) Special imported keyboards on tracks 3, 8, 10, and 11 by Barcley McKay (he's played with The Pretty Things and The Mekons) on Hammond B-3 organ and piano. Robert Lloyd, multi-instrumentalist from John Wesley Harding's band played piano on tracks 5 and 10
Tracks
(It's a Mighty Thin Line) Between Love and Hate (Aubrey Mayhew/ Johnny Paycheck)
From the Johnny Paycheck record The Real Mr. Heartache. Backing vocals by Kelly Hogan and Ken Sluiter

I Still Can't Believe You're Gone (Willie Nelson)
From the Willie Nelson album Phases and Stages. Featuring Andy Hopkins, and John Forbes from Mt. Shasta, on guitar duet

Mystery (Jon Langford)
Featuring backing vocals from Neko Case, Deanna Varagona, and John Wesley Harding.

I Don't Believe in You (Kelly Hogan/ Andy Hopkins)
Featuring Paul Mertens and Dave Max Crawford on horns.

Papa Was a Rodeo (Stephen Merritt)
From Volume 2 of the album 69 Love Songs from The Magnetic Fields on Merge Records. Featuring Mike Geier on verse 3 and backing vocals from Edith Frost.

Easy Loving (Freddie Hart)
From the early 70's Freddie Hart record of the same name. Featuring Robbie Fulks on guitar and backing vocals.

Wild Mountain Berries (McRee/ Thomas/ Thomas)
From an "old scratchy Conway Twitty/Loretta Lynn duet LP." Featuring Mr. Rudy Day on duet vocals.

Sudden Stop (Bobby Russel)
From the Percy Sledge record Take Time to Know Her. Featuring Andy Hopkins on backing vocals.

Crackers Rule (Kelly Hogan/ Andy Hopkins)
Featuring Dave Max Crawford on the "George C. Scott IS Patton" horn part.

Gone (Kelly Hogan/ Andy Hopkins)


Whispering Pines (Richard Manuel/ J.R. Robertson) (4.4MB)
From the self-titled record by The Band. Featuring vocals from Edith Frost and Jon Langford. Special "Where's Waldo" vocals from Ana Egge.
Kelly Hogan and The Pine Valley Cosmonauts - Beneath the Country Underdog - 2000 - Bloodshot Records BS062
---
[History] [Members] [Library] [Discography] [Videography] [Filmography] [Pictures] [Audio Files] [Video Clips] [Tape Archive] [Concerts] [Related Artists] [Merchandise] [Guestbook] [Chat Room] [Search] [What's New?] [Main Page]
Webmaster